Red Sox
'16 years, 11 parades': 'Sign Kid' was back again for the Red Sox World Series parade
Nothing exemplifies Boston's sports successes like Jason McKeon and his ever-changing poster.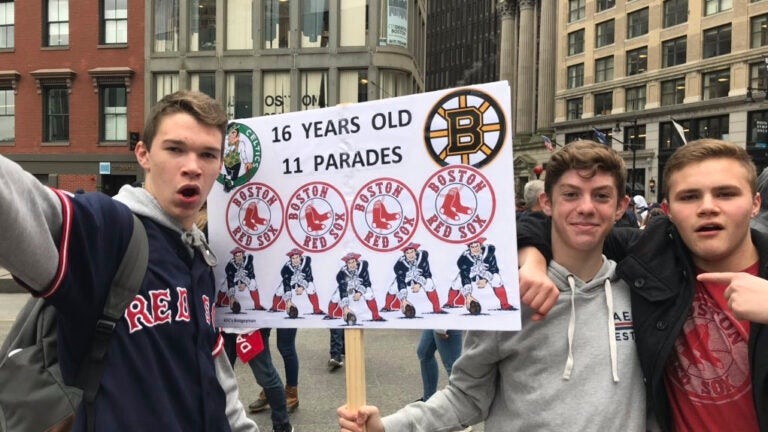 It's no secret that Boston sports fans have enjoyed an incredible run of success since the Patriots won Super Bowl XXXVI in 2002. The good times are probably best exemplified by "Sign Kid," a 16-year-old who has been holding a poster counting the number of championships in his lifetime at many of Boston's sports victory parades.
According to the Boston Herald, prior to Wednesday's Red Sox parade, Jason McKeon of Haverhill had been to seven of the 10 Boston championship parades that have taken place since he was born.
Wednesday's celebration brought his total to eight out of 11. McKeon was back, with a newly updated sign: "16 years old, 11 parades."
#RedSoxParade back & better than ever y'all pic.twitter.com/ZyvIkfJSgN

— kia ✰ (@evthokiadimakis) October 31, 2018
McKeon's poster, as well as his ongoing "feud" with Barstool Sports blogger and host Kevin "KFC" Clancy (a Yankees fan) has made McKeon a familiar face in Boston, with fans posting photos of McKeon and his ubiquitous sign during the parade.