Red Sox
Here are the 10 most Boston moments from the Red Sox World Series parade
"Peak Boston on Boylston right now."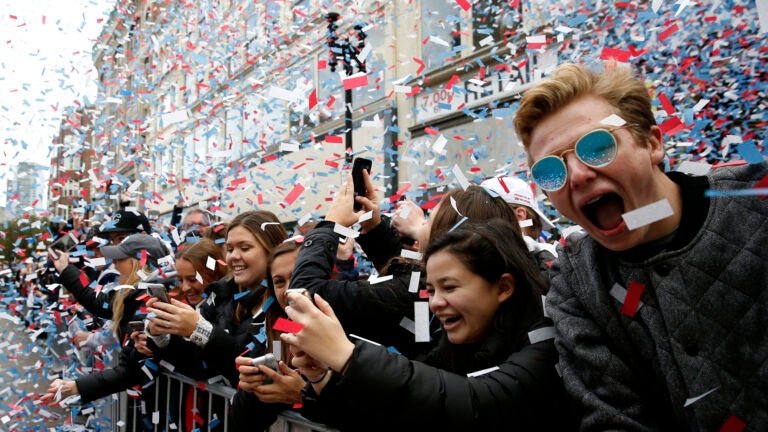 Boston knows how to do championship parades.
After 11 titles in the last 17 years, local sports fans have gotten pretty good at the routine of cheering the duck boats down Boylston and Tremont streets. Each celebration, however, has had its own unique characteristics and moments that could seemingly only happen in Boston.
Wednesday's 2018 Red Sox World Series parade was no exception.
1. Alex Cora did not mince words.
Red Sox manager Alex Cora began the festivities Wednesday morning at a pre-parade Fenway Park reception by reliving the team's victory against the New York Yankees in the American League Division Series.
And he really rubbed it in the faces of any doubters.
Cora recalled how everyone thought "the sky was falling" following the team's Game 2 loss in the ALDS, but then came Game 3.
"We scored 16 at Yankee Stadium," Cora told the crowd at Fenway Park. "Suck on it."
2. Everybody had to get their Dunks.
Dunkin' offered $1 coffees to all rewards-program members in honor of the championship win — as if parade-goers needed an excuse to get a caffeine fix from the Canton-based chain.
North Station is jam-packed with Red Sox fans headed to the parade cheering, giving high-fives, and making lines in front of Dunkin' Donuts before heading out. pic.twitter.com/mm1ZFZX4pd

— Cristela Guerra (@CristelaGuerra) October 31, 2018
Here's a 16 second video showing the line to get into Dunks. pic.twitter.com/ag0tVKnvMH

— Steve Annear (@steveannear) October 31, 2018
3. The 'Sweet Caroline' renditions were everywhere.
The Dropkick Murphys may have been playing atop the first boat, but it was another familiar Fenway Park anthem that broke out all along the parade route. Even before they got there, fans serenaded each other with Neil Diamond's "Sweet Caroline" like it was the middle of the eighth inning.
On the MBTA…
Some "Sweet Caroline" on the train on the way to #RedSoxParade pic.twitter.com/s6q0sTgXCE

— Tony Gugliotta (@NBC10_Tony) October 31, 2018
On Boylston…
Peak Boston on Boylston right now. Crowd currently belting out "Sweet Caroline" pic.twitter.com/cdRjdE3wGr

— Jessica Reyes (@jessicamreyes) October 31, 2018
On Tremont…
Wouldn't be a @RedSox parade without "Sweet Caroline"… #RedSox #WBZ pic.twitter.com/w19FfsVCo5

— Levan Reid (@LevanReid) October 31, 2018
At Government Center…
Sweet Caroline breaks out at Government Center ahead of the #RedSox parade. #WBZ pic.twitter.com/4hoQvfcPrz

— Liam Martin (@LiamWBZ) October 31, 2018
And even as the Red Sox passed through.
Wouldn't be a #RedSoxParade without a rousing rendition of Sweet Caroline @EagleTrib pic.twitter.com/XdUMKrol8S

— Lisa Kashinsky (@lisakashinsky) October 31, 2018
4. The Yankees taunting also continued along the parade route.
In addition to countless creative signs, a few construction workers on the corner of Boylston and Tremont streets unveiled a few homemade banners of their own — including this familiar slogan.
Yankees Suck banner up at corner of Boylston and Tremont. pic.twitter.com/1zwUFcD1I5

— Jack Gately (@gatelywire) October 31, 2018
It's become commonplace for Sox fans to unleash the "Yankees Suck" chant even when their New York rivals aren't present.
One of MANY "Yankees Suck" chants at the #RedSoxParade pic.twitter.com/OdLnimwBNq

— Adam Kaufman (@AdamMKaufman) October 31, 2018
5. This sign.
David Price made the doubters — both in the press box and in the stands — eat their words with his 2018 postseason performance.
At least one Red Sox fan is hilariously owning up to those previous criticisms:
6. The team made us jealous of their custom L.L. Bean boots.
Nothing goes with duck boats like Bean boots. To celebrate, the Maine-based outfitter created a special-edition red leather boot embroidered with the team's regular season record and #DoDamage hashtag.
Bean boot swag. pic.twitter.com/323nQ6lAub

— Boston Red Sox (@RedSox) October 31, 2018
They're not available for public purchase, but the Bean Bootmobile rolled through town anyway.
Did you spot the giant bean boot in the parade? @LLBean celebrated the #WorldSeries win by creating this special boot for the @RedSox players and staff. ?: @Charlesabrahams pic.twitter.com/Es4OLFMhy8

— Boston 25 News (@boston25) October 31, 2018
This is amazing. #RedSoxParade pic.twitter.com/f6QHeTYWbV

— Jessica Evans (@jess_d_evans) October 31, 2018
7. "Sign Kid" was there.
Jason McKeon, a Haverill resident born two weeks after the Patriots' 2002 Super Bowl, made a name for himself by attending seven of the previous 10 championship parades. In recent years, the 16-year-old has brought a continually updated sign displaying the ratio of years-to-parades he has experienced.
"Sign Kid," as McKeon is otherwise known, was back again Wednesday — and his sign was updated to reflect it.
My @BostonHerald column on the one and only "Sign Kid" – Jason Patrick McKeon of Haverhill. #RedSox

Column Link – https://t.co/LORgJNzkey

(Image via @ralvarez617) pic.twitter.com/aMTtcspgan

— Obnoxious Boston Fan (@realOBF) October 31, 2018
8. David Ortiz was there, too.
David Ortiz watched the 2018 Red Sox, often giddily, from the Fox Sports booth, but the retired slugger, along with former pitcher Pedro Martinez, still took part in the parade.
Fans didn't seem to mind one bit.
What year is this? pic.twitter.com/KvkAdzrhEs

— MLB GIFS (@MLBGIFs) October 31, 2018
As the "former head of the clubhouse," Ortiz said that he felt proud watching this year's team.
"Watching them perform, watching the spirit that they bring to the field every day, it makes you feel proud of it, because it's part of something that more [than] likely a lot of them learned from what we used to do here," he said before the parade.
9. One fan wanted to see … Tom Brady.
"Who do you hope to see today?" WCVB reporter Sera Congi asked a young fan along the parade route.
"Tom Brady," the girl responded.
Congi promised to check and then echoed the girl's wish later Tuesday afternoon.
"We all would like to see Tom Brady too," Congi tweeted. "Let's meet up again on the parade route in Feb."
Too many parades to keep track of. Champagne problems @LacesOutShow pic.twitter.com/SjgGlL7xJU

— Barstool Heartland (@barstoolhrtland) October 31, 2018
10. Players were bombarded with aimlessly thrown beers.
Perhaps the consensus pick on social media for "most Boston" thing to happen during Wednesday's parade was the never-ending onslaught of beer cans thrown toward Red Sox players, whether they were paying attention or not. Errantly tossed cans ultimately resulted in one damaged World Series trophy, one very mad Red Sox manager, one injured fan, and one arrest.
Boston Globe photographer Stan Grossfeld, who was on a duck boat with Mookie Betts, wrote after the parade that a team photographer was hit in the head, the wife of hitting coach Tim Hyers was hit in the stomach, and that he was hit four times. And that doesn't count all the beers Grossfeld and other players swatted away to save Betts.
As one broadcaster put it: "You can't throw beers at the [potential] MVP of the league."
Joe West ruled it fan interference pic.twitter.com/IPRfWIZaCc

— Jerry Thornton (@jerrythornton1) October 31, 2018
Never change, Red Sox fans. But maybe double-check that you have eye contact before throwing beers at people, MVP or not.