Red Sox
Here's what Alex Cora had to say about getting hit with a beer during the Red Sox parade
"I panicked because it kind of like hit me and hit my daughter."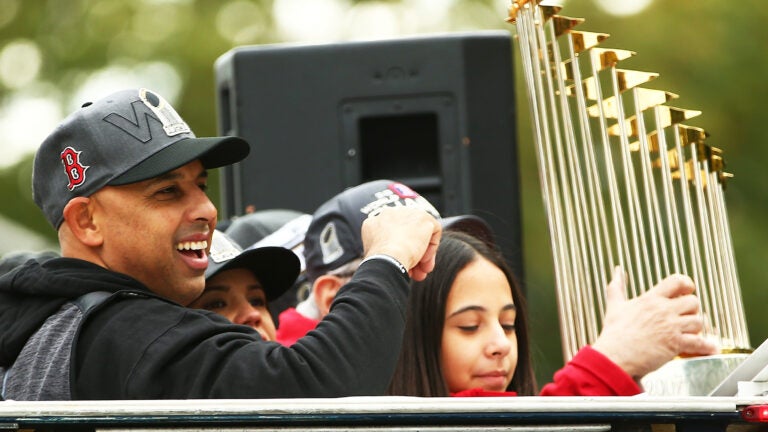 After getting hit with a thrown beer during the Red Sox victory parade, Alex Cora says he's fine, but explained why he was upset at the time.
"I panicked because it kind of like hit me and hit my daughter," the Red Sox manager said in a press conference Thursday. "If you ask my daughter, she didn't care. She was like, 'Eh, it's part of it.'"
One of the six people arrested during the parade Wednesday was charged with assault and battery with a dangerous weapon for allegedly hitting Cora with the thrown beer. Another fan captured video of an incident, in which an open can was hurled toward Cora, splashing him and his daughter with beer as they waved in another direction. The 43-year-old manager reacted angrily and pointed out the fan to authorities. It's unclear if this was the incident that led to the arrest.
Someone also threw an opened beer on Alex Cora and daughter. ? pic.twitter.com/TbqDwFjOs1

— Bo Tilly ✌? (@BoTilly) October 31, 2018
Patrick Connolly, the 19-year-old East Sandwich resident arrested, told officers at his booking that he's a fan of Cora and "didn't mean to hit him," according to a police report obtained by The Boston Globe.
"I know the kid didn't mean to hurt anybody," Cora told reporters Thursday. "Obviously, it's dangerous, but it is what it is. I guess he apologized, and I don't know where he's at right now, but we're fine."
Stan Grossfeld, a Globe photographer on a duck boat that included Mookie Betts, wrote after the parade that they were bombarded by flying beers throughout the parade, some of which incidentally hit other passengers and fans in the crowd. Unhappy with the constant barrage, Betts reportedly said this "definitely has got to stop."
Boston police made it clear before the parade that their zero-tolerance policy toward public drinking remained unchanged. However, officer Kim Tavares conceded Thursday that it "sometimes happens in big crowds."
"We can't control what people do when they know the law," Taveres said, warning that offenders may face additional charges if they throw and hit another person with a beer.
In an email Thursday, Red Sox spokeswoman Zineb Curran said that "while the beer throwing was unfortunate, we don't believe those throwing them intended to hurt anyone."
For his part, Cora took a humorous approach to the subject after the parade, writing in a quickly deleted tweet Wednesday evening that he "wasn't ready to make the #BeerTossPlay."
"All good, no one hurt," he said. "I'll be prepare[d] #NextTime."
Cora reiterated that message Thursday.
"I just gotta be ready to make that play the next time," Cora said to laughs from the media.
Jokes aside, Red Sox fans would be very happy for there to be next time.