Red Sox
Red Sox bring victory celebration to Celtics game
There was a "Yankees suck!'' chant.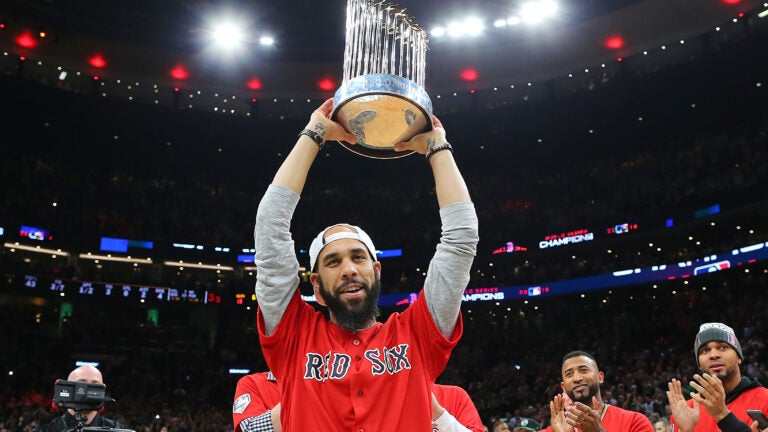 The World Series champions' celebratory tour stopped at TD Garden Thursday night, where members of Red Sox management and several players were on hand to watch the Celtics take on the undefeated Milwaukee Bucks.
After a timeout midway through the first quarter, the center-court video board started playing a montage of clips from the Sox' five-game series against the Dodgers. Set to the tune of the team's new World Series anthem — a remix of rapper Drake's "Nonstop'' — the video opened with FOX sportscaster Joe Buck's call of the final out of the deciding Game 5 and featured highlights that included Steve Pearce's two home runs in Game 5 en route to winning Series MVP.
Manager Alex Cora, cradling the Commissioner's Trophy, was first to walk onto the parquet floor. He was joined by a procession of owner John Henry and his wife, Linda Pizzuti Henry, team chairman Tom Werner, team president and CEO Sam Kennedy, assistant hitting coach Andy Barkett, first base coach Tom Goodwin, and 13 players wearing their red uniform jerseys.
The trophy eventually made its way to the hands of pitcher David Price — who announced Wednesday he was opting into his contract — which prompted the crowd to erupt in cheers. The roaring applause and standing ovation continued as the trophy was passed to pitcher Chris Sale and outfielder Andrew Benintendi.
Other players on the court included pitchers Matt Barnes, Ryan Brasier, Brian Johnson, Drew Pomeranz, and Bobby Poyner; third baseman Eduardo Nunez; catchers Blake Swihart and Christian Vazquez; shortstop Xander Bogaerts, and designated hitter J.D. Martinez.
Before exiting the court, Cora made an effort to shake hands with coach Brad Stevens and Celtics forward Al Horford. Cora and Stevens had met during spring training in FortMyers, Fla., in February, and both have been complimentary of each other's coaching abilities.
"He did a great job,'' Stevens said earlier this week. "You could tell he had a special way about him. It takes a lot for everyone to sacrifice a little bit more for the team, but that environment was something special.''
As the executives, coaches, and players made their way back to their seats, a "Let's go Red Sox!'' chant broke out.
The crowd, however, quickly pivoted to "Yankees suck!''