Red Sox
Before they headed to Puerto Rico, the Red Sox kept the festivities going in Boston
"We're going to keep enjoying it."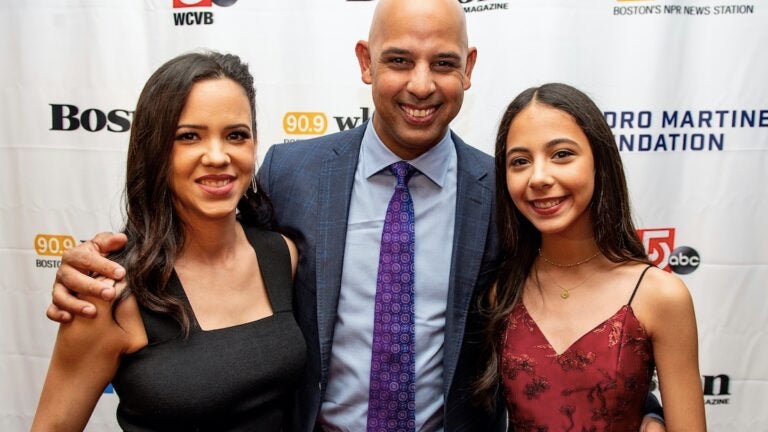 Before taking off for Puerto Rico on Saturday, Red Sox manager Alex Cora and a small group of players took their ongoing World Series party to the Mandarin Oriental Boston on Friday night, attending a glitzy gala hosted by retired ace Pedro Martinez.
"Have I had time to reflect? No," Cora told Boston.com at the Back Bay hotel. "To celebrate? Yes."
Cora was joined by his partner, Angelica Feliciano, and his teenage daughter, Camila, as well as third baseman Eduardo Núñez, pitcher Eduardo Rodriguez, and catcher Christian Vázquez — all of whom made the trip to Cora's hometown, Caguas, the following day. Mayor Marty Walsh, Red Sox president and CEO Sam Kennedy, retired catcher Jason Varitek, Yankees pitchers Luis Severino and Dellin Betances, and former Houston Astros outfielder Carlos Beltran were also in attendance.
Before making their way onto the dance floor, guests enjoyed a dinner prepared by local chef Nick Calias of the Colonnade Hotel.
WCVB's Maria Stephanos, the emcee for the evening, invited Cora's daughter onstage so she could tell the crowd about her efforts gathering supplies to take to Puerto Rico. Walsh also spoke, congratulating the champions while noting that the city has won three titles since he stopped making friendly wagers with mayors of the opposing cities.
Before the night concluded, a live auction featured two trips for two to London to watch the Red Sox and Yankees face off at Olympic Stadium in June. Both winning bids were $20,000.
Friday's event, which raised money for the Pedro Martinez Foundation, was one of many installments in the Red Sox' recent victory tour, which has made stops at Icon Nightclub, TD Garden, The Grand, and Gillette Stadium.
"When I get home, I think it's going to slow down, and I'll chill and think about the great things that happened this year," Cora said. "But, right now, we're celebrating. We're going to keep enjoying it."