Red Sox
Morning sports update: Here's who voted for Alex Cora as American League Manager of the Year
Also: Gordon Hayward volunteers for a new role, Harvard-UMass clash in another close one, and a quality assist in the NHL.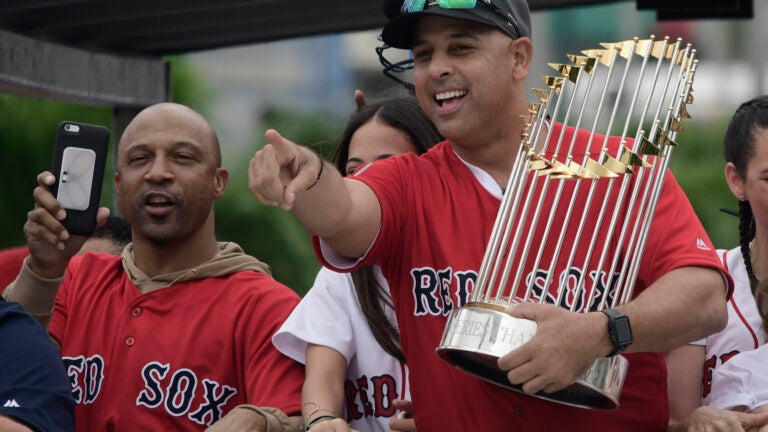 The Celtics face the Bulls at TD Garden tonight (7 p.m.), while the Bruins are in Colorado to take on the avalanche (10 p.m.)
The Patriots have the weekend off for their bye, and await a Nov. 25 matchup against the Jets at MetLife Stadium.
Alex Cora received first place votes from both of of the Yankees beat writers: Red Sox manager Alex Cora didn't end up winning both American League Manager of the Year and the World Series. Instead, he'll have to settle for simply the latter.
Cora finished second in voting to Athletics manager Bob Melvin, who won with 18 first place votes. The first year Boston manager tallied seven first place votes. The award was chosen by a group from the Baseball Writers' Association of America. Two writers from each American League city voted. Here's who cast their first place ballot for Cora:
Jen McCaffrey, The Athletic
Rob Bradford, WEEI
David Skretta, The Associated Press
Bryan Hoch, MLB.com
Pete Caldera, Bergen Record
Kevin Sherrington, Dallas Morning News
Stefan Stevenson, Fort Worth Star-Telegram
Here's a look at the full results, as Cora appeared on every ballot (collecting second and third place votes) except one.
More from Boston.com:
Gordon Hayward is open to a bench role: Amid his return from injury, Gordon Hayward's comeback is off to a slow start. The Celtics forward has shot just 31.9 percent from 3-point range. On Tuesday, Hayward said that he would willingly accept a role coming off the bench should coach Brad Stevens shuffle the lineup. [The Boston Globe]
Harvard defeated UMass 74-71 on Tuesday night. It was yet another close game between the two:
An updated look at the Patriots' cornerback depth chart:
Patriots CB depth chart: Stephon Gilmore, Jason McCourty, Jonathan Jones, J.C. Jackson, Duke Dawson, Keion Crossen. With Dawson elevated to 53-man roster from IR on Tuesday, he adds another interior option in sub. McCourty has settled in nicely as No. 2 option, played well Sunday

— Mike Reiss (@MikeReiss) November 14, 2018
Daily highlight: Alex Killorn's perfectly weighted pass dropped in for Anthony Cirelli to apply the finish for the Tampa Bay Lightning:
https://twitter.com/NHL/status/1062528249543188480