Red Sox
Alex Cora took in the Celtics-Bulls game following the announcement of his new contract terms
"They're very talented."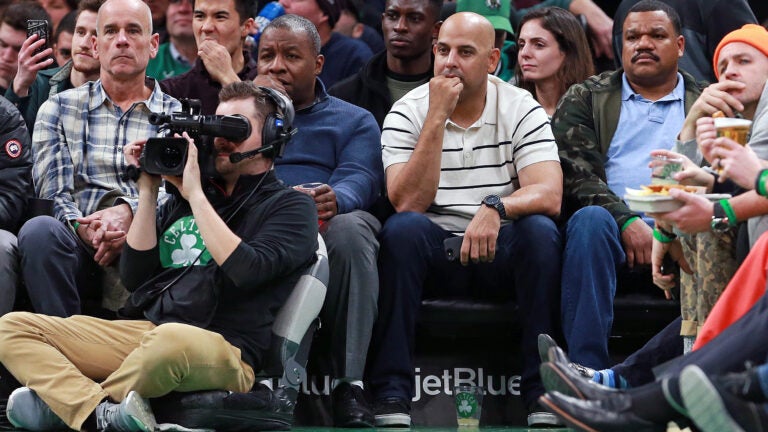 The party rocks on for Red Sox manager Alex Cora, who sat courtside for the Celtics-Bulls game at TD Garden Wednesday night.
The rookie skipper received a roaring applause upon being shown on the center-court video board toward the tail end of the first quarter. Cora — who was also part of the larger Sox contingent that brought the Commissioner's Trophy to the Garden in celebration of the team's World Series title — stayed for nearly the entire contest, ducking out at the start 'Gino' time with two and a half minutes remaining.
He was joined by a trio of clubhouse workers, Tommy McLaughlin, Edward "Pookie" Jackson, and Kenyatta Gomez. Perhaps their evening was organized as a toast to Cora's new contract terms, which the Red Sox had officially announced about an hour before tip-off. The 43-year-old was given a one-year extension through the 2021 season, along with a club option for 2022. Cora said the reworked deal came together after the team had won the championship in October.
"They talked about it right after we won," he told Boston.com. "I actually had no leverage because I signed what I signed, and I was happy with it. But I'm glad that they came up to me and talked about it. What John and Linda [Henry], Tom [Werner], Sam [Kennedy], and Dave [Dombrowski] did — my family, we appreciate that.
"We're just happy to be here. We have a great team, and we're going to be good next year. Hopefully, we can do the same thing we did this year."
Though he didn't take home the AL Manager of the Year award, Cora posted an impressive first year at the helm. He guided the Red Sox to a franchise-record 108 regular-season wins and seemingly pushed all the right buttons during the team's playoff run. Celtics coach Brad Stevens noted he had used the team as a teaching point for his players, citing the DNP following Brock Holt's cycle as a particularly demonstrative moment.
The Celtics, too, are expected to be in title contention this season but are off to a bit of a slow start. Their 111-82 blowout win over the Bulls Wednesday brings their record to 8-6. Cora, however, expressed optimism.
"They're very talented," he said. "They have a great coach, great system. They're going to be fine. It's just a matter of being patient. To get going, it's going to take some time, but when they get it, they're going to be fine."
Up next for the C's is a tough conference matchup against the Toronto Raptors Friday. As for Cora, he said there aren't any grand plans for the offseason.
"[I'll] try to get some rest," he laughed.
https://twitter.com/nicolecyang/status/1062872380484259841