Red Sox
Mookie Betts won MVP after a career season. Past Red Sox greats haven't always been so lucky.
Two legendary seasons weren't rewarded by MVP voters.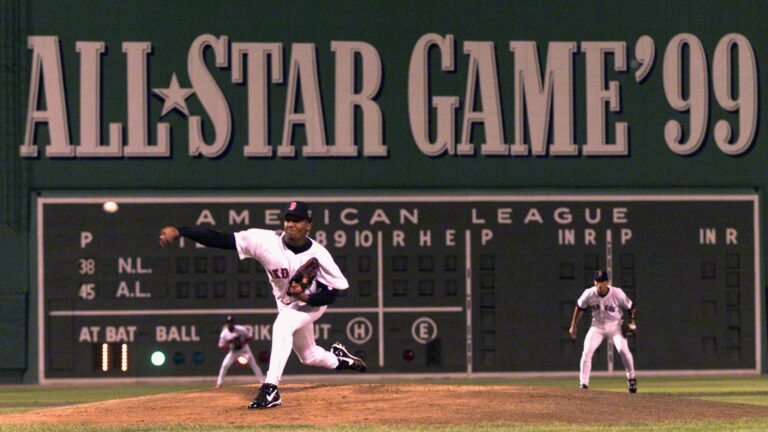 Mookie Betts won the 2018 American League Most Valuable Player award with 28 out of a possible 30 first-place votes. It was a landslide margin that a Red Sox player hasn't experienced since Fred Lynn's tally in 1975.
Betts left no doubt in the minds of voters from the Baseball Writers' Association of America, winning the batting title with his .346 average, leading the league in wins above replacement (WAR) at 10.4, and contributing 32 home runs alongside 30 stolen bases.
Betts, quite simply, was the best player in the league, and was justly rewarded for it.
Yet the MVP race hasn't always been so kind to Red Sox players. In fact, despite the team's many wins over the years, it's provided a few particularly frustrating results.
Even some of the triumphant moments have been strangely marred by what didn't happen. Carl Yastrzemski won MVP in 1967 after batting his way to the American League triple crown — leading the league in batting average, home runs, and runs batted in — during the "Impossible Dream" season.
Despite his staggering numbers, particularly his .417 batting average in the final month at the height of a pennant race, Yastrzemski didn't unanimously win MVP. He fell one vote short of a sweep, with Minnesota writer Max Nichols opting for Twins utility player Cesar Tovar (and his .267 batting average) because he played six different positions. It was a decision so controversial it nearly earned him a formal censure from his colleagues.
And there have been plenty of controversial moments for Boston in MVP defeats. The most infamous of these probably remains Ted Williams in 1947, who, like Yastrzemski two decades later, won the American League triple crown.
In the end, Williams finished second in MVP voting by a single vote, 202-201.
Williams lost to Joe DiMaggio despite outproducing the Yankee outfielder in almost every measurable offensive category, including WAR (Williams at 9.9, DiMaggio at 4.8). The reason, as Williams theorized in his 1969 autobiography, was a personal conflict with Boston Globe writer Melville Webb.
"We'd had a big argument early in the year over something he had written," Williams said. "I didn't realize until much later that he hadn't even put me on his ballot."
The truth, as was later investigated, was that Williams was most likely the victim of inexplicable dissent from a non-Boston voter.
What's remarkable is that two of the best and most memorable seasons in Red Sox history weren't enough to win MVPs for the respective players. The first was Williams in 1941 when he became the last player in baseball to break .400 over the course of a whole season.
The second was Pedro Martinez's dazzling campaign in 1999 when he won pitching's triple crown at a time when power hitting across the league was skyrocketing.
Both players lost the MVP race in circumstances that appear inexplicable on the surface. In each case, the full story showed many sides of award voting.
Ted Williams in 1941
It seems impossible that a player who not only hit .406 across a season, but also led the league home runs (37), wouldn't win MVP.
Of course, 1941 was also the year of DiMaggio's 56-game hitting streak. In its time, the streak was seen as a far more impressive and important accomplishment than Williams's average.
"DiMaggio's spectacular hitting streak, which broke all major league records, ignited the winning spark which sent the Yanks on to the pennant and subsequently the world's title," wrote George Kirksey, of the United Press, after the voting in November 1941. "When Joe started his streak on May 15, the New York club was in fourth place, 5.5 games behind Cleveland. When he was stopped, the Yanks were first — seven games in front of the Indians."
Williams hitting .406 wasn't seen as the landmark achievement that it wound up being. Players had hit .400 as recently as 1930 with Bill Terry in the National League and 1923 with Harry Heilmann in the American League.
The voting ended decisively in DiMaggio's favor, 291-254.
Modern eyes might view it differently. As well timed as DiMaggio's hitting streak was in the Yankees' turnaround, baseball analytics can tell with precision how vastly important Williams was to the Red Sox.
Williams's WAR that season was 10.9 against DiMaggio's 9.1, and in runs above replacement level (RAR), the Red Sox slugger set a record (112) that wouldn't be broken until Barry Bonds in 2001.
In a season that was historic by virtually any measurement, Williams was deemed second best by MVP voters. A driving factor may have been the Yankees' success as a team: New York won 101 games to clinch the pennant, winning the World Series 4-1 over the Dodgers. Boston finished a distant second at 17 games behind.
Pedro Martinez in 1999
It's interesting that out of all of Martinez's accomplishments in the 1999 season, his dominance would be immortalized in a meaningless game.
At the 1999 All-Star Game held in Fenway Park, Martinez struck out five of six batters he faced over two electric innings. His victims included a formidable quintet of Barry Larkin, Larry Walker, Sammy Sosa, Mark McGwire, and Jeff Bagwell.
The only out not recorded by Martinez was done by the throw of Ivan Rodriguez. The Texas Rangers catcher, who caught Matt Williams stealing after Bagwell's strikeout to complete the inning-ending double play, would coincidentally become the man who would deny Boston's ace the 1999 MVP.
This remains as controversial a decision as MVP voters have ever doled out. Rodriguez, who combined defensive prowess with a .335 average and 35 home runs, bested Martinez in the voting, 252-239, though there was far more to it than the ballot totals suggested.
Martinez finished the year 23-4 with a 2.07 ERA, striking out an astounding 313 batters to win the pitching triple crown. Coming in an era of relentless hitting, his ERA was rendered even more impressive against the '99 league average: 4.71.
With the Red Sox battling in a playoff race, Martinez went 4-0 that September with a 0.86 ERA, averaging 15.2 strikeouts per nine innings. The run included a masterful complete game win at Yankee Stadium, in which Martinez allowed just one hit and struck out 17.
Though he unanimously won the Cy Young award, Martinez lost MVP even though he received more first-place votes than Rodriguez (8-7).
How did that happen?
It came down to the strange fact that the Red Sox pitcher had been completely left off the ballots of two voters. This mystifying circumstance was explained by the two voters in question using an age-old device: Pitchers didn't deserve to be MVP because of their limited appearances.
"I feel a pitcher should just not be an MVP," said La Velle Neal, of the Minneapolis Star Tribune. "To win that award, it should be someone who's out there every day battling for his team. It's nothing personal against Pedro."
And George A. King III, of The New York Post, gave a similar explanation.
"Pitchers have their own award," he reasoned, "the Cy Young, something position players aren't eligible for. Martinez, the AL Cy Young winner, appeared in 29 games this year for the Red Sox. That's 18 percent of Boston's games."
While Martinez later said that, "I don't think we should be discriminated," his biggest defender ironically emerged from New York.
In a Nov. 21, 1999, commentary titled, "Criticism fit for a King," New York Daily News writer Bill Madden tore into King for his omission. Citing King's defense that pitchers shouldn't be eligible, Madden pointed out an obvious hypocrisy.
"Fine, except that a year ago, Nov. 19 to be exact, King wrote a column in the Post decrying how Jeter had gotten jobbed out of the '98 MVP Award (which was awarded to Texas' Juan Gonzalez) and listed among the nine players on his ballot after Jeter, the Yankees' David Wells at No. 8 and the Rangers' Rick Helling at No. 10. The last time I looked, Wells and Helling were both pitchers."
"Unfortunately," Madden concluded, "King tainted the process and brought new embarrassment and unwanted criticism to the BBWAA."