Red Sox
Bob Costas: 'Curt Schilling is on his way to the Hall of Fame'
The former Red Sox pitcher was the top vote-getter among non-elected players.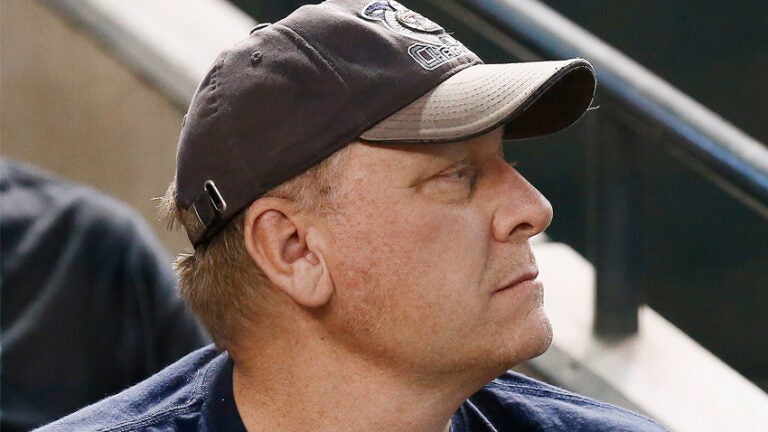 The Baseball Hall of Fame hasn't lacked for new members of late. Since no player met the 75-percent threshold required to get in via the annual Baseball Writers Association of America ballot in 2013, 20 players have been elected in six years, including four in back-to-back years for the first time in the Hall's more than 80-year history.
Twelve of those 20 were first-ballot Hall of Famers, all-time greats even among all-time greats, leaving less room than normal for non-elected players to move up.  That list includes Greg Maddux, Randy Johnson, Pedro Martinez, Ken Griffey Jr., Chipper Jones, and Vlad Guerrero. And this year, Roy Halladay and Mariano Rivera, the latter the first unanimous selection ever.
Well, that stops now. The lone slam dunk on the Class of 2020 ballot is Derek Jeter, and 2021 lacks one altogether. Those voters who've chafed in recent years at the 10-vote limit forcing them to leave off worthy candidates won't have that problem going forward. Without a genuine all-timer, perhaps it will be time to reconsider the cases of some lesser lights.
Prime among them: Curt Schilling, who got 60.9 percent of the vote in his seventh of 10 years on the ballot, falling 60 votes shy.
Mike Mussina's election on Tuesday prompted some to ask, "Why, then, not Curt Schilling?" His post-career bombast and outspoken views certainly haven't helped his cause, but even without that, his was a nuanced case. Schilling won only 216 regular-season games in a 20-year career, not hitting his stride as a dominant, reliable starter until he was 30. His most impressive stat might be his 4.4 strikeouts for every walk, a ratio that ranks fifth all-time, with every pitcher ahead of him either active or from the 1880s.
In 300 fewer regular-season innings, though, Schilling fanned 300 more batters than Mussina. Side-by-side, the numbers are plenty close.
In the postseason, however, arguably no one was better than Schilling. He averaged seven innings across 19 postseason starts and 14 years, and his 2.23 ERA includes a three-inning, 6-run disaster on a shredded ankle to open the 2004 ALCS. (Without that, it drops to 1.86.) Even without 2004, he has iconic moments, be it his 147-pitch shutout to keep his Phillies alive in 1993 or what could easily have been a 6-0 postseason for the 2001 Diamondbacks.
4 men who absolutely deserved it. They were better men than they were players and their HOF players. Congrats Mo, Doc, Moose and Edgar. You all are deserving! #HOF2019

— Curt Schilling (@gehrig38) January 22, 2019
While this was a stagnant year for some big names on the ballot, namely Roger Clemens (59.5 percent, up just 2.2 from 2018) and Barry Bonds (59.1, up 2.7), Schilling climbed to 60.9 percent from 51.2. That was the fifth-largest leap by a player still with Hall eligibility, with two of the men ahead of him (Edgar Martinez and Mussina) gaining induction and a third (Fred McGriff) coming off the ballot after 10 unsuccessful years.
Asked for a final thought on the day's proceedings, MLB Network's Bob Costas — certainly not one to shy from politics — said it plain.
"Curt Schilling took a significant jump. He should have been in on the first ballot. The other considerations are not relevant," Costas said. "Curt Schilling is on his way to the Hall of Fame."
Schilling, like Clemens and Bonds, has three more chances on the BBWAA ballot. While his numbers have waffled in the past as superstar first-year candidates appeared and his invective got particularly onerous, dropping below 30 percent in his second year, to above 50 percent in his fourth, to below it again in the fifth, the stage is largely clear until his potential 10th shot in the winter of 2021. That year, Alex Rodriguez and David Ortiz are on the ballot for the first time, but the boost candidates usually receive in their final year could mitigate that.
A devout baseball historian, Schilling's on record as saying both that he doesn't care if he's elected and that politics are why he's not in yet. Wherever the truth lies, Tuesday was a positive day for anyone who thinks him worthy of the honor.