Red Sox
Here's everything Red Sox players have said about visiting Donald Trump at the White House
Some members are "excited" to go, but a growing number have signaled they will skip the event.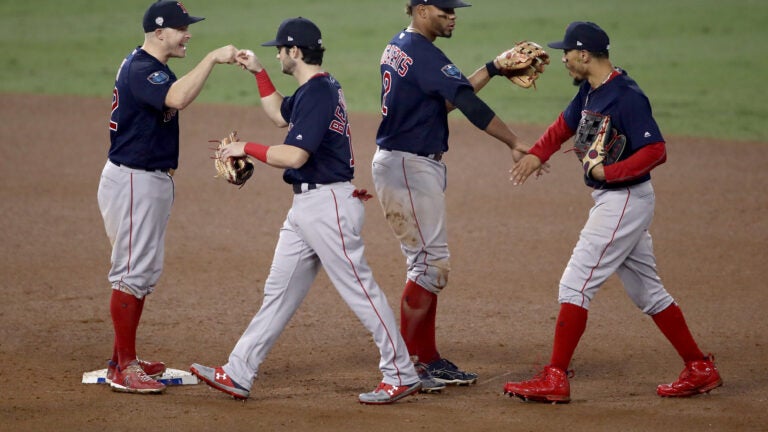 As Red Sox players begin heading to Florida this week for spring training, questions continue to swirl about another trip on the schedule.
If it even happens.
Five years ago, after the Red Sox won the World Series in 2013, the customary White House visit went on without incident (aside from the notable number of Red Sox fans in attendance). But with Donald Trump in the White House, some championship-winning professional athletes and even entire teams have opted not to meet with the inflammatory president.
In the midst of the recent government shutdown, the 2018 World Series champions postponed their visit to the White House until May. While some Red Sox players have said they're "excited" to make the trip, a number of the team's key figures say they don't plan on — or haven't made up their mind about — attending the increasingly political event.
Red Sox manager Alex Cora, for now, has tentatively decided to go, despite denouncing Trump's remarks last summer about his homeland of Puerto Rico.
"Sometimes you've got to show your face," Cora recently told The Boston Globe. "It's not that I'm going to go there and make a scene or whatever. Like I said, I'm very proud of where I'm from."
Cora added that his decision could very well "change tomorrow." Other members of the Red Sox clubhouse have made it clear where they stand. For a few, it won't be on the South Lawn.
Sandy Leon
The Red Sox catcher and Venezuela native told the Globe last week that he will likely attend.
"I've been thinking about it," he said. "It would be an honor."
Leon reportedly explained that he appreciated the Trump administration's recent actions with regards to his home country.
The United States has imposed sanctions on Venezuela and, along with more than 20 other countries, decided last month to recognize National Assembly opposition leader Juan Guaido as interim president, as opposed to socialist President Nicolas Maduro, who was elected last year in a remarkably low-turnout vote.
"It was a good thing for Venezuela," Leon said of the Trump administration's recognition of Guaido. "It means a lot to me."
Jackie Bradley Jr.
The Red Sox center fielder visited the White House twice during the Obama administration (once with the University of South Carolina in 2010 and once with the Red Sox in 2013). However, Bradley says that won't be the case this year.
"I don't get into politics, but I won't be going,'' he told the Globe last week.
After some apparent backlash, Bradley posted a statement on Twitter implying that his decision had nothing to do with Trump. He said it would have been the same even if Hillary Clinton, the Democratic presidential nominee in 2016, had been elected.
"Here is a monkey wrench thrown at the people who believe MY decision is political," the 28-year-old wrote. "I still wouldn't go if Hillary was in office either. And for the crew that's calling me racist, c'mon now, you obviously don't know me.
Riddle me… pic.twitter.com/7ZSIJ2iVJ7

— Jackie Bradley Jr. (@JackieBradleyJr) February 8, 2019
Mookie Betts
The 2018 American League MVP has made the same decision as his outfield partner. However, Betts has been somewhat less effusive about his reasoning.
"I won't be going there," Betts told the Globe at a dinner in New York last month to accept the MVP trophy.
The 26-year-old right fielder reportedly gave no further explanation beyond, "I decided not to."
Rafael Devers
Before the Red Sox postponed the previously scheduled Feb. 15 trip last month, Devers told reporters that he wouldn't attend the White House event, because he wanted to focused on offseason training.
Rafael Devers said he's not going to go to the White House. Said it's not a matter of politics, just that he wants to focus on his spring training and baseball

— Evan Drellich (@EvanDrellich) January 19, 2019
Rafael Devers won't be attending the White House. He said politics weren't involved in his decision.

— Christopher Smith (@SmittyOnMLB) January 19, 2019
"The opportunity was presented and I just wasn't compelled to go," the Dominican Republic native said through a translator, according to Eagle-Tribune reporter Chris Mason.
Rafael Devers is the first player to say he's not going to the White House. Said it wasn't a political decision. Via translator: "The opportunity was presented and I just wasn't compelled to go."

— Chris Mason (@ByChrisMason) January 19, 2019
Alex Cora
Unlike some of his players, Cora has willingly admitted that Trump's actions as president have affected his thinking about visiting the White House.
In September, the 43-year-old manager called Trump's attempts to undermine a government report estimating 3,000 Puerto Rican residents died due to Hurricane Maria "disrespectful." But after the Red Sox were invited to the White House in December, he told reporters that he would attend and use his platform "in the right way."
"I'm not going to embarrass anybody," Cora said. "Actually, I'm going to represent probably 4 million people from back home the right way when we go there."
When asked about his decision a month later, Cora was a little less certain amid reports that the Trump administration was considering diverting hurricane recovery funds from Puerto Rico for the construction of his proposed wall along the U.S.-Mexico border.
"I don't know what kind of platform I'll have if I go," he told the Globe. "It's not that I've changed my mind, but we'll see what happens in the upcoming days."
After visiting the U.S. island territory in the offseason, Cora said he was struck by the impact of the devastating storm.
"In the offseason I was like 'whoa.' It's different right now back home," he said. "Not only for me but for my family. So we'll see. We'll see. I'll represent them the right way. We'll have to wait."
A number of other players were polled on the White House visit last month before the event was postponed.
According to the Globe, shortstop Xander Bogaerts and infielder Eduardo Nunez said they were undecided, but did not elaborate. Starting pitcher Eduardo Rodriguez was also undecided and reportedly suggested that he could instead spend the day with his family.
Eduardo Rodriguez was undecided on the White House. Seems to want to see what others do, mentioned that his family will be in Fort Myers, could spend the extra day with his family, different factors

— Evan Drellich (@EvanDrellich) January 19, 2019
It's unclear what, if any, bearing the delay of the visit from February until May could have on their decisions.
Fellow pitcher Rick Porcello said he would go along with whatever the team decides.
"Hopefully we're all consistent in it and that's it," Porcello said, according to MassLive reporter Christopher Smith.
Rick Porcello said about the White House visit:
"I'm going to do whatever our ballclub does. Hopefully we're all consistent in it and that's it."

— Christopher Smith (@SmittyOnMLB) January 22, 2019
According to the Globe, pitchers Matt Barnes, Brian Johnson, and Chris Sale, as well as catcher Blake Swihart and first baseman Mitch Moreland, all said they intend to visit the White House. Utility man Brock Holt and relief pitcher Ryan Brasier said they were "excited" to do so.
"That's normally what championship teams do, is visit the White House," Holt told reporters. "I'm excited to go, just to see the White House. A lot of history inside the building, and to have the access that we're going to have is going to be pretty cool to experience that."
After Clemson's national championship-winning football team was given fast food during their visit in the midst of the government shutdown, Holt joked that he hoped the Red Sox are served Chick-fil-A.
Brock Holt on White House visit, and Clemson's spread: 'If that's the case, I hope we get Chick-Fil-a or something.'

— Alex Speier (@alexspeier) January 17, 2019
"Not many people get to go meet a president in the White House," Brasier said at the time. "I'm excited to go."
Relief pitcher Heath Hembree was perhaps the first player to express his White House intentions.
"Hell yeah," Hembree told TMZ after the Red Sox' World Series-clinching win, when asked if he would accept an invitation.
"I f*** with Trump," he said, adding that his favorite thing about the Republican president was "everything."
Red Sox President Sam Kennedy says the White House invitation is simply that for players — and not a requirement.
"It's not a mandatory command performance," Kennedy said upon accepting the invitation in December. "It's a great opportunity for the players, an invitation for the players and ownership. It's a great opportunity for those guys to go to the White House and get the behind-the-scenes tour and get the recognition they deserve for the world championship."