Red Sox
What Chris Sale said about Craig Kimbrel remaining a free agent at the start of spring training
"He 100 percent makes any team better that he plays for, right?"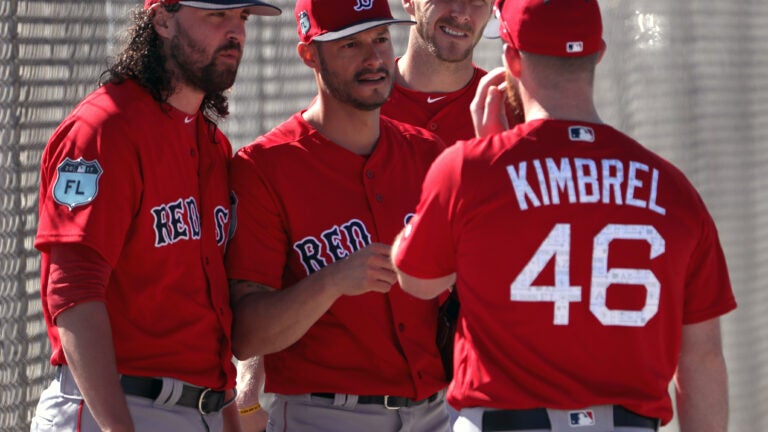 MLB teams open spring training this week without the offseason's top free agents signed to new contracts for the second year in a row. In 2018, it was J.D. Martinez stuck on the open market, not signing with the Red Sox until Feb. 19. This year, top free agents Bryce Harper, Manny Machado, and former Red Sox closer Craig Kimbrel still have nowhere in Florida or Arizona to report to for the pre-season.
It became apparent that Kimbrel, 30, will most likely not return to Boston's bullpen after rumors swirled that he sought a six-year, $100 million contract. The Red Sox have instead indicated they will seek an internal option to close games this season.
"He's as good as it gets," starting pitcher Chris Sale told reporters. "He 100 percent makes any team better that he plays for, right? It's crazy to think there really hasn't been a whole lot of traction with him."
Chris Sale is not happy at how the offseason has treated Craig Kimbrel. "You would like to see better for him." pic.twitter.com/VKLHrLsdQr

— WEEI (@WEEI) February 13, 2019
In three seasons with the Red Sox, Kimbrel recorded 108 saves, a 2.44 ERA, and .906 WHIP (walks + hits per inning pitched). Kimbrel was an All-Star all three seasons and finished sixth in the American League's Cy Young award voting in 2017.
Sale went on to say that he hopes a team will reward Kimbrel for the time and effort he has put into his baseball career. He also suggested MLB teams aren't doing enough to put a winning product on the field.
"Obviously with half the league just showing up for checks, [it] doesn't help," Sale said of Kimbrel's situation. "Not trying to win, those kind of things. Obviously, your market kind of goes down a little bit."