Red Sox
Red Sox reliever Heath Hembree doesn't regret saying 'I f*** with Trump' after the World Series
"It could have been worded differently, but I don't regret it."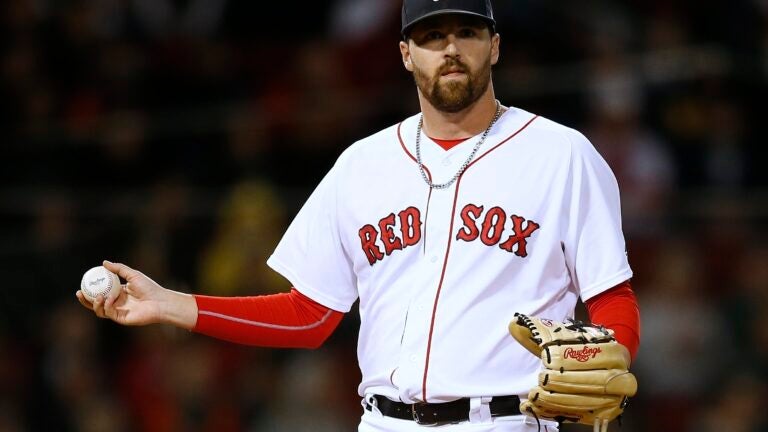 In the hours after the Red Sox clinched their World Series title, Heath Hembree was signing baseballs and celebrating in Los Angeles when a TMZ camera crew approached. They asked the reliever if he would visit the White House with the team.
"Hell yeah," Hembree said. "I f*** with Trump."
A follow-up question wondered what his favorite thing about the president is. Hembree responded, "Everything."
The issue of whether or not to attend the White House ceremony, scheduled for May 9, has drawn plenty of attention. Players have differing opinions, with at least a half-dozen already deciding against it. As for Hembree, the 30-year-old righthander did not back down from his comments in an interview on Saturday with WEEI's Rob Bradford.
"It is what it is. I don't give a [expletive]," said Hembree, who was second among pitchers in appearances last season behind the departed Joe Kelly. "I could have worded it better for my younger audience. I could have worded it better or for my image — although I don't really care about that. I don't regret what I said. It could have been worded differently, but I don't regret it."
Hembree did not give up a run in three postseason appearances, which included a shutout 11th inning in the 18-inning Game 3. He noted that he keeps up with politics and knew he'd draw a reaction with his words.
"In that moment I was like, 'Let's get a reaction,'" he said. "But the next morning I was like, 'Oh gosh.'"
Hembree didn't realize the late night quip had been picked up by a television camera until friends sent him links to the video the following morning.
"Being a middle reliever I didn't think I would get that much attention," Hembree said, "but I guess they are going to try and make a story out of something."
Red Sox pitchers and catchers reported to spring training Wednesday. Hembree will be in the conversation as Alex Cora fashions his late-inning bullpen without free-agent closer Craig Kimbrel.