Red Sox
New York City mayor Bill de Blasio remains a big Red Sox fan
"You should never abandon the team you grew up with for any reason.''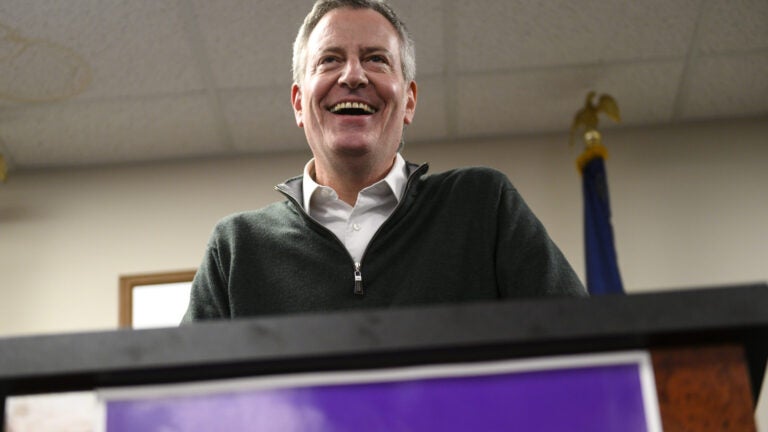 FORT MYERS, Fla. — Bill de Blasio didn't hide the fact he is a Red Sox fan when he ran for mayor of New York City in 2013.
"I was very upfront about it,'' he said Saturday during a visit to JetBlue Park to see the Sox play the Baltimore Orioles. "The people were cool because they appreciated the honesty. I think real baseball fans understand you should never abandon the team you grew up with for any reason.''
De Blasio won that election and was reelected in 2017. But he has yet to step foot in Yankee Stadium for a game since becoming mayor. As a Red Sox fan, he understands the passion of Yankees fans.
Nothing like spending some time with my two great loves: @Chirlane and the @RedSox. Weren't even favorites to win the division, and now they're the reigning World Champions! pic.twitter.com/PVgxSZ20Ct

— Bill de Blasio (@BilldeBlasio) March 2, 2019
"It wouldn't be a good scene,'' he said, laughing.
Chirlane McCray, de Blasio's wife, grew in Springfield, Mass., rooting for the Sox. Their children, Dante and Chiara, were raised as Sox fans.
"That builds character living in New York,'' McCray said.
De Blasio was born in New York then moved to Cambridge with his family in 1966. The Impossible Dream team of '67 hooked him on the Sox. His favorite players were Rico Petrocelli and George Scott.
"Rico is partly because of my Italian heritage. But I also loved how he played,'' de Blasio said. "No. 6 became my favorite number of all time. George Scott was because I was a first baseman coming up and he had that scoop move. Incredible defensive first baseman.''
De Blasio met with Sox president of baseball operations Dave Dombrowski and manager Alex Cora during the Division Series last fall at a Red Sox Foundation event held at Goldman Sachs in Manhattan.
De Blasio believes there are lessons in how a baseball team is built that can be applied to running a city as big as New York.
"Dombrowski talked about the strategy in choosing Alex Cora, and as a CEO of a different type it was unbelievable to see how much foresight went into that,'' de Blasio said. "I think Dombrowski is one of the most visionary guys in this game because he saw exactly how Alex would fit.
"I check up on the Red Sox all the time and I look at Dombrowski's thinking and the way they think about value there, they're playing the long game.
"The parallel is that in politics and government it's very tempting to do what's immediately popular or expedient. But if you're actually thinking about where your city is going to be in five or 10 years it's a whole different way of thinking.''
De Blasio said the Sox and Oakland Athletics are examples of how important it is to pick the right players — or in his case, staff members and city officials — who will work together at a common goal.
"You have to that chemistry,'' he said.
De Blasio was dressed in shorts, a T-shirt, and sandals for the game and looked like any other fan, albeit one with a detail of NYC police officers watching over him.
He was pleased to meet several players and even requested a few photos with them.
"I truly love baseball and if the Yankees win the championship we'll give them an amazing parade and an amazing ceremony,'' de Blasio said. "But I'm a true Red Sox fan.''