Red Sox
Mookie Betts was mic'd up for an interview Thursday, and it went hilariously off the rails
The AL MVP discussed his "ice," shared his diaper opinions, and showed off his golf and bowling form.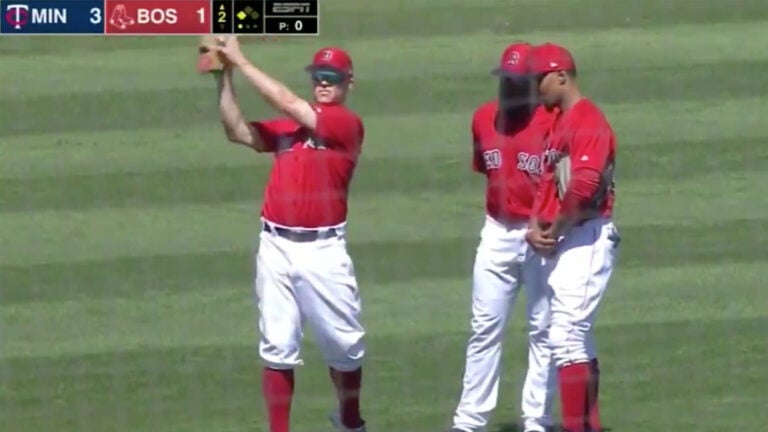 Red Sox fans might have had a tough time watching Thursday's blowout spring training loss to the Minnesota Twins — if not for some humorous in-game commentary courtesy of Mookie Betts.
The Red Sox right fielder was mic'd up again during the second inning of the afternoon game for an interview with the ESPN broadcast booth. Little did he know how long the inning would go.
The discussion began with Betts's chain necklace, which he referred to as "my ice," slang for expensive jewelry.
"Is that what it's called? Ice?" asked an ESPN broadcaster.
"You know why they call it ice, right? Betts asked.
"Why's that?" asked another announcer.
"I have no idea," he replied. "I figured you knew."
Flipping the script on 'em ?@mookiebetts just crushing the mic'd life on @espn. pic.twitter.com/ZlGnLMQs7V

— Boston Red Sox (@RedSox) March 7, 2019
The conversation continued on to the subject of Betts's infant daughter, who was born last November shortly after the Red Sox won the World Series, along with some challenges of fatherhood.
"Man, she's nasty," Betts joked, when asked about diaper duty.
"Nobody ever explained that," he said. "You don't really know about what goes into these diapers. So public service announcement: Brace yourself. It is not fun."
.@mookiebetts has some opinions on diapers. And they are HILARIOUS. pic.twitter.com/ClHWVVsTZF

— MLB (@MLB) March 7, 2019
Eventually, baseball began to force Betts into action, as the Twins shelled Red Sox pitcher Brian Johnson. However, that didn't halt the conversation, as the multi-tooled AL MVP provided his own play-by-play, receiving compliments on a throw to third and narrating his decision to throw to second after catching a deep fly ball.
"Textbook," Betts said, assessing his own toss back into the infield
The three-run inning did however interrupt a demonstration of his golf swing. Betts also showed off his swing during a in-game interview during last year's spring training. But this time he broke down his chipping game.
.@mookiebetts doing his own play-by-play … and seamlessly going back to talking about his short game ? pic.twitter.com/JmjnK2wAxz

— ESPN (@espn) March 7, 2019
When Red Sox manager Alex Cora decided that Johnson had had enough for the day, Betts took the opportunity of the pitching change to bring his fellow outfielders into the discussion and show off their own golf swings (somewhat dangerously so, in Jackie Bradley Jr.'s case), as well as tennis serves and bowling form.
Presenting your very athletic OF: pic.twitter.com/KNc1gSLGMX

— Boston Red Sox (@RedSox) March 7, 2019
"Oh we're staying live?" asked Brock Holt, who also had an upcoming mic'd up interview in the fourth inning, during which he nearly lost his earpiece.
"Don't go anywhere fans," Holt teased.
"Hopefully I'm out of the game by then," Betts said.