Red Sox
'We all have concerns': MLB, now with gambling partners, adopts new lineup policy
Teams this year must send their starting lineup to the commissioner's office 15 minutes before they can make it public or reveal it to the media.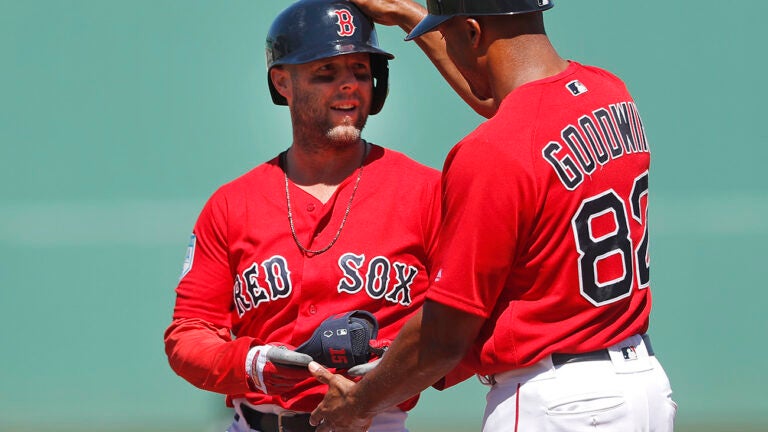 FORT MYERS, Fla. — Major League Baseball security officials make their rounds every spring to the 30 teams' camps, warning players and personnel of the assorted perils that come with poor or naive decision-making.
Wednesday morning brought the Red Sox' turn. Because of some recent curious decision-making by MLB, this year's message was more complicated than usual.
The league confirmed a report by The Athletic's Peter Gammons Wednesday that teams must send their starting lineup to the commissioner's office 15 minutes before they can make it public or reveal it to the media.
MLB, which in November reached a gambling partnership with MGM Resorts International, one of the world's largest gaming operators, and also has a deal with daily fantasy site DraftKings, will confirm receipt of the lineups, then distribute the information to its partners.
Releasing the lineups first to the commissioner's office would allow MGM to set its betting lines before others have access.
Gambling has long been a third rail in baseball. All-time hits leader Pete Rose remains banned for life for gambling on baseball while managing the Cincinnati Reds in the 1980s. And this season is the 100th anniversary of the Chicago "Black Sox'' scandal in which some players conspired with gamblers to throw the 1919 World Series.
Red Sox manager Alex Cora said the new procedures were a primary topic in the security meeting. He did not seem especially thrilled about them.
"This whole thing is serious,'' he said. "We all have concerns. Just have to stay true, I guess. Hopefully nothing happens. It's something new, but we have to deal with it. The players know it, we know it, the organization does, and we'll do our best to follow the guidelines.
"You think about all the stuff that can happen. It's not that easy in that sense, but I think we'll all be fine.''
Cora mentioned that Hector Villanueva, a former Cubs and Cardinals catcher, used to tell him stories about the gambling-related antics that would go on when he was playing later in his career in Taiwan. His league was beset by a gambling scandal that nearly caused it to fold a decade ago.
"He would say how pitchers would throw the ball down the middle, hitters would take, and the ump would call a ball,'' said Cora.
Cora was not suggesting that such a thing could happen here. But baseball has been more willing to embrace gambling partnerships since the Supreme Court invalidated a federal law that barred sports betting in most states.
"It's serious stuff,'' said Cora. "If something happens where you have to resend the lineup and keep doing it, I hope I don't forget, honestly. There's stuff that happens. Somebody gets sick, somebody pulls something swinging the bat, you have to scratch somebody before the game. You've just got to be alert.''
Coming out swinging
On the first pitch he saw in a major league game (or spring training approximation) since last May 29, Dustin Pedroia took a huge rip. That might have seemed a very on-brand approach for the charmingly confident second baseman Thursday, but it did leave at least one teammate surprised.
"That first swing? No one expected he was going to go up there and swing right away, take a big hack,'' said a smiling Xander Bogaerts. "But then he settled down and got a base hit. He seemed like he was riding a bike.''
Pedroia said some teammates had been egging him on.
"The guys the last few days were like, 'You better swing at the first pitch,' '' said Pedroia. "I was like, 'I haven't been in a game since May.' I really wasn't going to swing at it, but I saw it up there — might as well let it fly.''
Pedroia swung through the 93-m.p.h. offering from Twins starter Kohl Stewart. His single came on the fourth pitch, a slider that he hit hard off the glove of Twins shortstop Ronald Torreyes.
Bogaerts said it was helpful having Pedroia around last season, even though he was limited to three games after having cartilage restoration surgery on his left knee.
"He's like a book, he has so much information,'' said Bogaerts.
But Bogaerts, who has been Pedroia's primary double-play partner since 2014, said he understands how important it was for Pedroia to have a successful spring debut Thursday.
"In his shoes, I can't imagine how he felt,'' said Bogaerts. "And he got the whole test today, the whole drill.''
Pedroia played two innings, getting one at-bat, as was Cora's plan. But he was busy, leading off the game with a single, taking second on a passed ball, and scoring on a hit.
"It was fun being out there,'' said Pedroia.
Pitchers get closer
Neither Matt Barnes nor Ryan Brasier has pitched in a game this spring, but the two relievers who seemed most likely to collect saves with Craig Kimbrel still in the free-agency waiting room are getting closer. Barnes, who threw live batting practice Wednesday, will make his debut Saturday against the Mets, Cora said. Brasier, who has been sidelined with an infected toe, threw off a mound Thursday and will do so again in the next couple of days. "Then he will throw live BP and we'll get him into a game after that,'' said Cora.