Red Sox
The PawSox have quite the plans for 'celebrating' Alex Rodriguez and Jennifer Lopez's engagement
Ben Affleck is involved.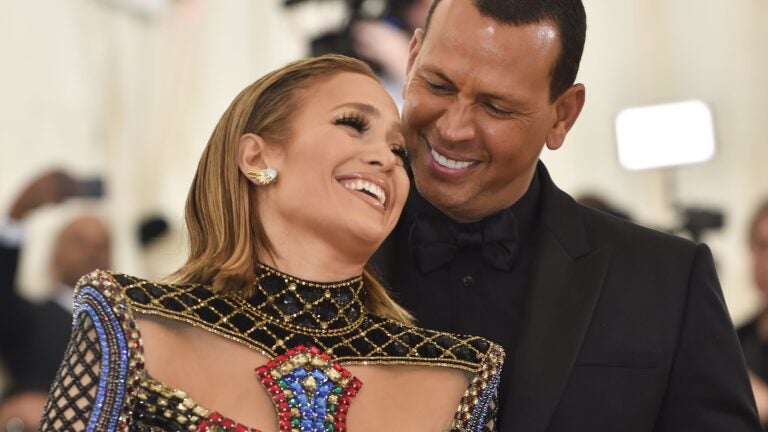 The Pawtucket Red Sox are "celebrating" former Yankees third baseman Alex Rodriguez's recent engagement to entertainer Jennifer Lopez. In honor of the couple's forthcoming nuptials (and to kick off the club's "Legendary Fridays" series this season), the PawSox will host a party during their game against the Syracuse Mets on April 12.
"Recognizing the memorable moments provided by the former Yankees slugger, and the pop and movie star who visited Fenway Park in a previous romance, the PawSox will recall the 15th anniversary of the historic 2004 season on this night—some of which featured A-Rod," reads a press release from the PawSox.
Fans wearing jerseys of either retired pitcher Bronson Arroyo or retired catcher Jason Varitek will receive free admission to the game, which is scheduled to begin at 6:05 p.m. Both Arroyo and Varitek played critical roles in one of the most memorable MLB games in the Red Sox-Yankees rivalry. On July 24, 2004, Arroyo drilled Rodriguez with a pitch, prompting Rodriguez to spar with Varitek. Their altercation escalated to a bench-clearing brawl. The PawSox say they plan to show footage from that game on the video board on April 12.
Kids under 12 years old also will be admitted to the game for free — as will Rhode Island residents named Jennifer.
Former NFL quarterback Tim Tebow, who now plays for the Syracuse Mets, intends to set his walkup song to pop singer Mariah Carey's greatest hits "as a salute to one of J. Lo's greatest rivals," according to the press release.
One of Lopez's ex-boyfriends, Cambridge native and actor Ben Affleck, has been invited to throw out the ceremonial first pitch.