Media
ESPN promises objectivity from Alex Rodriguez and Jessica Mendoza
Mendoza said the ESPN gig is her first professional priority, while her Mets duties are secondary.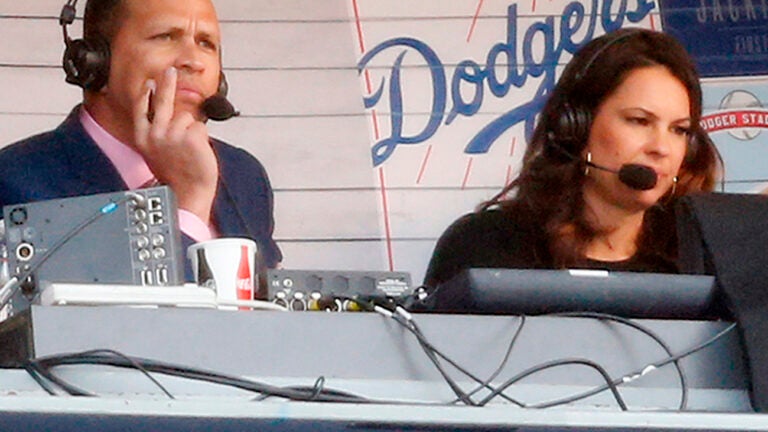 Alex Rodriguez's appeal as a broadcaster comes as somewhat of a surprise to those who found him — to put it politely — inauthentic during his playing career.
Jessica Mendoza, who enters her second season partnered in the ESPN "Sunday Night Baseball'' booth with Rodriguez and play-by-play voice Matt Vasgersian, says she learned during the first year with that team why Rodriguez has been able to change the common perception of him for the better.
"Seeing his excitement, we had so many extra-inning games last year. Long games, weather days, and you start to lose your mind a little bit,'' said Mendoza. "He loves that. That's when your real personality comes out. To see Alex's excitement, like when a game went five hours, he was giddy as all heck because he got extra baseball. It's very natural, a kid in that way of just loving baseball.''
Rodriguez said that's the joy of the job — working with people who love the game as much as he does.
"For me, [last year] was so much fun to really understand each others' superpowers,'' he said. "She loves coming to the ballpark every day, [has] passion, and makes it really easy to work off. She asks tough questions and challenges us, with her thoughts and ideas, some that are especially provocative and not predictable, which I really enjoy.''
Mendoza said Rodriguez's success as a player — he hit 696 home runs and was a 14-time All-Star — wasn't solely based on his ability (or, it must be said. anything he did to enhance that ability). She said his love of the game led him to owning a deep reservoir of knowledge that he can easily share with casual but detailed explanations.
"To be able to pick Alex's brain away from the booth, even when we're not on air, was really helpful,'' Mendoza said. "I've known both Matt and Alex for a long time, so the chemistry part of it is helpful and natural.
"But there were moments early on, even during a commercial break, when Alex would point something out that he noticed something in a pitcher's grip or some detail like that. Even watching where his eyes go at certain points, that allowed me to even look for different things that maybe I wouldn't have looked for or noticed in the past.
"He knows the stuff you can't teach just from playing for so long and understanding where to look.''
Vasgersian, Mendoza, and Rodriguez, along with reporter Buster Olney, will call ESPN's exclusive opening night telecast of the Red Sox' opener against the Mariners next Thursday. It will be interesting to see how ESPN approaches the broadcast when it comes to Mendoza's side gig.
She took a job as a special assistant to new Mets general manager Brodie Van Wagenen over the winter, causing some controversy regarding whether she can be impartial in the booth. (Rodriguez, it should be noted, is a special assistant for the Yankees, but his responsibilities are reported to be less significant than hers.)
"We feel comfortable about having them on the games,'' said Mark Gross, ESPN senior vice president of production and remote events. "We saw last year as Alex did any number of Yankees games, they are professionals and they can be objective.
"They're wearing two hats, but there is a way to do it. We will be upfront with viewers at the top of the game, letting people know. Ultimately we'll let viewers decide whether it's something they're on board with.''
Mendoza said the ESPN gig is her first professional priority, while her Mets duties are secondary.
"Oh, absolutely. And Brodie [knows], too,'' she said. "He understands [what the ESPN job means] and my passion and how I still feel like there is so much to learn as an analyst.''
Mendoza actually turned down a more prominent role with the Mets.
"It came about actually when Brodie was being interviewed by the Mets, and he had reached out to me last August or September and was like, 'Look, this is a big move for me, it's something that I'm really considering, and I'm putting you in my presentation. I just wanted to get your OK with that.'
"So we kind of started talking about it then. From there, he obviously got the job. He asked, I think a little jokingly, whether I would be willing to move to New York. I said no, that being California-based with my kids in school there's no way I could do it, especially with my role at ESPN, especially a full-blown roll.''
Mendoza said rather than giving up on the idea of hiring her, Van Wagenen amended the offer to make it more suitable for her lifestyle demands.
"He came to me later with the option that we're doing now, which is a lot more part-time, where ESPN was still the priority and I could be California-based,'' she said. "I feel like I have the best of all worlds.''