Red Sox
How hard will it be for the Red Sox to repeat?
Let's start by asking the Astros.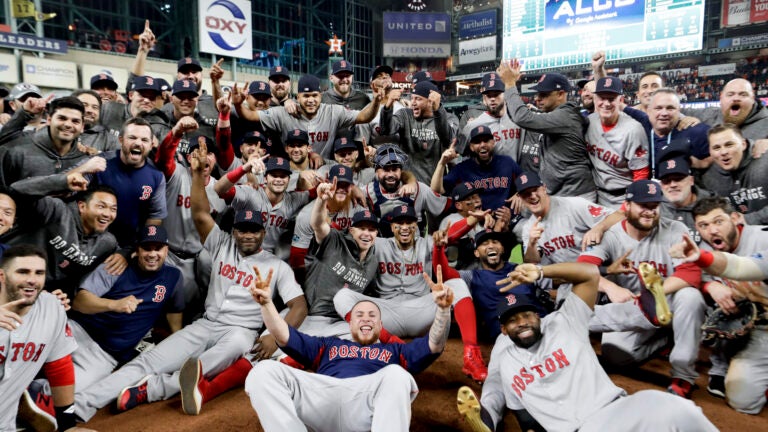 The Houston Astros blitzed through their first four playoff games last October, including the opener of the American League Championship Series at Fenway Park in Boston. Then they lost four in a row to the Boston Red Sox, who went on to replace them as World Series champions.
George Springer, the Most Valuable Player of the 2017 World Series, did not watch a moment of Boston's triumph over the Los Angeles Dodgers. He was not despondent, though. He was simply taking time for himself after a largely satisfying season.
"A lot of people think when you lose, you're sitting at home all destroyed for a long time, but a lot has to go right to get where we got the previous year," Springer said this spring at the Astros' training complex in West Palm Beach, Florid. "We just got beat. One of the things about this game is you've got to be able to accept failure. We didn't have a bad year. We lost in the ALCS. You move on."
The Astros never expected to string together championships. General manager Jeff Luhnow, who often makes blackjack analogies, understands that sometimes, the cards will not flip his way. But the Astros keep getting a seat at the table and tipping the odds in their favor.
They turned to the free-agent market to find an ideal fit for their lineup: Michael Brantley, the former Cleveland left fielder who signed a two-year, $32 million deal. Brantley is a lefty in a right-leaning lineup, and a premier contact hitter who accentuates what the Astros do best.
Houston ranked sixth in the majors in runs last season, and only the Cleveland Indians' hitters had fewer strikeouts. Brantley had 55 extra-base hits and the second-lowest strikeout percentage in the majors, trailing only the Los Angeles Angels' Andrelton Simmons.
"Good things happen when you put the ball in play," said Brantley, who struck out only 60 times in 631 plate appearances. "Rallies can start with an error or a miscommunication on a fly ball; you don't know how. You look around this locker room, not too many guys strike out in this lineup. We put the ball in play hard and take our chances."
Opponents could make up a bit more ground against Houston this season. The Astros' pitchers led the majors in strikeouts, but the team subsequently lost Charlie Morton to free agency and Lance McCullers Jr. to Tommy John surgery; both averaged at least 10 strikeouts per nine innings. To fill those spots — and the one left by unsigned free agent Dallas Keuchel — the Astros will use Collin McHugh, Wade Miley and Brad Peacock or Framber Valdez, with power arms waiting in the high minors.
"We're a pretty complete team, and that sometimes brings questions," manager A.J. Hinch said. "I understand why they're there, but they don't necessarily have to be there. We have five really good starting pitching candidates and we have some youngsters that are coming fast. The rotation's not keeping me up at night."
Hinch can rest easy: There may be no clear favorite among the power teams in this league, but the Astros look like the safest bet to push through to the World Series.
They have far more depth than their rivals in the AL West. For example, the Oakland Athletics, who won 97 games last season, are like the buddy in your fantasy league who loads up on some categories but ignores others. In this case, the A's have lots of sluggers, relievers, and star defenders, but no semblance of a rotation.
Houston's biggest threat is likely again in the AL East.
The Detroit Tigers' former architect, Dave Dombrowski, is now the president for baseball operations for the Boston Red Sox and in 2018, he earned the championship he could never quite get in Detroit. It's fair to expect the Red Sox to repeat in the East, but no team has successfully defended a World Series title since the 2000 New York Yankees.
"There's a lot of reasons behind that, but first and foremost, it's tough to win, period," Dombrowski said. "You get a lot of breaks when you win. Even having a good club, you need a break here or there. Sometimes, you just don't get as many."
The Red Sox lost no significant players from the majors' best offense, and re-signed postseason star Nathan Eovaldi to keep their rotation intact. Starters Chris Sale, David Price, Rick Porcello, Eovaldi and Eduardo Rodriguez cannot double as relievers in the regular season as they did last October, but the offense and rotation should make up for an imperfect bullpen.
"On a nightly basis, the guy on the mound is going to go give us a chance to win the game," manager Alex Cora said. "They go six or seven, and we know offensively who we are. It's a good feeling."
Also in the AL East are the men in pinstripes, who pose another World Series threat.
Unless the New York Yankees reach the World Series this year, the 2010s will be their first decade since the 1910s without at least one AL pennant. Their last was in 2009, when they won their 27th title.
"It has flown by, man, but it's been way too long," said outfielder Brett Gardner, the longest-tenured Yankee. "From the front office to the ownership, they go out of their way to put the best possible team on the field every year and it's been a disappointing 10 years."
The Yankees very well could reach the World Series, but they might have to start by hosting the wild-card game for the third year in a row. The volume of injuries this spring — Dellin Betances, Didi Gregorius, Aaron Hicks, CC Sabathia, Luis Severino — could be easier to handle because of a forgiving early schedule: The Yankees play 19 of their first 28 games against Baltimore, the White Sox, Detroit, Kansas City and San Francisco.
The Yankees' lineup will be fearsome, and their bullpen, with Betances, Zach Britton, Adam Ottavino, Chad Green and Aroldis Chapman, will lock down 95 victories or more. Expect a back-and-forth pennant race with Boston all summer.
Can the Tampa Bay Rays also elbow into the chase? They won 90 games last season, partly by defying conventional pitching roles with their opener strategy, an innovation that sprang from a logical premise.
"The whole goal is, how can we maximize the talent of our players and how can we put them in a position to succeed — and put us in a position to win as much as possible?" said Chaim Bloom, the Rays' senior vice president for baseball operations. "Our group in the clubhouse has really high expectations, and so do we."
The Rays plan to use two openers every five days. They could follow the opener with a so-called "bulk guy" (one pitcher who works the bulk of the middle innings) or a parade of relievers. But they need their traditional starters — Charlie Morton, Tyler Glasnow and the Cy Young Award winner Blake Snell — to produce.
"Reliable starters are the key to letting us do the opener," manager Kevin Cash said. "Not to put added pressure on them, but if we get good starting pitching, we can be a little bit more aggressive on the other days and mix and match a little bit more."