Red Sox
6 players you forgot made an Opening Day start for the Red Sox
There are backup catchers, platoon partners, disgruntled outfielders, and more.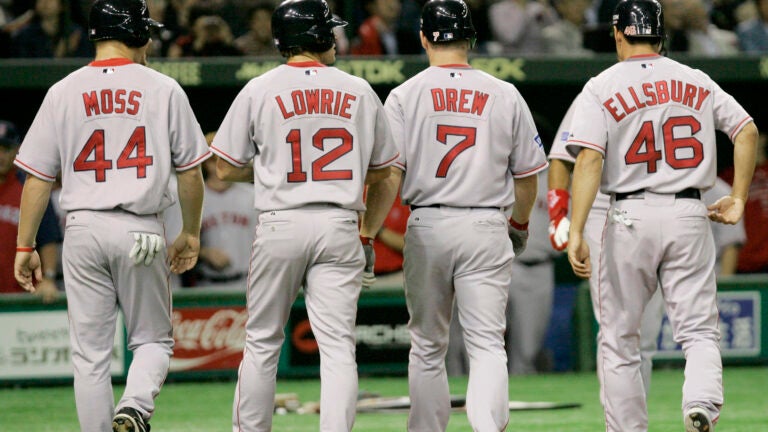 The lineup for Game 1 of the 2019 Boston Red Sox title defense is out.
Alex Cora said this would be his lineup tomorrow:

Andrew Benintendi LF
Mookie Betts RF
Rafael Devers 3B
J.D. Martinez DH
Xander Bogaerts SS
Mitch Moreland 1B
Eduardo Nunez 2B
Jackie Bradley Jr. CF
Christian Vazquez C

Chris Sale LHP

— Pete Abraham (@PeteAbe) March 27, 2019
It's almost entirely lacking in shock. Eight of the nine were in the Opening Day lineup last season against the Rays, with the lone exception — Mitch Moreland, who watched from the bench as Hanley Ramirez got the start — having been the Opening Day first baseman in 2017. Xander Bogaerts is scheduled to make his sixth straight opener start at shortstop, the longest streak at the position since Rick Burleson in the late 1970s. (Boston used eight different Opening Day shortstops in 10 years from 2004-2013.)
This is the Benintendi-Bradley-Betts outfield's third straight opener. Christian Vazquez only got 67 starts in the 2018 regular season, but was there for the bullpen blowing a four-run eighth inning lead. (Remember that, should something gnarly happen in the wee hours from Seattle.)
This isn't always the case, though. In the same way that Sam Travis (due to Steve Pearce's calf injury) and reliever Colten Brewer (in Dustin Pedroia's roster spot) were surprise members of the Opening Day roster, the first nine to take the field each season aren't always the All-Stars and the Hall of Famers. Let's take a quick jaunt through recent Red Sox history — get back past 1990 and there are probably a lot of guys a lot of us forgot — and remember some of the dusty old names who can say they were there for the pomp of a Game No. 1.
Ryan Hanigan, 2015
Catcher naturally lends itself to the "wait, who" genre, given the rarity of catchers to play even 100 games in the season. Hanigan — who attended Andover High — was acquired to be a backup in December 2014, the return from San Diego for Will Middlebrooks. When Vazquez needed to undergo Tommy John surgery, however, Hanigan was elevated to starter and Sandy Leon was acquired from Washington for backup duty.
That put Hanigan in the lineup for an 8-0 shutout win in Philadelphia behind Clay Buchholz on April 6, but that lineup time was short lived. Not even a month later, Hanigan took a ball off his bare hand in a game against the Yankees, costing him two months and clearing the decks for the highly touted Blake Swihart to get his first taste of the majors.
In two seasons with the Red Sox, Hanigan played in just 89 games, hitting .219.
Ryan Sweeney, 2012
Coming to the Red Sox from Oakland in December 2011 as part of the Andrew Bailey trade, Sweeney was a defense-first right fielder who didn't figure to be much more than a platoon player. Coming off 2011, when big spending for Carl Crawford and Adrian Gonzalez yielded some of the best baseball ever seen around here before 2018, but also yielded one of the worst collapses in MLB history, the Sox didn't make any truly splashy moves prior to their 100th season at Fenway Park.
Sweeney was in a lot of ways indicative of that. Solid, but uninspiring. At least he made it to the opener on April 5 at Detroit — Bailey needed thumb surgery just before the season and didn't pitch until mid-August. He actually started hot, hitting .391 in his first 17 games before settling for a .675 OPS in 63 games with the dreadful Bobby Valentine squad.
Brandon Moss, 2008
Boston's defense of its 2007 world championship began in Tokyo, with two games against Oakland shoehorned into spring training that the team nearly skipped. (Upon finding out their coaches wouldn't receive the same $40,000 stipends they would, the players threatened a boycott.) Because of the odd scheduling, the teams were allowed to carry expanded rosters across the Pacific, which is how Moss — a 2002 draft pick who spent 11 years in the majors — found himself there.
Beyond that, Moss was a late addition to the starting lineup when J.D. Drew hurt his back in pregame warmups. (Late enough that he was introduced as a reserve on the stadium PA system.) Suffice it to say, the kid made the most of it, cracking his first major-league home run off Oakland closer Huston Street to tie the game in the ninth. (The Sox won in the 10th, with Manny Ramirez winning one million yen as the game MVP, his four RBI trumping the 25-year-old.) He became the first Red Sox player to hit his first career homer in a season opener since 1945.
He and Ramirez would be connected again later that year. Moss, who played just 33 more games with Boston, went to Pittsburgh in the three-team blockbuster that sent the recalcitrant Ramirez to the Dodgers.
Jay Payton, 2005
Payton took the place of Dave Roberts in Boston; the Sox traded the San Diegan back home in December 2004 so he could start, and expected Payton to happily take Roberts's place as their fourth outfielder. When the Red Sox began their title defense in New York against lefty Randy Johnson, that meant Payton got the nod over Trot Nixon in right field. Though he gave the Sox an early lead with an RBI single, they were routed.
That was the 32-year-old's last start for a week, a common theme in his tenure with the team. Payton got just 28 starts in the first three months of the year, and it didn't sit real well with him. To the point, in his words, he instigated a dugout confrontation with manager Terry Francona in July to get himself traded. He got his wish days later, sent to Oakland.
Craig Grebeck, 2001
In nearly 120 years of Red Sox history, around 900 men have gotten at least 40 plate appearances for the team. Just one of them failed to get a hit: Jon Lester, who departed a tidy 0-for-34 in nine years. Among non-pitchers, though, there is only one man to get fewer than three hits for the Olde Towne Team.
It's Grebeck, who went 2-for-41 as a 36-year-old shortstop for the 2001 Red Sox, went on the disabled list after fouling a ball off his foot in early June, and never played again. A career backup, he came to Boston on a minor-league deal. Grebeck only got the Day 1 start in Baltimore when 1999 and 2000 batting champ Nomar Garciaparra needed the wrist surgery that arguably ended his Hall of Fame trajectory.
Three pitchers held the Sox to five hits in 11 innings and Boston lost, 2-1. Grebeck went 0-for-3.
Andre Dawson, 1993
Baseball fans remember 'The Hawk' as an Expo and a Cub throughout the '70s and '80s, striking fear across the National League. Following the 1992 season, though, he and Chicago couldn't come to terms, and a 38-year-old Dawson came to Boston — which had been toying with making a big offer to Oakland's Mark McGwire — sitting on 399 home runs and hoping his knees would hold up enough to play right field.
They didn't, but one of the 20 games he played in right field for the Red Sox was the 1993 opener in Kansas City. He went 0-for-5, the harbinger of a tough start in which Dawson hit .210 with just two homers in the season's first 70 games. He played 196 games with Boston in 1993-94, actually homering as the DH in the '94 opener, before finishing his Hall of Fame career with the Marlins.