Red Sox
Here's how much the Red Sox are paying in dead money this season
Manny Ramirez, 46, will receive more than $2 million.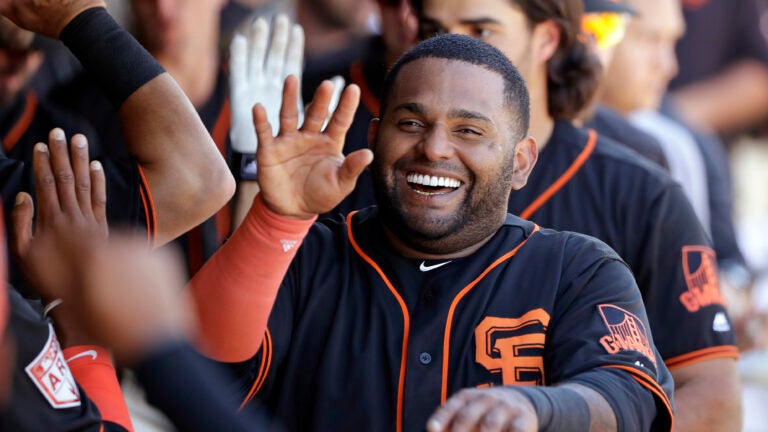 The San Francisco Giants paid Pablo Sandoval the league minimum last season. In addition to the nine home runs the infielder hit in 92 games, Sandoval pitched a 1-2-3 ninth inning in a staff-saving appearance on the mound in April.
Of course, Sandoval made far more than the league-mandated $545,000 for his efforts in 2018. He collected an additional $18,445,000 from the Boston Red Sox as part of the five-year, $95 million deal he signed with the club in 2015.
The Red Sox will pay Sandoval, who won three World Series with the Giants before his brutal stint in Boston, another $18,445,000 this season to not play baseball for them. This should be the last season the Sox have to pay the 32-year-old, as the team can escape the deal with a $5 million buyout next year.
Sandoval isn't the only player not on the Opening Day roster to whom the Red Sox owe money, according to Spotrac. Manny Ramirez, 46, will receive $2,008,397. The retired slugger is set to reap in roughly $2 million every year until 2026, when he will be 54 years old.
Boston's also paying three players on the injured list — second baseman Dustin Pedroia ($15,125,000), first baseman Steve Pearce ($6,250,000), and infielder Marco Hernandez ($564,000) — as well as Steven Wright and players in the minor leagues.
Wright, suspended 80 games for violating the MLB's performance-enhancing substance policy, will collect $783,602 in adjusted salary but cost the team $1,375,000 against the salary cap.
In the minors, outfielder Rusney Castillo remains in his "gilded cage." The 30-year-old outfielder has the talent to play in the major leagues — and will make $11,771,428 in salary this season — but Boston would have to count his contract towards the luxury tax if the club returned him to the 40-man roster.
All told, the Red Sox have the highest payroll in baseball for the second-straight year at $221,316,667. Boston's bill for active payroll (the players who will suit up for Opening Day) comes to $181,541,000.