Red Sox
5 times Alex Rodriguez played the role of a Boston sports villain
Up through his final Fenway appearance, Red Sox fans loved to boo the 14-time All-Star.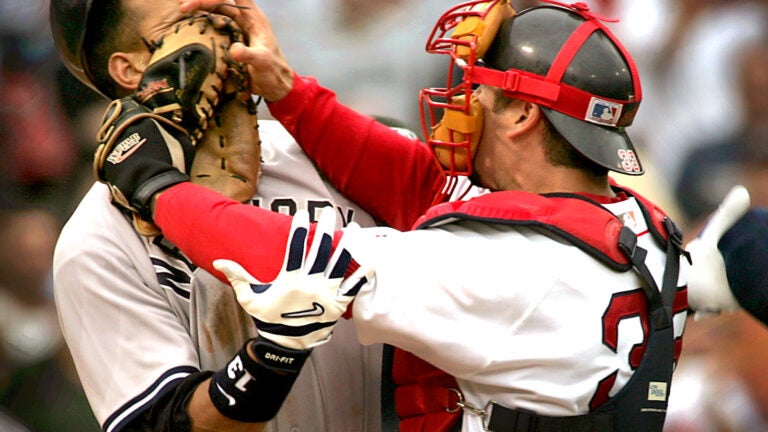 In the spirit of March Madness brackets, Boston.com launched its own: Voting to decide who is Boston's biggest sports villain. The Boston sports villain bracket continues with round-by-round voting, so head over and let your voice be heard.
Alex Rodriguez faced the Red Sox more in his 22-year career than any other Major League team. He played more games at Fenway Park than any other (that wasn't his home field). And his baseball legacy – still a polarizing subject – is defined in part by his role as a Boston opponent.
Rodriguez was always going to be an integral part of Boston.com's bracket containing Boston's biggest sports villains. His talent and personality lent to the animosity and implicit respect he drew from both the Red Sox and Fenway fans who paid special attention to his every move.
Now a television analyst, his friendship with David Ortiz has allowed for some lighter moments in the Red Sox-Yankees rivalry. But in his lengthy career as a player, A-Rod symbolized a Boston sports villain on several occasions.
A walk-off in Texas
An early A-Rod moment of villainy came before he joined the Yankees. In 2003, the then-Texas Ranger smashed a walk-off grand slam against Todd Jones in the 11th inning. Rodriguez would go on to win American League MVP, and decide he wanted to leave the team for a contender.
The fight
After coming extremely close to being traded to the Red Sox in the 2003-2004 offseason, Rodriguez ended up in New York as a Yankee. The league MVP had become another fault line in baseball's greatest rivalry. Tension mounted until it boiled over during a game at Fenway in July 2004.
After the Yankees took a 3-0 lead in the third inning, Boston starter Bronson Arroyo hit Rodriguez with his pitch. A period of shouting ensued, resulting in a fight that started between Rodriguez and Red Sox catcher Jason Varitek. Benches cleared, escalating the animosity. But in the end, the Red Sox rallied, winning 11-10 on a walk-off home run from Bill Mueller in the bottom of the ninth.
Swatting the ball in the ALCS
Other than the fight with Varitek, Rodriguez's most memorable moment as a Boston villains remains his ill-fated attempt to reach base in Game 6 of the 2004 American League Championship Series. Battling to avoid the suddenly real prospect of a Game 7 after taking a 3-0 series lead, the Yankees needed a rally in the eighth inning.
With Derek Jeter on first base, Rodriguez hit a slow grounder up the first base line off of Arroyo, who was yet again centrally involved in a Red Sox-Yankees moment with his New York nemesis. When Arroyo went to apply the easy tag for the out, Rodriguez swatted the ball out of the pitcher's glove. Initially, it was allowed to play out, with Jeter coming all the way around to score. But after review, Rodriguez was called out and the rally dried up.
Answering getting hit with a home run
During a 2013 game at Fenway, Rodriguez was hit by a Ryan Dempster fastball as the crowd cheered. He responded by going 2-2 with a home run as fans jeered.
His last Boston at-bat
Before his last Fenway at-bat in 2016, Red Sox fans chanted for Yankees manager Joe Girardi to use Rodriguez as a pinch-hitter. Eventually, their perseverance paid off. And for one final time as a Yankees player, Rodriguez soaked up the Fenway boos.
https://youtu.be/9kIlCzXZHPE