Red Sox
5 New England minor-league promotions not to be missed
This summer's minor league frivolities include a lot of Bronson Arroyo.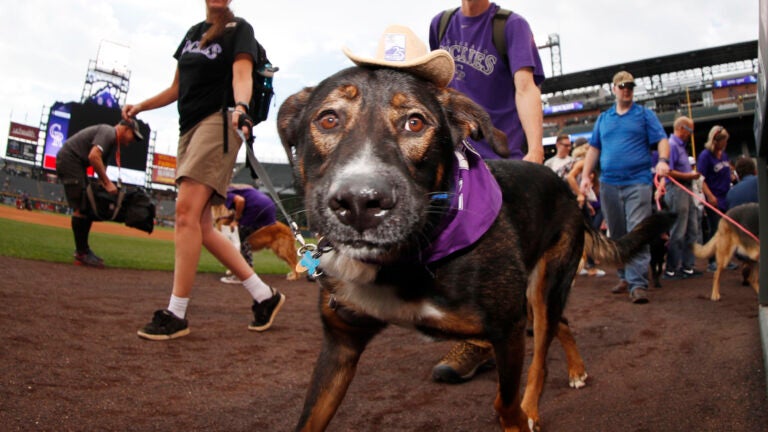 The affiliated minor-league baseball slate began across the country on Thursday, with Tim Tebow going 0-for-4 in his debut with the Triple A Syracuse Mets, Dustin Pedroia cracking two hits in a rehab assignment with the Greenville (S.C.) Drive, and three-time Cy Young winner Clayton Kershaw beginning his season in Oklahoma City.
There was little need for anything but baseball on this night, as the start of a new season is the big draw the same way it is in the majors. (Heck, the Miami Marlins drew the equivalent of four of their normal crowds for their first game.) That, however, will quickly change. The promotion or giveaway is the rule, not the exception, in the minors, with plenty of teams having something cooking every night of their year.
The Pawtucket Red Sox have 10 Saturday night fireworks displays planned at McCoy Stadium. On every Monday at Hadlock Field in downtown Portland, the Portland Sea Dogs host "MOMday," where mothers get a free ticket with the purchase of a children's general admission. You can play catch in the outfield at Lowell's LeLacheur Park for 20 minutes every Sunday afternoon game day, just before first pitch.
Building off a 2018 promo, the New Hampshire Fisher Cats become the Mountain Men every Sunday, complete with uniform salutes to the state's fallen friend. The Hartford Yard Goats take it a step further and then some, at various points this season planning to play as the River Hogs, Los Chivos de Hartford, and the Steamed Cheeseburgers. (The cap is something else.)
Those are mere appetizers, however. (And not the crazy sort of stunt appetizers increasingly appearing at ballparks nationwide. Stuff that makes Portland's lobster popcorn seem downright quaint.) Every year, teams seek to grab national attention and big crowds with some real outside-the-box thinking. Here's a sampling of what's coming to a ballpark near you later this year.
Friday, April 12, at Pawtucket: A-Rod & J-Lo Engagement
Love has been somewhat lacking in recent years at Boston's Triple A affiliate, with attendance dropping below 6,000 fans/game last season for the first time since 1992 and the team set to decamp for Worcester at the end of next year. It's a sad end to one of the great team-building stories in all of minor league baseball, but one worth enjoying while it's still around.
And amidst a season of World Series themed giveaways and pyrotechnics, a party tied to the March engagement of Alex Rodriguez and Jennifer Lopez channels the most classic minor-league promotions.
Among the promised festivities:
Fans wearing Bronson Arroyo (who had a ball slapped from his hand by A-Rod during the 2004 ALCS) or Jason Varitek (who slapped the taste from A-Rod's mouth that July) jerseys will be admitted free, as will children 12 or under with them. (Tomo Ohka jerseys will also earn a gratis ticket; he threw the first perfect game in PawSox history, three years before Arroyo threw the second.)
Any fan named Jennifer with valid Rhode Island identification will be admitted free.
Tebow, scheduled to be in town with opposing Syracuse, "will walk up to Mariah Carey's greatest hits for the duration of his series at McCoy Stadium as a salute to one of J.Lo's greatest rivals."
The team's official jewelry store will be on hand to "inspect fan's wedding rings, so that 'nobody is fooled by the rocks that our PawSox fans got.'"
In addition, Ben Affleck — to whom Lopez was briefly engaged in 2003-04 — has been invited to throw out the first pitch.
Saturday, April 20, at Portland, Maine: Flannel Day
With all due respect to June 21, when the Sea Dogs — Boston's Double A affiliate since 2003 — will play as the Maine Whoopie Pies, I'll save fawning over a Maine foodstuff for their salute to Moxie. Instead, let's look at their salute to appropriate clothing, given sitting outside in Maine in April seems like a bit of a gamble.
Not only will a nearby axe-throwing bar offer free lessons outside the stadium before the game, "fans wearing flannel will be able to walk in our Flannel Fashion show," for which prize categories will reportedly include "Most Flannel," "Most Shirts Worn," and "Best Overall."
If that's not exactly your jam, though, just wait until the summer. "Witchcraft and Wizardry Night" is July 26.
Friday-Sunday, July 12-14, at Hartford: Whalers Alumni Weekend
Given the Carolina Hurricanes proved earlier this season that the love for the Hartford Whalers is eternal by wearing their dead uncle's clothes a couple times, what better time to visit 2-year-old Dunkin' Donuts Park than when Colorado's affiliated Yard Goats formally celebrate the hockey team Connecticut won't let go of?
(This, of course, ignores that the Yard Goats always celebrate the Whalers by wearing blue and green. The only sports team in Connecticut allowed not to wear blue and green is UConn.)
Each Yard Goats' season has included a Whalers celebration, with this one holding firm to its traditions. The team will wear hockey-style uniforms, give away mini hockey sticks, show Whalers highlights on the video board, and hold autograph sessions with any number of former Whalers.
While not strictly a promotion, but definitely worth noting: Dunkin' Donuts Park is entirely peanut-free this season, "in an effort to make the venue more accessible for those with peanut and tree nut allergies."
Friday, Aug. 9, at Manchester, N.H.: Game Show Night
The promo schedule for the Fisher Cats, the Double A affiliate of the Toronto Blue Jays since 2003 and the reigning Eastern League champions, is a little vague. There's a lot of potential on the board, be it "Pace of Play Night" on April 8, "Obsolete Night" on April 10, or "Meme Monday" on May 13 — that at least name drops a few classics. When it comes to choosing one for our list, though, a salute to game shows feels a safe bet because, well, game shows have fabulous prizes.
"Come on dooooooownnn … to the ballpark for a night of spinning wheels, lighting rounds and phone-a-friends," the team says. "Remember to spay and neuter your pets!"
(Note: The Ron Burgundy-themed "Stay Classy, NH" celebration on Aug. 16 lost a bit of oomph when San Diego introduced Anchorman Races at Petco Park earlier this year.)
Tuesday, Aug. 27, at Lowell: Dog Show Night
Given New York-Penn League teams only play 70-odd games in a season, the dedication shown by the Spinners to pack roughly three dozen home games with extracurriculars is impressive. Their promotional schedule sports 20 giveaway nights, four fireworks shows, a handful of concerts (including one by Arroyo's band as part of a 2004 Red Sox celebration on July 15), appearances by members of all five major pro men's teams, and far more.
Regardless, I'll settle on a simple pick: "Bring your furry friend out to the Lowell Spinners and enter them into our 1st annual dog show. If your dog is the biggest couch potato or has the loudest bark, enter them into our dog show!"
Because no matter what, getting to watch baseball and see dogs is a night well worth your hard-earned money. (The Spinners also invite fans to bring their dogs every Tuesday.)