Dustin Pedroia
Dustin Pedroia fares well in rehab assignment at Single A Greenville
Pedroia went 2-for-3 at the plate with one walk and played all nine innings Thursday.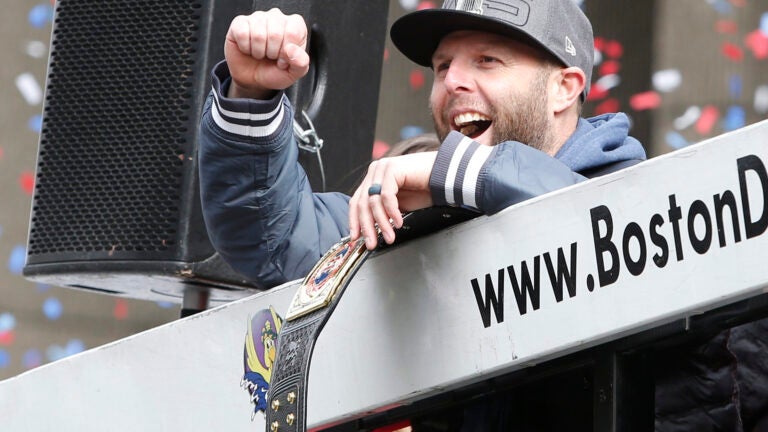 Dustin Pedroia is continuing to work his way back to what he hopes will be a return to the Red Sox for Tuesday's home opener at Fenway Park.
Pedroia played nine innings and started at second base for the Single A Greenfield Drive Thursday. He had a single in the fourth inning, a double in the eighth, and finished 2-for-3 at the plate with a walk. He also turned a 6-4-3 double play in the fifth.
The game was played in front of 7,551 fans, a record for the largest crowd to watch a baseball game at Fluor Field in Greenville, S.C.. The previous record for a Drive game was set on June 15, 2017, when Tim Tebow was on the opposing team.
Here's the reaction for Dustin Pedroia's first at bat with the @GreenvilleDrive. A couple pitches later, he lined out to right. #yeahTHATgreenville @EvanDrellich pic.twitter.com/ZfdkJGD4x6

— Chris Strub #MDMC19 (@ChrisStrub) April 4, 2019
"It was fun,'' Pedroia told the Greenville News. "This is a great atmosphere here. I mean these guys are lucky. The stadium is unbelievable. The fans are great. The playing surface is awesome. You couldn't ask for more out of a minor league affiliate. This is a pretty special place for these guys, so it was a great experience to be out there.''
Pedroia is scheduled to play for the Drive again on Friday, take Saturday off and play Sunday, before possibly being activated for Tuesday's opener.
"That would mean a lot,'' Pedroia said. "That would be pretty cool.''