Red Sox
Brock Holt is still recovering after his 2-year-old son poked him in the eye
He said Griffin is going around telling people that he was the one who injured his dad.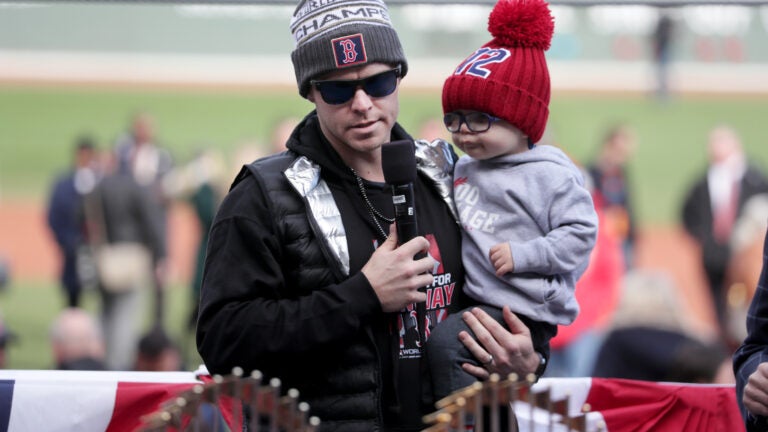 When a reporter asked Brock Holt if he recalled the play that injured his eye, Holt clarified that it wasn't the kind of play the reporter had in mind.
"It was actually a play at the hotel," Holt said. "It was the morning of Opening Day. I went and got Griff up out of bed, and was bringing him back to our bed, and one of his fingernails got me good."
The Red Sox utility man admitted Saturday that his 2-year-old son, Griffin, poked him in the eye before the Red Sox faced the Seattle Mariners on March 28. Holt played through the discomfort to start, but now he's heading to the 10-day injured list with what's been diagnosed as "right eye scratched cornea."
How did Brock Holt scratch his cornea? Son Griffin did it in Seattle. He said it's not funny but kind of funny because Griffin walks around telling everyone he scratched dad in the eye

— Christopher Smith (@SmittyOnMLB) April 6, 2019
Holt – who has just one hit in 16 at-bats this season – said he thought he could play through the pain, but he still doesn't feel like himself. He believes he was hurting the Red Sox more than he was helping them, so he decided it made more sense to take it slowly.
"It's not funny, but it is funny," Holt said. "(Griffin) walks around and tells everyone he poked me in the eye."
Holt said the first two days were particularly tough. He had to wear sunglasses indoors, and he couldn't open his right eye regularly, so the eye doctor he saw put a contact lens in to protect the scratch. Every time he blinked, it felt irritated and would make his eye water, he said, and he couldn't see out of the eye the way he wanted to.
Brock Holt got scratched in the eye with a poke from his son, Griffin, on the morning of Opening Day. Said he hadn't been able to pick up spin, and recognized he wasn't helping the team by trying to play through it.

— Alex Speier (@alexspeier) April 6, 2019
It felt slightly better in Oakland, but he said he still wasn't back to normal. He plans to see a specialist around the time the Red Sox return to Boston for their home opener on April 9, and he hopes to rejoin the team when the 10 days are up.
In the meantime, his plan is to wear goggles around Griffin and protect his eye as much as possible.
"When I close my left eye and close my right eye, I can tell the difference," Holt said. "It's a freak thing."