Red Sox
Who is the Red Sox closer? Piecing together Alex Cora's strategy so far in 2019.
"It's very similar to what we did in the postseason."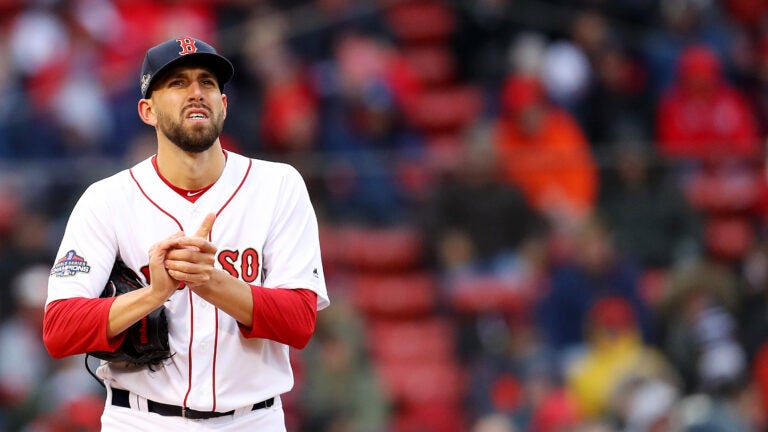 Less than a month into the 2019 season, the Red Sox' bullpen strategy is starting to come into view. It will not include a closer, at least in the traditional sense of the term.
This was highlighted – albeit negatively – during a 5-3 loss to the Yankees on Wednesday night. While the bullpen had been one of the few bright spots in the team's disappointing start to its title defense, a seventh inning Brett Gardner grand slam off reliever Ryan Brasier helped hand Boston's division rival another win.
Braiser, used as the final Red Sox pitcher in a game in five of his first eight appearances before Wednesday, was brought in during a middle inning to face Gardner. It was the latest display of Red Sox manager Alex Cora veering away from the established role of a closer.
Ever since Tony La Russa's usage of Dennis Eckersley popularized (but did not invent) the role of the ninth inning closer, teams have customarily used their bullpen "ace" to get the final three outs to preserve a close lead.
That's something that seems to be changing for the Red Sox, though the jury's still out.
What was the plan in 2018?
For much of the offseason, discussion revolved around whether the defending World Series champions would bring back closer Craig Kimbrel. In 2018, Kimbrel was the definition of a traditional closer. He made 63 appearances, pitching 62.1 innings, and recorded 42 saves.
Kimbrel appeared in a game in the eighth inning only seven times, with none occurring before that.
The situation changed slightly in the postseason. While Kimbrel recorded six saves, he was used in a non-traditional role – a tie game – for two innings in Game 3 of the World Series. And while it wasn't a save situation, he wasn't Cora's pitcher of choice for the final outs of the Series in Game 5 (which instead was Chris Sale).
It was, as Globe writer Dan Shaughnessy labeled it, the "figure it out" method of relief pitcher selection. That said, it didn't appear to be an obvious indicator for a changing bullpen in 2019. After all, playoff teams have used starters in relief before and it wasn't a signal for any great shift in closer strategy.
Heading into 2019, the main clue hinting at an evolving approach to the role of the closer was Kimbrel not only remaining unsigned, but the team not acquiring an established replacement.
What's the plan in 2019?
Several weeks into the new season, Kimbrel is still unsigned. The Red Sox, for better or worse, appear to have moved on. And until Gardner's grand slam on Wednesday, the results had been almost entirely favorable (though the team's slow start has offered comparatively few leads to protect).
The strategy undoubtedly revolves around Brasier and Matt Barnes. The two appear to be Cora's bullpen aces, as Red Sox pitching coach Dana LeVangie said after the loss to New York.
"We have those two guys at the back end," LeVangie said of the two relievers, "one [to] be the closer and one to put out that big fire when that top of the order is coming up, so we'll try and work on matchups."
The crucial aspect in Cora's updated bullpen usage therefore revolves around both statistically-driven matchups, and high leverage situations. For example, Brasier was used in the bases loaded seventh inning situation on Wednesday because – as The Athletic's Jen McCaffrey pointed out – Cora and the Red Sox know that Gardner has struggled against right-handed pitchers throwing sliders (he's hit just .183 in those situations in 104 at-bats over the last two years).
The stats led to the decision, but Gardner – after falling behind 0-2 on two sliders – ultimately hit the first fastball he saw for a grand slam.
In terms of high leverage situations (a reference to moments in a baseball game when an opposing team has runners on base or has its best hitters at the plate), Cora has usually called on Barnes. The 29-year-old has relished his role in this regard, whatever the inning. In 6.1 innings in 2019, Barnes has 12 strikeouts, allowing just one run on three hits.
"When they're high-leverage situations, it's physically impossible to not have the adrenaline or the energy to be focused because the game is constantly on the line," Barnes told the Globe's Pete Abraham earlier in April.
For Cora, the essence of the strategy is about getting "our best arms pitching against their best hitters." If the high leverage moment – bases loaded with an opponent's best hitter at the plate – arrives before the ninth inning, why not send in one of the team's "best arms" for that situation?
Barnes recently offered an interesting take on the updated strategy, pointing to the 2018 postseason, and a recalibration of what Red Sox relievers expect:
I think it's just a continuation of last year. It's very similar to what we did in the postseason where it was matchups based on where they were in the lineup and the situations in the game. We didn't designate anybody to pitch this inning or that inning. We've got an idea of how stuff plays, and you can learn pretty much who you're going to face and the situations you're going to be in when you're facing those guys. So it's really the same thing as knowing what inning you're going to throw, honestly.
Have the Red Sox done this in prior seasons?
The concept of using a top reliever to pitch in a crucial moment late in the game – even before the ninth inning – isn't new. In fact, this isn't even the first time the Red Sox have technically tried this. Aside from the 2018 postseason, there are other examples.
In 2003, after then-closer Ugueth Urbina was deemed too expensive to re-sign, Red Sox general manager Theo Epstein experimented with the "closer by committee" approach. Admittedly, it wasn't totally comparable to Cora in 2019, but it was a high-profile deviation from the entrenched ninth inning closer strategy.
Of course, it backfired with several early season blown saves, culminating in Epstein's decision to trade for Byung-Hyun Kim to fill the traditional closer role.
A decade later, in 2013, a rotating closer system was again employed for a time early in the season, though it was never intended to be permanent. Once Koji Uehara was given a chance in June, he never relinquished the job (eventually closing out Game 6 of the World Series to win a championship).
And well before 2003, as Red Sox reporter Sean McAdam once pointed out, the system Cora is intent on using in 2019 was once second nature for Major League teams. For decades, relievers were used in no specific order by managers. It was only the rise of compartmentalized bullpen roles in the ensuing 40 years that has made this approach seem unconventional.