Red Sox
The way the Yankees series ended makes the Red Sox' issues crystal clear
The team whose bullpen was its largest concern finally lost a game in relief.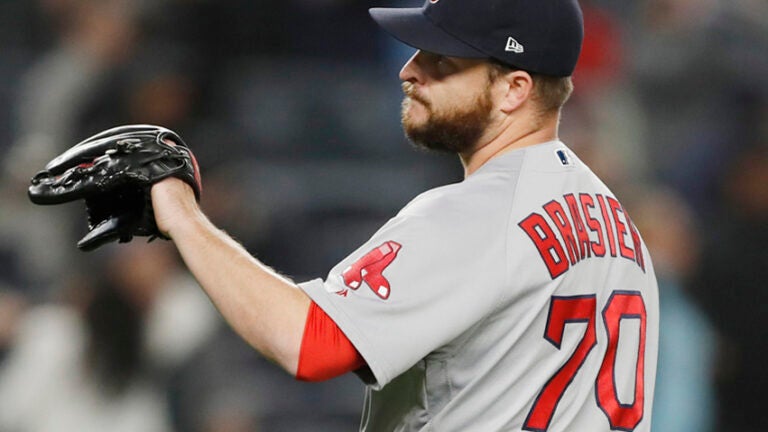 COMMENTARY
We expected nights like Wednesday. In a disorienting time of Red Sox baseball, when expectations are rapidly approaching the horizon, there is at least a sliver of positive to take from that.
These were inevitable. It's the rest of them that make it really hurt, these two losses to a similarly lost Yankees team crystallizing just the corner into which the champs are already painted.
We've watched enough baseball around here to get 119-57 simply doesn't happen, so it certainly wasn't going to twice. Great teams play mediocre for significant stretches of baseball seasons, especially now, when the top third of the sport makes the playoffs. Cleveland was 58-48, on an 88-win pace, last July 31. The Dodgers opened 32-32. Milwaukee went 40-39 for three months. Houston went 27-23 for two.
That was an integral part of Alex Cora's plan coming out of spring training, even if he couldn't tell you in those words. He eased in, protected by that freshly won title. He took his foot off the gas because his first Boston team floored it to the final day. Cora understands what playing to November does, especially the way he handled his staff in that final month, and that opening 16-2 is hardly a requirement to get back there.
An 11-game, three-city trip to start the year? Twenty games in 20 days starting Friday? Thirty-seven of the first 64 on the road? He'd have taken 34-30 on June 7 in a heartbeat, and managed his spring as such.
So there were going to be messy nights. There were definitely going to be Wednesdays, lest you forget the only thing any of us talked about all spring was the bullpen without experience in the biggest spots.
At least they'd all be in the service of the end goal. Cora could use this time to lessen the load, to give guys a chance to try on the biggest scenarios, to test who craved the spotlight and who shunned it. All useful information when the schedule got home heavy, the pitchers were strong, and the one big hot streak that'd lock up October would come together against the weak competition.
Well, 34-30 isn't this. A 6-13 start is call the Elias Sports Bureau for comparables territory. A 6-13 start is how a team that, for example, plays at a 108-win pace for its final 143 games only wins 101. How a 100-win pace yields 94, a 95-win pace equals 90 … it's early, but it isn't.
And it's going to be even less early after a Boston team that's lost its first six series plays in St. Petersburg against a Rays team that's won its first six, and will have plenty it wants to prove to its visitors even before Red Sox fans stuff Tropicana Field.
"It seems crazy to say this in April, but that's an important series," Steve Pearce told reporters. "We have to get something going pretty soon."
So while I do want to take a moment to credit Nathan Eovaldi, who went from walking four in back-to-back five-inning starts and allowing six homers in 15 innings to throwing first-pitch strikes to 14 of 23 batters in a bandbox, Dustin Pedroia's departure in the third inning means more.
Eovaldi is what Eovaldi is — a Yankee killer (especially against that watered-down lineup) and supremely confident. The starting rotation, as we see all of them not named Rick Porcello start to find their form, is going to be fine. It is, to borrow a phrase, what it is.
Pedroia might be too. On Thursday morning, that means 2 for 20 and having his surgically repaired knee checked out.
"In the first swing of that at-bat, he felt something weird in his knee," Alex Cora told reporters. "I was surprised that he came up to me and told me that, but we'll see what happens. I really don't know. He was down. I haven't seen him like that, so, hopefully nothing serious. Something that, he just got scared. We'll know more [Thursday]."
"Mentally, it's very difficult to go through," said Jerry Remy, his own career ended by knee problems, to the Globe's Dan Shaughnessy on Wednesday. "It's all you think about."
The easy jump is to point out the team is choosing to carry Pedroia, at best needing constant supervision and care now to simply stay on the field, over the likes of Blake Swihart, a fully functional player whose potential they're willing to lose. It is ludicrous to really think that keeping Swihart and shedding Pedroia would be in the former's best interests, consider what even an infirmed Pedroia means as a veteran in that clubhouse and the target that would put on Swihart if it came to pass. The train left the station on the 27-year-old catcher years ago, and losing a second baseman wasn't going to gain him any additional playing time.
Not that it shouldn't have. Boston's production at second has been three times worse than any other team's, yielding a .132/.185/.145 line.
This, however, is quickly becoming a season that's going to necessitate hard decisions. On Pedroia, a close confidant of Cora's back to their playing days and a man Cora once said he'd make his first bench coach if he ever got a manager's job. On Porcello, whose struggle whether to be an effective sinkerballer or pile up strikeout totals with higher-risk high fastballs is back with a vengeance in 2019. On whether Sandy Leon's true value to his pitchers justifying his abysmal offense.
For a lot of the returning stars from the 2018 champions, there was nowhere to go but down. A slew of career years built 119-57. And with each loss, with each day the team batting average is .229, the team ERA is 6.01, that 119-win pace is going to be needed just to get a wild-card game at Fenway Park.
"It's going to take everybody to get out of this," Cora said.
No one more than him, because the honeymoon is finished and his team needs the kick he didn't give them all spring.