Red Sox
3 things to know about newly promoted Red Sox infielder Michael Chavis
"If people are going to think that I did it, might as well look like it."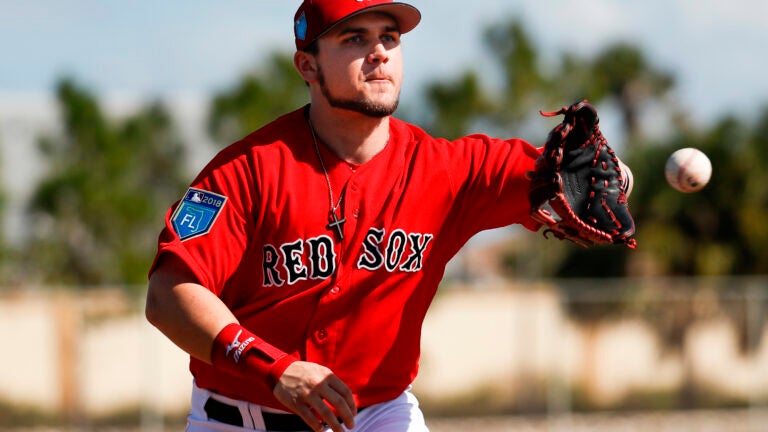 The Red Sox called up top prospect Michael Chavis on Friday to shore up their infield.
Boston was thin at the positions with Dustin Pedroia, Eduardo Nuñez, and Brock Holt unavailable due to injury. Tzu-Wei Lin, who was also called up Friday from Triple-A Pawtucket, will play regularly at second base, according to Alex Cora. The Red Sox manager noted Chavis was not quite ready for second base, but the team wants his bat in the lineup and will insert him at first and third base.
Chavis was batting .250 in Pawtucket with four home runs and a .954 OPS. In his first tweet after the Red Sox drafted him as an 18-year-old out of high school, he wrote, "First 11:11 tweet as part of the Boston Red Sox family!" After getting the call up from the major league club he took to Twitter again, writing, "Let me tell you how many times I prayed for this at 11:11…"
Here's what you need to know about the new Red Sox corner infielder:
Chavis was suspended 80 games for PEDs
In April of 2018, Chavis was the top prospect in the Red Sox farm system and No. 80 overall. He was coming off a breakthrough season in which he had been promoted to Double-A Portland and swatted 31 homers and 94 RBIs. Chavis had been invited to his first Red Sox camp that spring but injured his oblique shortly before the Grapefruit League games started.
Then Major League Baseball handed Chavis an 80-game suspension.
Chavis tested positive for dehydrochlormethyltestosterone, a performance-enhancing drug. The Associated Press reported the drug is "a steroid used by many East German athletes that no longer is sold commercially." The infielder denied taking a prohibited substance on purpose and apologized to the Red Sox for drawing negative attention.
"The Boston Red Sox fully support Major League Baseball and the Minor League Drug Prevention and Treatment Program," the team said in a statement at the time. "While we are disappointed by the news of this violation, we will look to provide the appropriate support to Michael. Going forward, the club will not comment further on the matter."
Chavis noted his frustration that his baseball accomplishments would come into question despite his prior history of passed drug tests. He recognized that he faced "the battle of [his] life" to win back fans and teammates.
"I whole-heartedly accept that challenge," Chavis said.
The infielder spent his suspension researching PEDs in an attempt to find out what substance had triggered the failed test. He also hit the gym.
"If people are going to think that I did it, might as well look like it," Chavis joked after his return.
Chavis has switched positions to prepare for his call up
At Sprayberry High School in Marietta, Georgia, Chavis was a shortstop when he batted .580 as a senior. He started off his minor league career at short, before moving over to third base with the Single-A Greenville Drive. Chavis stayed at third as he rose through the ranks, then tried his hand at first base in the Arizona Fall League last season after returning from suspension.
The Red Sox resolved to make Chavis more versatile, knowing he'd have Rafael Devers in front of him at third when he reached the majors. To that end, the club had him work out primarily at second base this spring. The move wasn't an immediate success: Chavis committed an error and didn't cover second on time on a stolen base in his first action at the position. However, he did turn a double play in that same exhibition opener and has not committed an error in five PawSox games at second since.
When manager Alex Cora was asked this week about potentially playing Chavis at second in the majors, he said the prospect is still a "work in progress" at the position. He noted the Red Sox were comfortable with Chavis making routine plays, but not necessarily the more difficult plays the big-league level demands.
"He can be here to contribute, but as of now he needs a little more work at second base," Cora said, per MassLive.
Chavis has already proven more than willing to move around the infield. When he was with Devers in the minors back in 2015, Chavis said, "Whether I'm playing with Devers or one of us has to change positions—if I'm playing the game and I'm hitting, I'll be happy."
He refined his approach at the plate as he moved through the farm system
In 2017, Chavis glanced back at his career since Boston selected him with the No. 26 overall pick in the 2014 MLB Draft. He wasn't particularly impressed by what he recalled from his early days as a pro.
"Just looking back on things I would do differently in terms of at-bats or pregame stuff — it would just be stupid," Chavis said at the time. "I'd go out there in BP and just try to hit as many home runs as possible just to show I have power.
"That stuff doesn't matter. Hitting a home run in BP doesn't translate to the game. So looking back on stupid stuff, it's just kind of cool to see how I've grown."
Chavis credited much of that growth to a shift in mindset. Instead of focusing on the results — namely, home runs — he became process-orientated and waited for the right pitch to hit. He kept that outlook when he returned from suspension last year, noting that in 10 years no one would remember how he well he stroked the ball one night in Lowell.
"So I'm just trying to think about the end goal," Chavis said.
The end goal was always the Red Sox. Chavis has reached the heights his talent predicted when he was an 18-year-old prospect, and now he should have a short window to show what he can do before the established names on the injured list return to action.