Red Sox
Red Sox place Nathan Eovaldi on injured list with 'loose body' in his elbow
Lefthander Bobby Poyner was recalled from Triple A Pawtucket.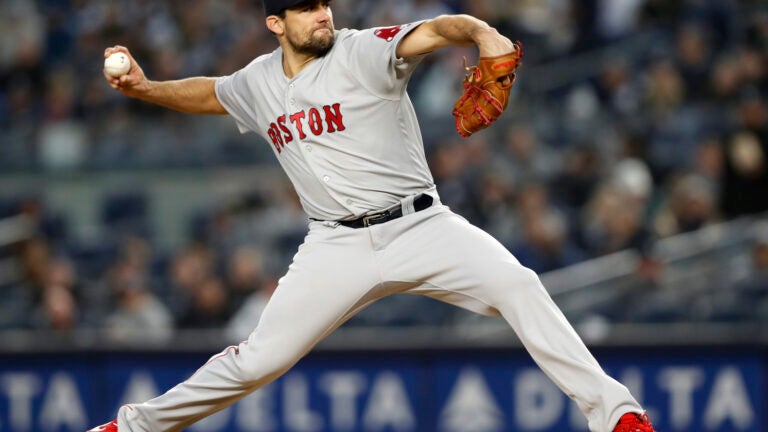 ST. PETERSBURG, Fla. — The Red Sox on Saturday placed righthander Nathan Eovaldi on the 10-day injured list because of a "loose body'' in his elbow.
Lefthander Bobby Poyner was recalled from Triple A Pawtucket. Eovaldi had arthroscopic surgery March 30, 2018 to remove "loose bodies'' from his elbow when he was with the Tampa Bay Rays and returned to the majors on May 30.
If Eovaldi needs surgery again, a similar timetable would have him back with the Red Sox in mid-June. Loose bodies are typically bone fragments that could irritate other parts of the elbow if not removed.
Eovaldi was signed to a four-year, $68 million deal in December. He is 3-3 with a 4.08 ERA over parts of two seasons with the Red Sox. In four starts this season, Eovaldi allowed 14 earned runs over 21 innings. His best start came Wednesday against the Yankees when he allowed one unearned run over six innings and struck out six with one walk.
Righthander Hector Velazquez is the leading candidate to slide into the rotation. He is 0-1 with a 2.84 ERA in six appearances this season, two of them starts.
Mike Shawaryn, a 24-year-old righthander, is 1-1 with a 3.12 ERA in three starts for Triple A Pawtucket. Poyner, 26, appeared in 20 games for the Red Sox last season, all in relief. He had a 3.22 ERA. He had a 4.26 ERA in five games for Pawtucket.