Red Sox
Red Sox will start Josh Smith Monday against Orioles
Cora said the Sox don't want to commit to Hector Velazquez as a starter because of his value to the bullpen.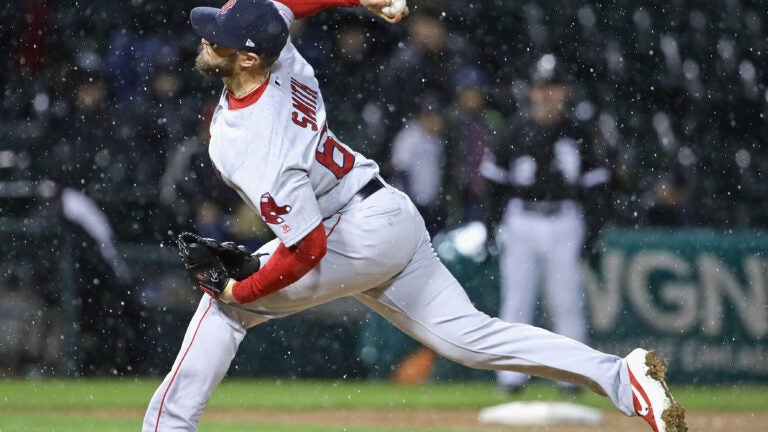 CHICAGO — Hector Velaz­quez has been an effective pitcher for the Red Sox, both as a starter and reliever. But they're not ready to put him in the rotation while they wait for Nate Eovaldi to return from elbow surgery.
The Sox will instead start righthander Josh Smith against Baltimore on Monday night, deciding Velazquez will remain in the bullpen. Smith, 31, has pitched one inning since April 20 and last started a major league game in 2016 when he was with the Cincinnati Reds.
Manager Alex Cora said the belief is Smith could get 12-15 outs.
Velazquez has started four games and is 0-2 with a 3.97 earned run average. He has yet to pitch more than 3⅓ innings in a start.
Cora said the Sox don't want to commit to Velazquez as a starter because of his value to the bullpen.
"It's because of him, how versatile he is,'' the manager said Sunday. "He's a guy that we trust. We haven't been able to use him in high-leverage [relief] situations but this is a guy we can use.
"He's been dominant against lefties [3 for 25] and we know if we need a ground ball we can use him. He's so versatile we can use him in that spot.''
The Orioles were rained out Sunday. They reconfigured their pitching plans and will start lefthander John Means, righthander David Hess, and righthander Andrew Cashner in the series.
Means went into the rotation on April 9 and has built up to five innings and 92 pitches. He is 1-3 with a 3.50 ERA in four starts. Means faced the Sox at Fenway Park on April 14 and allowed one run over five innings in a game the Sox won 4-0.
The Sox have won 13 of their 14 games at Camden Yards going back to 2017. They have outscored the Orioles, 90-45, in those games.
Pedroia goes five
Dustin Pedroia played five innings in the field and was 0 for 2 at the plate for Double A Portland against Binghamton. Pedroia told reporters at Hadlock Field that was what his rehabilitation schedule called for.
The second baseman is 3 for 9 through three games and has played 17 innings defensively.
Portland is off Monday. Pedroia said he would remain with the team and play against New Hampshire on Tuesday night at Portland.
Utility player Brock Holt has not yet started baseball activities as he recovers from a strained right shoulder.
Holt is feeling better and could get going this week. But he is not close to returning to games.
It has so far been a lost season for Holt. His 2-year-old son accidentally scratched his right cornea before Opening Day. He was 1 for 16 with impaired sight over six games, then went on the injured list.
Holt tried to play two minor league games but still had vision problems. When that issue finally abated, he strained his shoulder.
Tzu-Wei Lin, who sprained his left knee Friday, may not be as seriously injured as was first feared. He will be further examined in Boston on Monday.
Betts gets a day
Cora took the opportunity to give Mookie Betts a day off with the day game after a night game. "It was good for him to get a day off and get ready for Baltimore,'' Cora said. Betts is a career .308 hitter with a 1.009 OPS in 39 games at Camden Yards. Betts did pick up a base hit on Sunday, however. There was a scoring change from Saturday's game and he was awarded a hit in the eighth inning on a play that was ruled an error . . . A mariachi band performed the national anthem at Guaranteed Rate Field in honor of Cinco de Mayo. The yellow-clad group also played a song in the Red Sox clubhouse before the game at the behest of J.D. Martinez . . . Although empty seats were plentiful, the White Sox announced a sellout crowd of 36,553 at Guaranteed Rate Field . . . The Sox are 5-0-1 in series at Guaranteed Rate since 2014, winning 13 of 20 games.