Red Sox
Right move, wrong way: Dave Dombrowski firing completes Red Sox' perfectly bad year
Dombrowski wasn't right for the club's future, but team brass couldn't have handled it worse.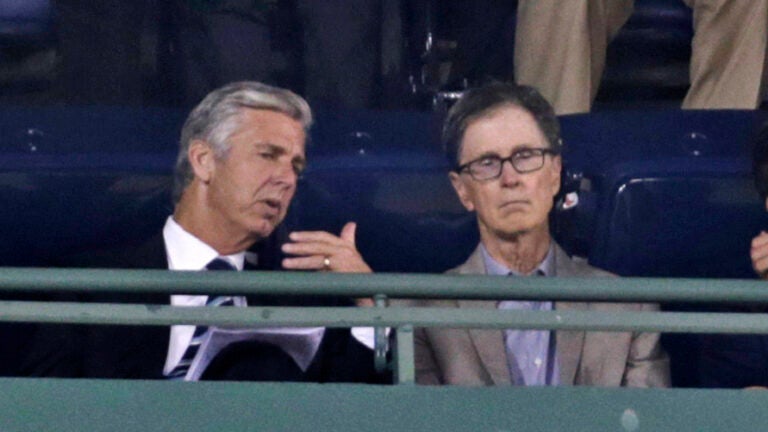 COMMENTARY
We will forgive them this sometime soon, once they offer a couple platitudes and/or the Patriots do literally anything to change the subject. The carpetbaggers who, in Dan Shaughnessy's December 2001 words in the Globe, "don't know Fenway Park from Jellystone Park" and weren't to be trusted.
After 18 years, four championships, and something like $3 billion in payroll, we understand and will forgive John Henry (who owns Boston Globe Media Partners, including Boston.com), Tom Werner, and their partners based on experience. Because for as unbelievably lucky as we've been, so frankly have they.
We'd have forgiven them if they followed through on firing Grady Little "even if he won the 2003 World Series." We forgave them Ben Cherington's dismissal, Theo Epstein's departures, Bobby Valentine's … everything.
We will forgive these last 36 hours, these last six months, because they spend, they win, they care, and they'll do all those things again.
They also, however, do genuinely stupid things. Again and again. Needless, ham-handed attempts to change narratives. Like announcing the sacking president of baseball operations Dave Dombrowski at 12:07 a.m., in the wee hours after the Patriots season opener. Like not bothering to explain themselves via anything beyond a press release, then running out a back-from-the-brink David Ortiz for a surprise first pitch almost certainly planned weeks ahead of time, given the date — Monday was three months to the day of Ortiz's shooting in the Dominican Republic — and his relationship with several of the Yankees.
Dombrowski deserved a little better than these last 36 hours. Ortiz deserved a lot, given he's as responsible for the shedding of that "carpetbagger" label as any other person walking the planet.
"I want to thank the Red Sox. My real family," Ortiz said from the pitcher's mound, hours before a third straight loss to the Yankees and the formal surrender of the AL East title after three straight years on top. "They always have been there for me, supporting me. They were aware of what happened to me, and they were the first ones there, supporting me."
Dombrowski, despite departing as the winningest team architect in franchise history, never entirely fit in that family vibe. I think it's notable, looking back, he was announced as here to "strengthen our baseball operations group," and hired to a new position existing above the general manager. That's certainly how he operated, with his lieutenants Frank Wren and Tony La Russa largely independent of the people who predated him and survived him.
The ops group that goes back to the Epstein era and beyond: Eddie Romero (here since 2006), Brian O'Halloran (2002), Zack Scott (2004), and Raquel Ferreira (1999, predating even Henry). They'd be worthy to hold the big job, given their place at the table throughout this golden era.
Dombrowski's dismissal is shocking far more in its Gotham-like timing than in its substance, because I think we all understand he was here to convert the prospect largesse amassed by Cherington into a championship club. He did said job: Four prospects, including two in the team's top six, for Craig Kimbrel. Four more, including No. 1 in the game Yoan Moncada, to Chicago for Chris Sale. David Price for $217 million. J.D. Martinez for $110 million. Alex Cora. It and all the rest coalesced into 119 wins, and a season we'll spend our lives living in the shadow of. Our kids will be lucky to see another year like it.
Henry telegraphed how he planned to spend that fanbase leeway back in January at the Winter Weekend: "Every team has constraints. It's not necessarily the [luxury tax] that is your constraint. It's how much money you're willing to lose." That grew to "we're already over budget and we were substantially over our budget last year and this year" during the frustration of the games in London.
Their talent should've been enough for October. It's not entirely Dombrowski's fault it wasn't. It is his fault that the only money he spent well this winter was the money Xander Bogaerts drove the conversation about.
"Sources said the ownership felt that Dombrowski had done what was asked, and that now they needed a leader with a different set of skills to reshape the roster," Peter Abraham wrote in the Globe. "Once the decision was made, Dombrowski was told rather than let media speculation continue through the end of the season."
"I don't know if there is an expected timing," he told the Globe. "However, with all the speculation taking place about my position, I think it was better sooner than later."
It could've waited 24 hours and not made Ortiz look like a shiny bauble, an insulting treatment for one of the season's genuine uplifting moments, no matter what the circumstances around Ortiz's failed assassination were.
Of course, fretting about the morality and fairness of big-time sports has never seemed more silly, the "what am I going to tell my kids" crowd never more vapid. Genuine superstars, the Antonio Browns of every profession, get special treatment that the replaceable masses don't. Fans of every color cheer for the logo and they always will. Winning, as noted above, is all that matters. That's life. Anyone who tells you anything otherwise is probably spinning you, and who acts otherwise is the exception.
Henry's one of those, at least a little. Winning wouldn't have saved Grady Little all those years back. Winning, Dombrowski revealed, wouldn't have saved John Farrell when he was fired after the 2017 season.
"I just think it's time for a change," Dombrowski said that day.
With one 2019 Red Sox Elimination Party down and one to go, with 18 games between us and a potential J.D. Martinez opt-out, 18 games between us and a potential big-money, take-or-trade contract offer to Mookie Betts, it was time for a change again.
Henry didn't handle the Dombrowski firing with grace. Fortunately, he's good at the bounceback.
His Red Sox better be, because the grace period for 119 wins just ran out.