Red Sox
5 things to know about new Red Sox chief of baseball operations Chaim Bloom
Chaim is pronounced "HIGH-em."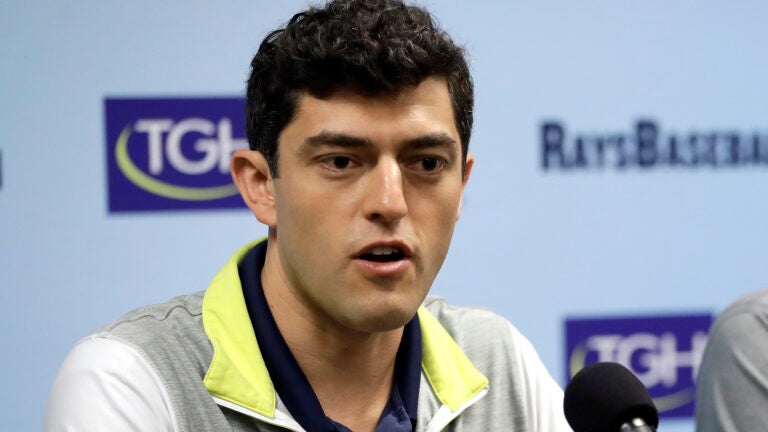 The Red Sox have already benefited greatly from hiring one Yale-bred baseball executive, and now they'll take a chance on another. 
News broke Friday that the club agreed to hire 36-year-old Chaim Bloom as their new head of baseball operations.
A 2004 graduate of Yale University, Bloom comes from the same alma mater as former Sox executive Theo Epstein, the architect behind the 2004 and 2007 World Series teams.
Here are five things to know about the Sox new chief of baseball operations. 
Bloom spent 15 years with the Tampa Bay Rays.
Hired by current Dodgers president of baseball operations Andrew Friedman as an intern in 2004, Bloom worked his way up the ladder during his 15-year tenure in the Tampa Bay organization. He held roles as assistant director of minor league operation, director of baseball operations, and, most recently, senior vice president of baseball operations, where he worked directly with general manager Erik Neander. 
According to the Rays website, "Bloom's experience spans every area in baseball operations. His responsibilities expanded to include contract negotiation, salary arbitration, budgets and oversight of major league support staff and international scouting. He also focused on trade negotiations, pro, amateur and international scouting philosophy, personnel additions and changes throughout baseball operations, and short- and long-term strategic planning for the department."
The Rays are known as one of the more analytically driven teams in the sport, becoming the first team to implement the "opener" strategy in 2018.
Chaim is pronounced "HIGH-em."
Red Sox fans might struggle, at least at first, pronouncing Bloom's first name. The "ch" in Chaim is silent, making it "HIGH-em."
In a profile on Bloom in Tablet Magazine, Bloom said he often has to explain to others how to pronounce his name. 
"All the time." Most people, he added, "figure it out or they figure out something close enough that they can call me. "The 'ch' to me is sort of a varsity-level thing with my name. In this game, if the worst thing you're being called is some mispronounced version of your actual name, you're doing pretty well."
Bloom practices Judaism.
Bloom takes his religion very seriously. In his office in Tampa Bay, Bloom had a large jar of gefilte fish on his desk, a purchase he made during Passover. In fact, Bloom had a running-bet with an employee that if the Rays won the World Series, the employee would have to eat the jar of fish.
"His kashrut is one of the things about his Judaism, other than obviously his name, that people notice the most because he eats a lot and because there are notable things that he can't eat all the time," Bloom's wife, Aliza Hochman Bloom, told Tablet.
Bloom, his wife Aliza, and their two sons, Isaiah and Judah, lived close to Tropicana Field in part so he could easily return on Friday nights to make Shabbat with his family.
In 2011, Bloom's devout religious practice caused him to miss the Rays playoff-clinching win over the Yankees in Tampa, which coincidentally kept the Red Sox out of the postseason.
"Leaving town that morning to go to Boston to spend Rosh Hashanah with my in-laws was one of the more difficult things we'd done in my career," he recalled in the profile. "Basically, I decided that my commitments to my family were more important than being around for a game whose outcome I was at that point not going to be able to influence."
He studied classics at Yale.
Bloom grew up in Philadelphia and went to Jewish day school before studying Latin classics at Yale, where he met Aliza. His cousin, Eli Stern, is a Yale Judaic Studies professor.
Bloom is highly regarded in the baseball world.
Consensus around the industry indicates that the Red Sox nailed the hiring. Mark Feinsand of MLB.com, ESPN's Jeff Passan, and longtime baseball scribe Peter Gammons all shared positive remarks about Bloom when the hiring was announced Friday.
It's rare to find a person in baseball about whom nobody has a bad word to say. Chaim Bloom is one of those people. Early response from execs around the league is that the Red Sox made themselves a fantastic hire.

— Mark Feinsand (@Feinsand) October 25, 2019
New Red Sox baseball ops head Chaim Bloom's former co-workers rave about his lack of ego and experience across all parts of running a team. Said one: "For a guy as smart and accomplished as he is, I think he gives everyone a feeling that he's approachable and wants to engage."

— Jeff Passan (@JeffPassan) October 25, 2019
Chain Bloom descriptions from 2 former colleagues:"Great Listener, processed and fair."
"Understands all org. layers."
"Not a great public speaker, but superb 1-on-1."
"Never afraid to accept responsibility when things go wrong."
industry hold Bloom and Neander in high regard

— Peter Gammons (@pgammo) October 25, 2019
Major League Baseball does not allow big announcements on days of World Series games, so the Red Sox' official announcement on Bloom will most likely come on Monday.