Red Sox
Chaim Bloom expects Red Sox to pursue trades, but sees Xander Bogaerts and Rafael Devers as core players
"We're very hopeful that they're going to be part of our next championship here."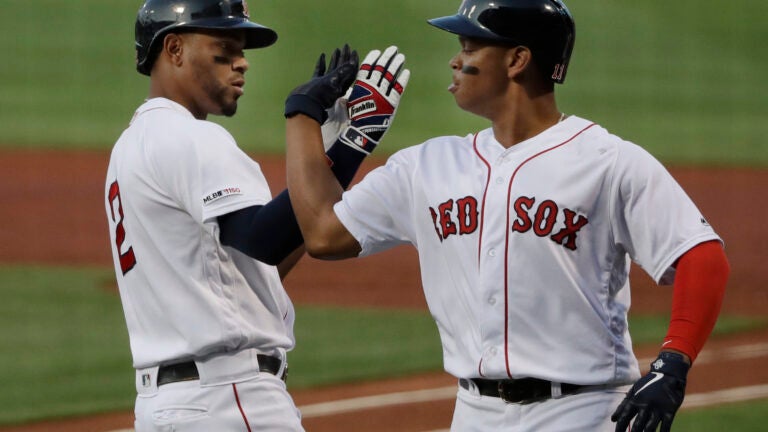 In an already lost season that has seen the Red Sox get off to the second-worst start (6-18) in franchise history, chief baseball officer Chaim Bloom said Wednesday that the Red Sox plan to be active exploring potential deals leading up to the Aug. 31 trade deadline.
Bloom said he wouldn't make a blanket declaration that any single player is untouchable, and he downplayed the idea that the team might consider moving long-term core players. As speculation has kicked up regarding the possibility of dealing shortstop Xander Bogaerts (signed through 2025, but with an opt-out after the 2022 season) and third baseman Rafael Devers (under team control through at least 2023), Bloom suggested he saw both as likely future Red Sox.
"That's simple. Those guys are core players for us. They're incredibly important to our future, just as they've been important here for a while," said Bloom. "Philosophically, I don't like to think in terms of absolute no's, but those guys are key players for us. We're very hopeful that they're going to be part of our next championship here."
But when might the team be positioned to contend again? Bloom has made clear his desire to create a young talent base that positions the Sox to contend for the long haul – though with the Sox working to refill the upper levels of their farm system, that undertaking could take years. That being the case, with the Red Sox already looking beyond 2020, does Bloom think that contention in 2021 – while building that talent base – is possible?
"I don't think it's wise for us to put timetables on those things. I think if we are doing the right things, sometimes timetables can accelerate. It's hard to foresee that," said Bloom. "A lot of the time, when you start to get cute and try to sync those things up and think you can predict the timetable exactly, you end up doing things that are counter to what your objectives were in the first place. You have to keep the big picture in mind.
"If that's behind everything we do, we might find that things come together more quickly than people might expect. I wouldn't try to put a timetable on that. I think we have to make sure we're assessing our options and potential moves in light of what we're trying to accomplish overall." 
Other takeaways from Bloom's session with the media on Wednesday:
▪ Bloom characterized the team's performance as "about as bad of results as you can possibly imagine. … It's extremely disappointing. We're all competitive. We all like to win and we hate losing." He suggested that because of the team's poor start, "the needle might move a little more in that direction" of building the talent base in pursuit of long-term, sustainable contention at the trade deadline, but that much of the team's focus had already been on creating such a base from the time that Bloom joined the Sox in October.
"We're trying to do this so we can sustain this, so that we can compete for championships every year for a long time," said Bloom. "Everything that builds towards that goal we have to consider regardless of what our record is right now."
▪ Bloom praised the efforts of the players and staff to improve and escape their collective profound funk. He credited manager Ron Roenicke with having maintained a productive atmosphere amidst a torrent of losses.
"It's not fun to come to work if you feel your boss will be a different person just because last night's game or the last week of games didn't go your way. [Roenicke] hasn't shown that," said Bloom. "He is authentic to who he is and he's consistent and I think that sets a good tone. Look, it's tough to have a really positive and fun environment when you've been losing the way we've been losing so I don't want to sugarcoat that. But it's a consistent environment. It's an environment where guys come in and they're ready to work and it's a productive atmosphere and I think a lot of that is due to some of the emotional keys our group is getting from Ron."
▪ Though the Red Sox expected their lineup might carry the team to contention even with a short-handed pitching staff in the regular season, the team is instead averaging just 4.3 runs per game (well below the MLB average of 4.7 runs per game), with several star players performing below their track records.
"Long term, I have no concern about those guys. This happens," said Bloom. "It stinks that it's happening the way it has right now, it stinks that it's been more widespread than you like but it doesn't make me feel any differently about the talent level."
▪ When they traded Mookie Betts and David Price to the Dodgers, the Sox initially agreed to a deal that would have added both outfielder Alex Verdugo and righthander Brusdar Graterol (now a late-innings reliever for the Dodgers). When the team didn't like Graterol's medicals, rather than replacing him in the deal with another pitcher or pitchers who could help in the big leagues this year, the club replaced Graterol with two position prospects, Jeter Downs and Conner Wong. Despite the Red Sox' pitching struggles, Bloom said he did not regret the shape of the deal.
"I think the most important thing is we got three players back, and they've all shown really well," said Bloom. "You guys have seen on the field here what [Verdugo] has done and showing all the talent on both sides of the ball. Everything we've seen from Jeter and Connor at the alternate site has been great. Recognizing that pitching has been an issue for us this year, and we didn't get pitchers back in that deal, I think it takes a lot of good players over time to build a sustainable championship team. We're going to need a lot of good players no matter which way we go about it, and we got three good ones in that deal."