Red Sox
J.D. Martinez admitted he 'wasn't really prepared' last season but believes he's ready to bounce back
"They're not getting me again. They're not catching me off guard. So I stayed ready the whole time."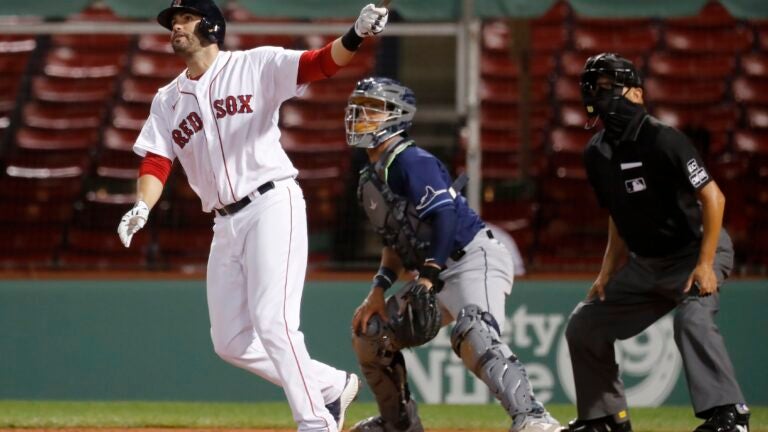 J.D. Martinez acknowledged Tuesday that he "didn't stay ready" last year when the status of the Major League season was uncertain and "wasn't really prepared" when games began.
The Red Sox star took accountability for the way he struggled through the abbreviated 60-game schedule.
"I think this year I said to myself, 'They're not getting me again. They're not catching me off guard,'" Martinez told reporters. "So I stayed ready the whole time."
Martinez said not being able to look at his at-bats during games, a tactic he relies on heavily, also hurt him last year.
"Like I've said a million times, it's part of my routine, and it's something that kind of just got taken away from me," Martinez said. "I'm excited that this year we're going to have it back in a sense, some kind of video where we can look at our swings. So I'm looking forward to getting back to somewhat normal baseball during these crazy times."
Martinez, who was named an All-Star in 2018 and 2019 with the Red Sox, hit just .213 with seven home runs in 54 games last year.
He's bounced back from tough seasons before, as he rebounded with the Detroit Tigers in 2014 after the Houston Astros released him. This one was different, though, as he had already established himself as a star but regressed to where he was earlier in his career and teetered dangerously close to the Mendoza Line.
"Thanks for reminding me of that," Martinez joked when a reporter mentioned his batting average. "It was obviously a rough two months."
JD Martinez said last season kind of caught him off guard. The back and forth of whether they were going to play or not took him off his rhythm. Said he won't be caught off guard this season.

— Julian McWilliams (@byJulianMack) February 23, 2021
He said he has a "chip on his shoulder" this season. That edge might have gone away a bit at one point, Martinez, said, but it's back now.
Martinez admitted that he created some "really, really bad habits" in his swing last year. He spent even more time than usual at the batting cage this offseason, addressed those habits, and worked to rectify them.
He said it took him a while to figure out the root of the problem and believes he made major progress. This offseason, he also worked out with Nelson Cruz, picked his brain, and asked how he's been able to thrive in his 30s and 40s.
Martinez, 33, is hoping to join the likes of Cruz and David Ortiz as potent sluggers who kept producing as their careers evolved.
Cora on JD: I think mechanic-wise he was off. He was chasing pitches that throughout his career he doesn't chase. It's only 60 games. We get excited with Pivetta, Houck and it was a small sample size. People are down on JD because he didn't hit in a 60-game season. It's a SSS too

— Jen McCaffrey (@jcmccaffrey) February 23, 2021
He said he gained some wisdom and is excited for the season, and manager Alex Cora made it clear there are many others who are enthusiastic about Martinez's potential return to form.
"I still believe in this guy," Cora said. "He's capable of doing damage. He's a proud individual. Over the course of his career, he's proved people wrong, so like I've been saying all along, it's not going to be a surprise for me when he goes out there and produces like he's capable of."
Get Boston.com's browser alerts:
Enable breaking news notifications straight to your internet browser.