Red Sox
Q&A: Dan Szymborski of FanGraphs breaks down projections for the 2021 Red Sox
Szymborksi's ZiPS projections on FanGraphs predict a bounce-back year for J.D. Martinez but raise questions about the pitching staff.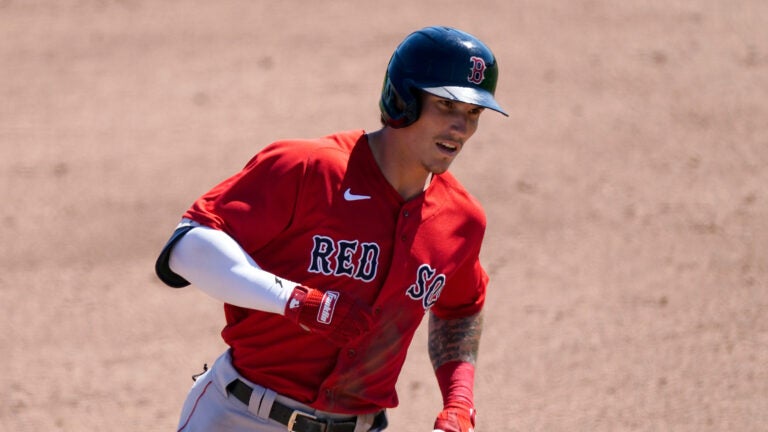 The Boston Red Sox's spring training is in full swing with Opening Day less than a month away.
Will the Sox rebound from a disappointing 2020 season and surprise the baseball world with another playoff run? Or will they slide down the standings in a stacked A.L. East?
Dan Szymborski, senior baseball writer with FanGraphs and contributor for ESPN, has been creating his ZiPS season projections for all 30 Major League Baseball teams for the last nine years. He dusted off his crystal ball to talk about how the Red Sox stack up heading into the 2021 season.
Here's an excerpt of the conversation.

Outfielder Jackie Bradley Jr. just signed a free agent deal to leave Boston. How big a loss is that for the Red Sox?
I think it's especially a large problem for the Red Sox because they're already having to replace Mookie Betts from last year. The team doesn't really have the organizational depth to replace three outfielders that quickly. And Bradley had the most defensive value. His glove in center was a pretty big deal. Whoever they have filling in defensively, the outfield looks a lot worse than it did a few years ago.
How much do you think adding Hunter Renfroe can help fill that void? You wrote that some other projections claim he'll hit more home runs with the shorter distance in left field.
It's [Fenway's] a better park for him than Petco [Park in San Diego] or Tropicana [Field in Tampa Bay]. But when it comes down to it, it's not really the home run park that it once was. Since the mid-80s, the Park Factors for home runs for all hitters, including right-handed guys, has gone down considerably.
I think that what some of the data show is that the players that get the best advantage aren't like the traditional right-handed sluggers, like a Jim Rice, but actually more line drive guys who put a lot of balls in play, can hit a lot of liners off the Green Monster. It's actually maintained its position as a very good batting-average park.
So I'm not really sure it's the best fit for Renfroe, though he will hit more home runs. I just don't think he has a ton of upside left at this point because, while he'll hit home runs, he's not particularly well-rounded. He did it 33 [home runs] in 2019, and even then he did it with a sub .300 on-base percentage. His batting average was down near the Mendoza line (.200). He's a stopgap more than a long-term solution.
Your projections said the Red Sox's offense wasn't as bad as it seemed in 2020, despite the struggles of players like J.D. Martinez and Rafael Devers. Will the offense return to form this year?
I do think that the Red Sox offense will be respectable. They already took the biggest hit when they lost Mookie [Betts].
I don't think J.D. Martinez is gonna get back to previous levels, but he should be better than he was in 2020. He was a mess last year. He lost 60 points of OPS+ from 2019 to 2020, which is bananas. And you'll have improvement from Michael Chavis.
I think the offense will be solid. My complaints about the team are mostly depth of the pitching staff and some of the question marks there than anything else.
Let's talk about pitching then. Who are you watching most closely in the starting rotation and in the bullpen? Who's the biggest wild card?
Well, I think you need an eventual return of Chris Sale. I don't think he can have too many setbacks, and they need him to be Chris Sale pretty quickly.
I'm interested in Martin Perez because he had moments of success when he was playing around with that cutter that he picked up a few years ago. But he's been really up and down since then. His velocity was a bit down [last year] from 2019, so I'm curious.
There's a lot of questions. I mean, Garrett Richards, his health record isn't great. [Nathan] Eovaldi, he's been so up and down in recent years. You have guys who have significant injury histories. What happens if you lose one or two of these guys? That's my biggest concern about the team: you lose a pitcher, Sale isn't back, and all of a sudden the rotation looks near the bottom of the league. They don't have great minor league depth like the Rays or the Dodgers. There's no Dustin May waiting around.
Who do you expect could have the biggest swing from their 2020 performance to this year? Good or bad?
Luckily, I think most of them are positive. You don't really have a lot of overachieving in 2020 because the team was worse than probably should have been expected.
I do think there will be a pretty big J.D. Martinez bounce-back. I think he's probably the one I would pick. I also think Devers and Bogaerts should have better seasons too. He's [Bogaerts] almost forgotten because there are so many terrific young shortstops in baseball at this moment. He's not off his peak yet. It's weird that a Red Sox star shortstop would be underrated, but you can make the case he is.
Not many people are giving the Red Sox a chance to compete in the AL East. Many projections have them at or near the bottom of the division. Where do you think they end up?
I think they're most likely to be fourth. But I think there's gonna be pretty good daylight between the Orioles and the Red Sox. Orioles were unexpectedly competent for part of last season. I think people are kind of overrating where they are. I can see the Red Sox probably 15-20 games better than the Orioles.
So I think the Red Sox, you can say, are a middle-class team. But they might be the only middle-class team because I think the Yankees will be around 95 wins and the Jays and Rays both have good shots at 90. Just looking at the roster on paper, the FanGraphs projections for the Red Sox is 84 wins. But when ZiPS does it with the depth included, it drops them from 84 to 79 wins.
But you kind of know realistically just how much error there is in projections. So it wouldn't be the biggest shock in the world if the Red Sox won 90 games and got a wild-card spot. So there is hope. Their path to the playoffs is easier than the [Kansas City] Royals, the [Detroit] Tigers, or the Orioles.
Get Boston.com's browser alerts:
Enable breaking news notifications straight to your internet browser.