Red Sox
The Red Sox have finally become the Patriots, and that brings some troubling thoughts
"We don't need to be popular. We need to win."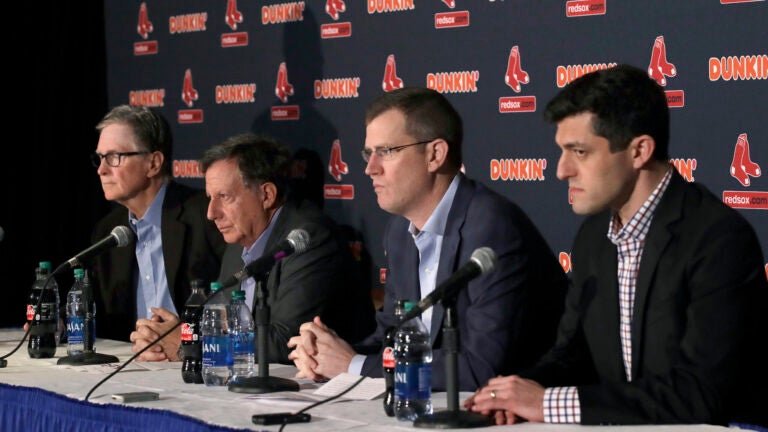 COMMENTARY
Three springs ago, when John Henry existed as something more than a quote on the occasional press release, the owner of the Red Sox (and Boston Globe Media Partners, which includes Boston.com) said something quite bright.
"We really don't need to be popular," he told reporters at his annual media briefing in Florida. "We need to win."
At that time, he'd already been through multiple cycles of public sentiment calling his ownership unsalvageable, that he'd have to sell the team to save face. John Lackey had gone from pariah to winning pitcher in a World Series clincher. Within three months of Henry's quip, the fan base would have a minor meltdown at lovable, clubhouse-boosting Hanley Ramirez — a few years earlier not tradeable for a bag of baseballs — being designated for assignment.
To put it another way: Everyone loves a parade. The offseason surveys of waning fan engagement, most famously the one which helped spur the Carl Crawford and Adrian Gonzalez additions during the 2010-11 offseason, were superfluous. Keep churning out parades at their unrivaled rate, and the Henry regime would be just fine.
That I stumbled across the quote again earlier this winter seemed quite useful, given, well, have you looked at the roster in the last year? Thursday's departure of Jackie Bradley Jr. was not in any way unexpected, but the terms of it were: A two-year, $24 million contract which Bradley can opt out of after this season. Bradley Jr., who spent years with the open market as a goal, barely got a raise — he was due to make $11 million for a full season last year — and what he got is deferred.
Scott Boras calls them "pillow contracts." The rest of us call them "contracts for guys no one wanted."
That includes the Red Sox.
"One of the most impressive people I've met in this game," wrote baseball boss Chaim Bloom to MLB.com on Thursday, publicly saluting Bradley Jr. the man one last time after actions made clear his door on him as a baseball player closed the second the season did.
Mookie Betts. David Price. Andrew Benintendi. Mitch Moreland. Brock Holt. Now, Bradley Jr., the final remaining piece of the foundational outfield of 2017-19, the centerpiece of the Globe's 2019 baseball preview as a group the Red Sox "are ever so fortunate to have."
"We don't need to be popular," the owner said. "We need to win."
They're certainly stretching that to its limits, aren't they?
In a vacuum, every move the post-2018 Red Sox have made can be explained. Good value. Declining skillset. Potential getting while the getting's good. There is no howler akin to Colorado paying St. Louis to take Nolan Arenado. Even trading away Betts, which may prove a generational mistake, has the context of their annual fights over contracts dating to 2017, when it's only hindsight to note they should have made a Fernando Tatis Jr.-level gamble.
Bradley Jr. just hits me different, though. Because we know what he is: A streaky hitter who would save your pitching staff with atomic clock regularity, and as high a character guy as you could ever want. Because the price came way down: Bradley Jr. wanted a contract "perhaps beyond four years," according to an early-February report, and settled for a glorified one-year extension at his current rate so he can try again in the middle of a knock-down, drag-out CBA negotiation.
The Sox could have thrown their fan base a bone. They could have kept a favorite and barely slowed presumed next man up Jarren Duran, who posted an uninspiring half-season at Double A pre-pandemic before impressing at the alternate site and winter ball last year.
They weren't interested.
How positively Belichickian.
These Red Sox certainly have a heavy Patriots vibe to them, stuffed with pieces Alex Cora can arrange in myriad ways. Danny Santana, reportedly signed Thursday to a minor-league deal, can play every position except catcher, just like fellow new additions Kiké Hernández and Marwin González. Bobby Dalbec is in line to play first, but primarily played third in the minors. Christian Arroyo and Jonathan Araúz can play all over the infield. (For that matter, so can Christian Vázquez.) Michael Chavis probably won't make the Opening Day roster, but he's already played four positions in two abbreviated seasons.
The roster has one guy older than 33 (Adam Ottavino at 35), just eight guys with more than seven years of MLB service time (half of which are essentially franchise newbies), and the 40-man has 17 guys who weren't in the organization last July. I'm intrigued: Dalbec hit three homers in his first seven spring at-bats, and Hernández looks good for whatever these non-game games are worth. I'm also a diehard.
You? You may not be. You may be a casual observer who loved, goodness, any of a half-dozen names not here anymore. With expanded playoffs apparently off the table in 2021, this team's not sniffing them. And they're fine with that, because this is a season about plowing through a fistful of scratch tickets to find a winner.
But the presumption you should stick it out because those winners will be a new core? I'm not entirely sure about that.
You will if they win, of course, because the Belichick/Henry thought process is no unproven theory. And history tells us they'll find some winners: The dynastic Dodgers got both Max Muncy and Justin Turner on minor-league free agent deals after a muddling start to their MLB careers elsewhere.
I can't help but wonder, though, about what comes next. Never mind if this experiment blows up … that's an obvious trip to pre-2004 purgatory. But whether however it goes, this is the phase just before the winning.
We read and we presume Bloom is not Rays-ifying the Red Sox so much as trying to recreate the Dodgers, building around the draft and holding back free-agent dollars until just the right guy in just the right moment down the road. But who'd be shocked if Franchy Cordero starts putting it together and he's flipped at the deadline? Or if Tanner Houck, his full arsenal long presumed to be best served for relief, goes while the getting's good?
What if these guys are the guys, but they depart just like the generation before them did?
There is absolutely a danger in falling too hard on sentimentality, or letting a champion stick around just because it's easier than moving on. There's also a danger in going too hard the other way, of giving a fan base nothing to hang on to but the logo on the sleeve. Fandom is an irrational enterprise, but it lives in real connections between player and region.
After 2020, it'd be a good problem to have, and this won't seem as worrying should a Rafael Devers (or even Alex Verdugo) extension appear a couple weeks out. Baseball, however, has repeatedly failed in recent years to understand that winning is not the only thing that matters. Aesthetics matter. Players matter. People matter.
Hopefully, the Red Sox understand that too.
https://embed.sendtonews.com/oembed/?SC=RGHCZ29Xjd-1184766-8402&autoplay=on&V=2&format=json