Red Sox
Here's why Jackie Bradley Jr. didn't rule out return to Boston Red Sox this offseason
"Any time you start closing off different avenues then you're limiting yourself."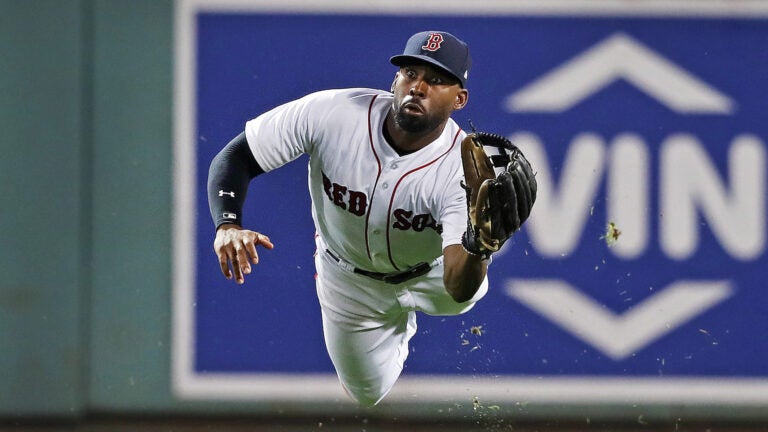 After the Boston Red Sox traded Andrew Benintendi, the departure of every member of the team's World-Series-winning outfield from 2018 seemed all but assured.
Mookie Betts was traded in February 2020, much to the consternation of Red Sox fans. Benintendi's trade returned outfielder Franchy Cordero. Jackie Bradley Jr. was expected to depart as well.
Sure enough, Bradley Jr. signed a two-year, $24 million deal with the Milwaukee Brewers last week. Still, in a conference call on Monday, he told reporters he hadn't fully made up his mind to leave the Red Sox this offseason, despite all the turnover.
"As a whole, you want to stay open-minded about it all," Bradley Jr. said. "Any time you start closing off different avenues then you're limiting yourself, so as long as you're open-minded about listening and gathering all the information, that's going to give you the best opportunity to make the decision that you think is best for you and your family."
Bradley Jr. was asked about the dismantling of the 2018 Red Sox outfield.
"Decisions have to be made, and you have to be fully ready to embrace it," he said. "This is a short time window, and not many players over the course of their careers are going to stay with one team. It's just hard to do. A lot of things have to work out. We're not all on the same team, but that's OK, because we all have our own different opportunities. From talking with them, I think we're all excited."
Bradley Jr. hasn't figured out exactly how he wants to bid farewell to Red Sox fans.
"I don't want it to just be some short thing," he said. "I feel like the years that you invest and put in, I don't think it would do it justice to give like a little tidbit over this."
Still, Bradley Jr. called the Brewers "a breath of fresh air."
"To be able to finally be out here, moving around, I'm glad to be here," he said. "I'm really excited for the opportunity and have a lot of fun with these guys."
The Red Sox admitted last week that replacing Bradley Jr. will be a challenge, but they are hopeful about their prospects.
"I think we have a number of players in this group who are really capable outfielders, who can cover ground and make plays," Red Sox chief baseball officer Chaim Bloom said. "From that standpoint, it's a great feeling. It gives Alex options and it gives us options to make sure we're supporting our pitchers the way we need to."
Get Boston.com's browser alerts:
Enable breaking news notifications straight to your internet browser.