Red Sox
Connecticut man honors late son with Red Sox-themed basement
Scott Johnson says the room is a tribute to his son Connor, a "huge" Red Sox fan.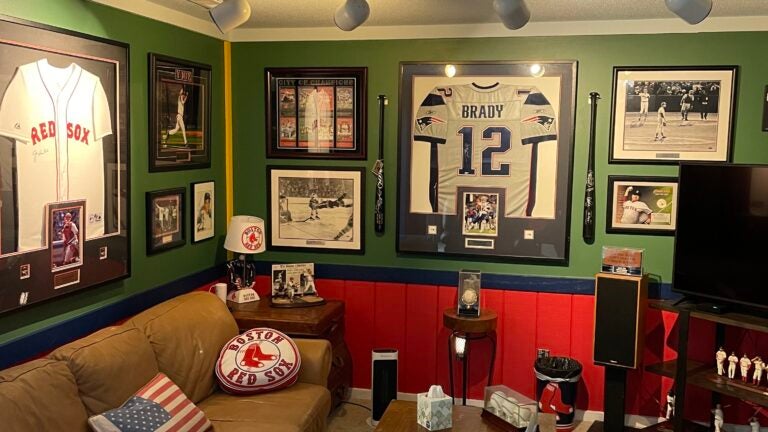 A walk down the basement steps of Scott Johnson's home outside Hartford, Connecticut takes you past the Boston Red Sox' championship banners on the left and the numbers of the team's retired legends on the right.
Turn one way when you reach the bottom, and you can see a miniature version of the Red Sox' famed "Green Monster," complete with the "Fisk Pole" and the scoreboard attached to the left-field wall. Turn around, and you'll see a Tom Brady jersey on the opposite wall near "Pesky's Pole" meant to symbolize the end of Fenway's right-field line.
"You have Big Papi (David Ortiz), Ted Williams, Yaz (Carl Yastrzemski), Pedro (Martinez), Manny (Ramirez) and Nomar (Garciaparra)," Scott Johnson can be heard guiding a guest on the now-viral social media tour of the room tweeted out by his sister, Megan.
That post has since been retweeted by the Boston Red Sox account and has been "liked" nearly eight thousand times, including by Red Sox legends Wade Boggs and Fred Lynn.
"Who would have thought?" Scott, who works in the mortgage business, said. "It's awesome."
Look what my eldest brother did to his basement… @RedSox pic.twitter.com/ZpU8fSgsD6

— Megan Johnson (@megansarahj) March 13, 2021
"Honoring Connor"
But to fully appreciate Johnson's Red Sox-themed masterpiece, you have to understand the grief and pain it was born out of.
More than anything, Scott says, the room is a tribute to his late son Connor, who died by suicide in November of 2016 at the age of 25. Connor, his father explained, struggled for years with cancer, mental illness, and substance abuse addiction, which led him to take his own life while at a rehab facility.
"He was a very special kid," said emotional Scott of his son. "Talented, loving, caring, compassionate."
Scott says he and his wife Lisa have been processing their grief for the last five years with the same persistent vision: "How do we honor Connor?"
The Johnsons have since started up the website "Honor Connor," which they hope can spread awareness about mental illness and addiction. The site even features poetry of Connor's that the family has posthumously published, in which he candidly explores his own struggles.
Then, in the midst of the COVID-19 pandemic, Scott says his family's love of Boston sports — his son's in particular — gave him the inspiration to create what he calls "the Fenway room."
"Connor was a huge Red Sox fan," Scott explains. "Connor and I got to go to a lot of games together…got to spend a lot of time at Fenway Park.
"So I knew this was something I wanted to do that Connor would love."
With some help from his son-in-law and a friend who was staying with the family during the pandemic, Scott says the room came together quickly. Then, he populated the room with sports memorabilia he says he's been collecting for the last 30 years.
While most of the items are specific to the Red Sox, he also added more general Boston sports trinkets from Brady, the Celtics' Larry Bird, and Bruins legend Bobby Orr.
"I know they've spent time at Fenway and have a passion for Boston sports, so I just didn't want to leave them out," Johnson laughed.
While Scott says he's in awe of the social media attention the room has gotten, he connects everything back to his son, hoping this newfound recognition can help other families like theirs.
"I'm excited that 'Honor Connor' can be recognized," he said. "The grieving process never ends. It just changes shape. But we're blessed to have him in our life, and now we have to pay it forward."