Red Sox
What Red Sox fans can expect at Fenway Park on Opening Day and beyond
Fenway Park plans to allow just under 5,000 fans for Red Sox home games during the early part of the season.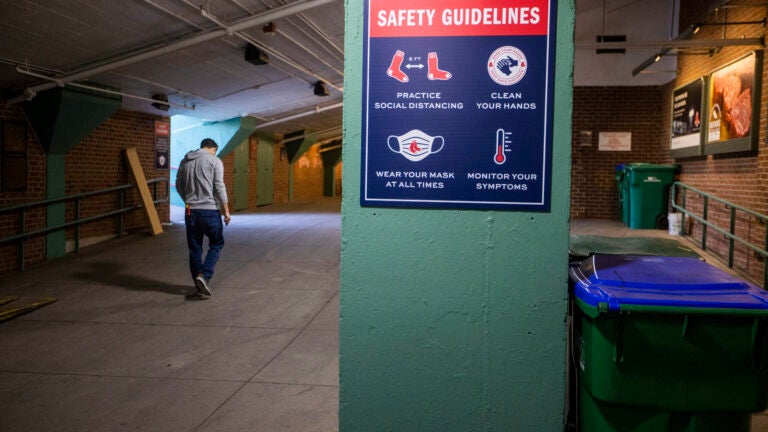 Whatever happens with the Boston Red Sox on the field on Opening Day Thursday, their fans will at least be on hand to see it in person.
The Red Sox plan to allow about 4,500 people, roughly 12 percent of Fenway Park's capacity — into the stadium for the afternoon tilt with the Baltimore Orioles — the first time fans will set foot inside for a game since the Sox beat those same Orioles 5-4 back on September 29, 2019.
"As someone who was here last year watching games in an empty ballpark, it was a little off," said Sarah McKenna, the Red Sox' senior vice president of fans services and entertainment. "Having fans back, having that crowd, hearing people cheer, that's going to be fantastic."
But with the country continuing to battle the coronavirus pandemic, the Fenway experience still won't be quite the same as it was pre-pandemic.
For starters, the process for getting into the park will rely more heavily on electronic means than before.
Fans must purchase their tickets through the MLB Ballpark app, which McKenna encourages people to download onto their phones before coming to the park. The digital tickets from the app will include assigned entry through either Fenway's "A" or "E" gate, their seat assignment, and a COVID self-assessment for guests to fill out. McKenna says people can still print their tickets out at home and present them at their assigned gate, but she adds that downloading the Ballpark app will aid Fenway's efforts to keep the entry process "as contactless as possible."
"Just be ready," she said when asked for her advice to fans arriving at Fenway for games. "We want to keep the line moving. We want everyone to feel safe."
Bags also will not be allowed inside the stadium except for small purses, medical items, or diaper bags.
Once inside, fans must sit in assigned pods mainly composed of two to four people with the largest containing up to six, according to the Red Sox' senior vice president of ballpark operations Peter Nesbit. He said fans can access "all areas" of Fenway for seating, including the Samuel Adams deck in right field and the bleachers atop the Green Monster. But stadium staff have zip-tied all seats not expressly designated for pods to prevent unauthorized usage and to keep pods more than six feet apart. Patrons must also wear a mask at all times.
People can also order drinks (from a bottle or can) and tightly wrapped hot dogs from vendors using the ballpark's new touch-pay system, allowing customers to purchase items by simply tapping their credit cards. Both Nesbit and McKenna confirmed cash payments will still be accepted for customers who don't carry cards.
McKenna says she's confident the changes will allow fans to enjoy in-person baseball again as safely as possible.
"We saw thousands of people when we held voting here," she said. "We saw thousands of people every day when we were running as a vaccine site. And we were able to keep people safe…we're using the entirety of the ballpark, where in those opportunities we were really using just part of it. Using the entire ballpark, I think, will help."
Here's what the renovated Fenway Park looked like during a media tour on Tuesday:
Get Boston.com's browser alerts:
Enable breaking news notifications straight to your internet browser.