Red Sox
Sports Q: How many games will the Red Sox win in 2021?
Debate the answer with Chad Finn and other Boston sports fans at The Sports Q.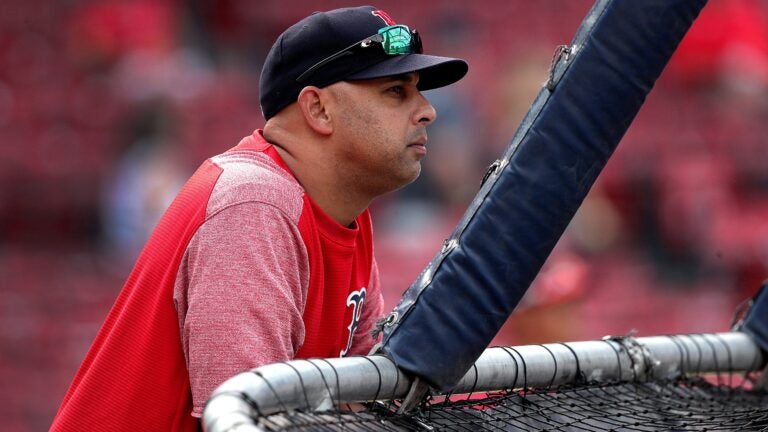 Welcome to Boston.com's Sports Q, our daily conversation, initiated by you and moderated by Chad Finn, about a compelling topic in Boston sports. Here's how it works: You submit questions to Chad through Twitter, Facebook, and email. He'll pick one each weekday to answer, then we'll take the discussion to the comments. Chad will stop by several times per day to navigate. But you drive the conversation. 
All right, I know you're relatively optimistic about the Red Sox. But no more dancing around it. Time to go on the record. How many games will the Red Sox win this year? I say 79. Boring and just below .500. – John G.
Relatively optimistic is a good way of putting it, John. I do expect them to win many more than the 24 they won last year.
I think I said somewhere else – maybe in a previous Sports Q, though darned if I can find it – that they would win 83. I'll stick with that. Assuming reasonable health, they'll hit plenty, even if J.D. Martinez doesn't bounce all the way back. The Sox were first in the AL in batting and third in on-base percentage slugging and OPS last season.
They should be even better this year. Bobby Dalbec could hit 30 homers at the bottom of the lineup, sort of like Butch Hobson did hitting mostly eighth in that loaded '77 lineup. Kike Hernandez and Marwin Gonzalez (to a lesser degree) will be fan favorites. I'm intrigued by Franchy Cordero, who has a gorgeous swing. Xander Bogaerts is a quintessential cornerstone player and consummate pro. Rafael Devers could be one of the league's best hitters, as he was two seasons ago.
The pitching still has question marks. Will Eduardo Rodriguez be back to his '19 level after losing last season to COVID-19? Will Garrett Richards and Nate Eovaldi see their stuff translate to success? Will Tanner Houck be able to get lefties out?
But even with the questions, there is much more actual major-league depth here than there was a season ago. It's embarrassing how bad their pitching was last year, when they kept running out discards like Zack Godley, who ended up third on the staff in starts and had an 8.16 ERA. In fact, the top five in starts for Red Sox pitchers last year (openers included), were: Martin Perez, Eovaldi, Godley, Chris Mazza, and Ryan Weber. Did I mention they had a staff ERA of 5.58? Yeah, it will be better.
It's possible the Sox exceed 83 wins. It's also possible they start slowly, and Chaim Bloom offloads half the roster at the trade deadline. But I think this is going to be a pretty enjoyable year, at least for those who have come to grips with their methodical approach to rebuilding the talent-base in the organization. They'll be in the wild card race until the end, even if they finish four or five games back.
Yeah, 83 wins. That sounds about right.
But what does everyone else think? How many games will the Red Sox win this year? I'll hear you in the comments.
Get Boston.com's browser alerts:
Enable breaking news notifications straight to your internet browser.