Red Sox
5 important Red Sox stats projections to watch ahead of the 2021 season
Along with possible bounce-back years from J.D. Martinez and Rafael Devers, a few unknown players could have breakout seasons in 2021.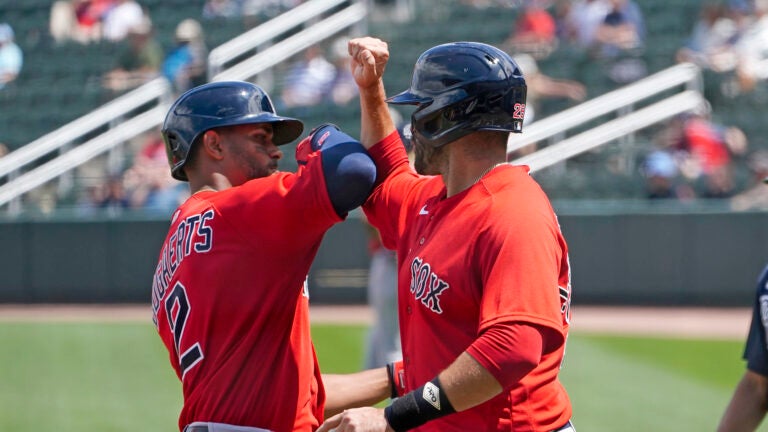 With 2020 safely in the rearview mirror and 2021 providing something slowly approaching normalcy, the Boston Red Sox prepare to shake the dust of last year's disappointment from their cleats starting on Opening Day Thursday against the Baltimore Orioles.
But while the Red Sox seemingly can only improve after finishing dead last in the AL East division last year, how much better can fans expect them to be?
Most pundits aren't high on the Red Sox, who must contend with a loaded American League East led by the New York Yankees and reigning AL Champion Tampa Bay Rays as well as their own internal roster questions.
But the team hopes the returns of key pitchers Chris Sale (eventually) and Eduardo Rodriguez, the continuing development of young stars Alex Verdugo and Rafael Devers, and the steady play of Xander Bogaerts and (hopefully) J.D. Martinez can help right the ship this year.
With that in mind, here are a few of the most important players and positions to watch in 2021 based on FanGraphs's ZiPS projections for 2021.
J.D. Martinez bounces back…but is it enough?
Well, it's hard for Martinez to have a worse year than 2020, right?
Put simply, the 33-year-old slugger had his worst season since 2013, his third year in the big leagues. Until last year, he had never batted worse than .240 in a season and hasn't hit below .280 in eight years.
His track record suggests the only way to go from there is up, and FanGraphs agrees. With a full 2021 under his belt, ZiPS projects Martinez should get his average back up to .264 with an on-base-plus-slugging percentage (OPS) of .826 (up from an anemic .680 last year).
However, his predicted home run (27) and RBI totals (86) are well below his full-season marks from 2019 and would be his lowest numbers in both categories since 2016.
This tepid rebound for Martinez no doubt accounts for the slugger's advancing age, but it's still a bit concerning. The Red Sox have a lot of money invested in him over the next two seasons, and it could be tough to trade him and the $38 million remaining on his contract with teams facing money troubles due to the pandemic.
But for now, he's still one of the best hitters on an offense that will have to carry a heavy burden this season. Hopefully, a return to a more normal life — including the ability to study video during games, which Martinez swears by — could get him back on the right track.
Rafael Devers returns to stardom.
Devers went from being a top-five third baseman in wins-above-replacement for 2019, posting a WAR of 5.9, to being 14th in WAR (0.5) during a truncated 2020. His numbers didn't drop off quite as steeply as Martinez's did last year, but the Red Sox still had to have hoped for a more consistently upward trajectory for the then-23-year-old.
But FanGraphs suggests Devers' age-24 season will bring some of that optimism back. ZiPS has him slashing .287/.338/.859 with 32 home runs (which would tie his career-high from 2019) and 112 RBI. His anticipated 3.5 WAR slots him eighth in ZiPS' preseason projections behind perennial All-Star Nolan Arenado.
If Devers approaches those numbers, he'll have a case to be one of the league's best third baseman both this year and potentially for years to come.
Bobby Dalbec: Rookie of the Year or strikeout king?
Dalbec's projection might be the strangest of all the Red Sox's expected major contributors after a year in which he was one of the team's most valuable hitters. In fact, his weighted runs created plus (wRC+) of 152 from 2020 was better than any probable starter in Boston's lineup this season.
He's never hit for great averages even in the minor leagues, but his predicted .219 average (via ZiPS) for this year is far lower than anything he's posted at any level. That includes his .263 clip last season with the Red Sox (albeit in very small sample size). Then again, his insanely high strikeout percentages might have something to do with that. He struck out a cartoonish 42.4 percent of the time last year, and ZiPS projects he'll go down on strikes at an almost 40-percent clip this year as well.
All that said, ZiPS also has him hitting 26 home runs and knock in 63 runs, which the Red Sox would almost certainly take from a guy playing his first full season in the majors. Given the way he hit in spring training, maybe that's not too far-fetched.
Bobby Dalbec leads the majors in HRs this spring.

That's good. Very good. pic.twitter.com/4YY9CyF5Pk

— Red Sox (@RedSox) March 26, 2021
If Dalbec can keep the strikeouts down, he might garner some real AL Rookie of the Year chatter. If not…at least he might hit a bunch of home runs.
Franchy Cordero
With only 95 games and 315 plate appearances under his belt in the majors, few truly know what Cordero can do given the chance to play every day. The Red Sox are hoping to find out, with the team presumably set to start the 26-year-old in left field alongside Verdugo and Hunter Renfroe.
The result could be more much optimistic than expected.
According to ZiPS, Cordero is slated to slash .240/.299/.754 to go with 12 home runs and 49 RBI in 2021. While that's not at the level Andrew Benintendi played to in his first three full seasons with the Red Sox, it would be a clear upgrade over what Boston got from the left-field spot last year. It would also be a substantial leap for a player who only has 12 career home runs and 36 RBI to this point.
Hitting those projections could arguably make Cordero the best signing of the Red Sox's offseason (take that for what you will, of course).
FRANCHY TO THE MOON pic.twitter.com/4cg4dO386X

— Jared Carrabis (@Jared_Carrabis) March 28, 2021
The entire starting staff
On the bright side, FanGraphs's early projections have ace Chris Sale returning soon enough to start 20 games this season. Even if that return is delayed a bit, Sale's predicted numbers (3.35 ERA, 147 strikeouts/28 walks in 121 innings pitched) would be an excellent comeback after missing last season due to Tommy John surgery.
After that, though, things start looking bleak. Not a single starter aside from Sale is expected to have an ERA or fielder-independent pitching (FIP) mark under 4.0, a sign the rotation could be in for another rough season.
The starting staff does get Eduardo Rodriguez back after he sat out last season, though he had to skip his Opening Day start due to arm fatigue). Furthermore, FanGraphs's resident ZiPS expert, Dan Szymborski, actually thinks Nate Eovaldi stands a solid chance of outperforming his uninspiring 2021 ZiPS projections. Once everyone is back completely healthy, the likes of Garrett Richards and Martin Perez can slide back in the rotation, which could benefit everyone involved.
Still, another injured-plagued and otherwise down year from the starting rotation could have the Red Sox struggling to remain competitive in arguably the toughest division in baseball.
Get Boston.com's browser alerts:
Enable breaking news notifications straight to your internet browser.