Red Sox
Red Sox tickets were already expensive. They're even more so this year.
Limited capacity due to COVID-19 has made tickets to see a game at Fenway Park this spring even more of a scarce commodity.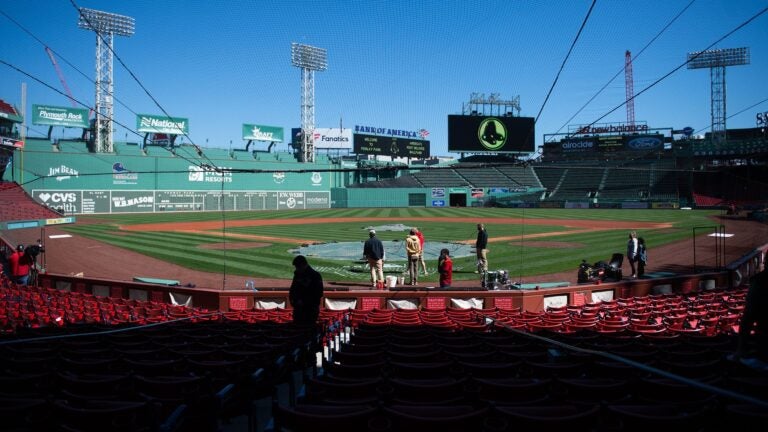 Surprise: the laws of supply and demand continue to apply to Boston Red Sox tickets.
With Fenway Park limited to just 12 percent capacity in an effort to prevent the spread of COVID-19, fans will likely have to fork over more money for the unique — if still somewhat risky — opportunity of seeing the Red Sox play in person this spring, an experience that was remarkably expensive even with the ballpark at full capacity.
The average ticket price for the team's Opening Day game Thursday against the Baltimore Orioles was $283, the ticket aggregator TicketIQ said earlier this week, with the lowest available "get-in" price at $156. According to TicketIQ, this year's get-in price was more than 14 percent higher than the prices for the Red Sox' post-World Series-winning Opening Day game in 2019 and 61 percent higher than the team's Opening Day game in 2018.
TicketIQ has since updated its post to note that the get-in price for Thursday's game has fallen 38 percent over the last three days to $94.
Other secondary market ticket websites, like SeatGeek and StubHub, show Fenway Park tickets as low as $40, including fees, for deep bleacher seats for games this spring. However, the price for seats — which are being sold in spaced out groups of two and four — closer to the field ascend into the several hundred dollar range. TicketIQ said Monday that prices for this year go as high as $782.
The increased costs also aren't only a function of the secondary market.
The Red Sox began directly selling single game tickets for April last Thursday. And while the team is initially pricing tickets at the levels that had been set for 2020 (before the season was postponed, shortened, and played without fans at Fenway due to the pandemic), they're also expanding their use of dynamic pricing to all seating areas. That means individual ticket prices will go up — or down — based on demand and other variables, such as the date of the game, number of tickets available, opponent, and weather conditions. For example, according to the team's pricing webpage, the cost for weekend game tickets is often more than double the price of a Monday or Tuesday game.
The Red Sox have had dynamic pricing in place for Green Monster and standing room tickets since 2014, and the team says the model is already used by a majority of teams in the MLB and other leagues. According to the Red Sox, the fluctuating price model will also allow them to more easily accommodate potential changes to the park's maximum allowed capacity under Gov. Charlie Baker's reopening plan.
Not everyone is a fan of the impact it's having, especially with limited capacity. Catherine Varitek, the wife of Red Sox assistant coach and former catcher Jason Varitek, tweeted Wednesday that she plans to give away "quite a few" ticket due to the "out of control" prices.
So, just maybe, not everyone will be subject to those soaring costs.
Get Boston.com's browser alerts:
Enable breaking news notifications straight to your internet browser.