Red Sox
From 'David Ortiz' to the man who's seen it all: Sights and sounds from Red Sox Opening Day
Diehard Red Sox fans are reveling in their returns to Fenway Park after fans were not allowed at the park last season.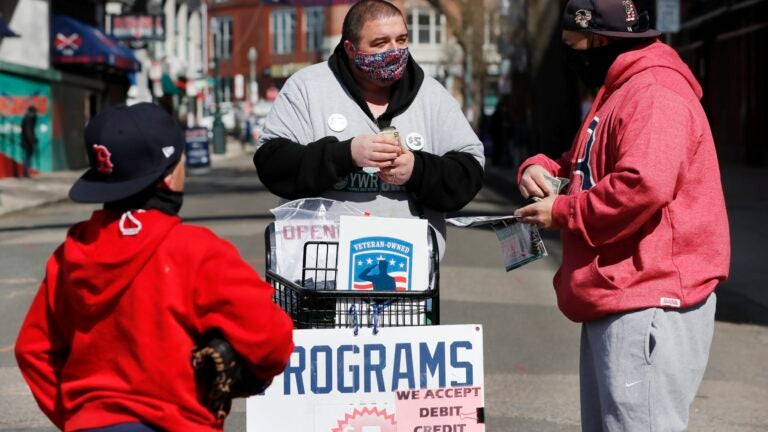 John Kilroy had to wait an extra day to officially ring in his 75th Opening Day trip to Fenway after the Boston Red Sox's first game of the season was postponed due to rain on Thursday.
But come Friday afternoon, there was the 84-year-old holding court surrounded by cameras and microphones near Gate A, where fans had begun to line up in front of outdoor metal detectors just after noon.
"Wouldn't miss it," he said.
Kilroy, who came to the game with two of his daughters and one of his nieces, has been coming to Fenway Opening Day festivities since he was about 10 years old – back when watching a Boston Red Sox game would only cost you around 50 cents.
He can tell you stories about everything from seeing Ted Williams hit to watching pitcher Ellis Kinder warm up for games after just having "drank the hard stuff" back in the 1950s.
"His passion for the Red Sox has been his whole life," said Kilroy's daughter, Maryanne Fitzgerald. "'Puppa' took us to games on a milkman's salary, and he taught us the love of the game."
Soon, Kilroy and Maryanne – who say they've also received COVID-19 vaccinations – and their family would be among the first 4,000-odd fans to watch a baseball game inside Fenway Park in about 18 months.
They're not the only ones who had been waiting more than a year for the chance to return to the iconic ballpark.
Jodi Gardner of Salem, New Hampshire said she's been to 630 Red Sox games coming into today's opener. She even had tickets lined up for Opening Day last year – then, the pandemic hit, dashing her hopes to attend.
"I went into a depression," she said. "I need baseball. I need it."
At first, Gardner and her gameday date Bruce Moran weren't even sure they'd go to the game because of the elevated ticket prices. After all, they planned to come down to the park and take in the scene whether they had Opening Day tickets or not.
"But the more we thought about it, the more we had to," explained Moran, who said the couple spent more than $300 on their two tickets.
"It's momentous!" Gardner added in agreement, though she also admitted she was fretting about the state of the Red Sox team itself heading into the first game of the year – "Our pitching is still lacking. We'll see."
As the clock ticks inside 1 p.m., groups of fans congregate outside the Cask and Flagon across from the park on Lansdowne Street. They're taking selfies with an Elvis impersonator and – wait, is that David Ortiz?
From a distance, the height looks right as he stands taller than everyone else around. The high-faded haircut and facial hair seem convincing as well. People stop to snap photos as they pass by, smiling and pointing with excitement.
That's exactly the effect Dominic McCloud, the "Big Papi" impersonator, is going for.
"I like doing it. It makes people happy," McCloud said, mentioning he especially hopes his costume gives kids a fun Opening Day memory.
Unlike Kilroy and Gardner, the 34-year-old who calls himself "BOE" – Boston Over Everything – said he didn't have tickets to the game. He just wanted to bask in the renewed glow around the ballpark.
"It's good to see this," he said. "It's been really quiet out here. Now the businesses are getting back open. I get to get the sausages I used to love last year. I just think it's positive as long as everybody's being safe about it."
The Ortiz doppelganger snaps a few more selfies in front of the restaurant and then aptly walks across the David Ortiz Bridge over the Mass Turnpike.
Not long after that, 1:40 p.m. hits. Cheers ring over the outfield walls even with a far less than capacity crowd as Red Sox public address announcer Henry Mahegan's voice flows over the loudspeakers: "Welcome back to Fenway Park. We've missed you."
Get Boston.com's browser alerts:
Enable breaking news notifications straight to your internet browser.