Red Sox
Dustin Pedroia still laments failing to recruit Jon Lester back to Red Sox
Pedroia says he heavily recruited Lester to sign with Boston in the 2014-2015 offseason, only to see the former Red Sox pitcher sign with the Chicago Cubs.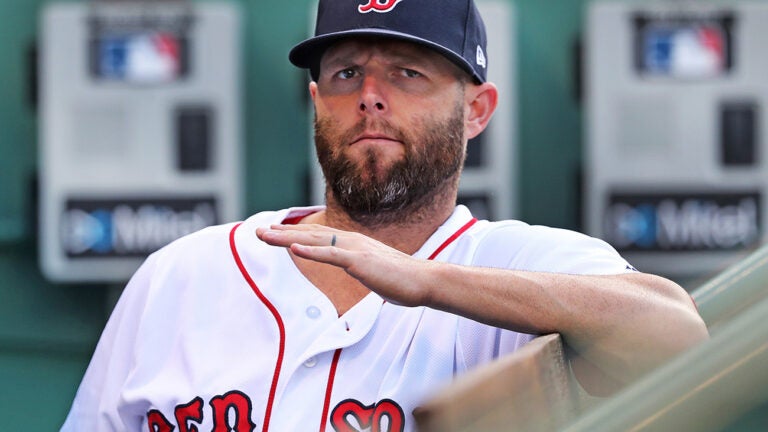 Now-retired second baseman Dustin Pedroia wore a lot of hats during his playing days in Boston: Gold Glove-winning second baseman; All-Star-level force at the plate; and, apparently, talent recruiter for the Red Sox.
"Oh yeah. Every offseason," Pedroia told WEEI's The Bradfo Sho Podcast on Friday while discussing his first year of life after baseball. "I think there are 750 or more players in the big leagues, but it's a close-knit family. Shoot, you talk to guys all the time about certain players and certain people because everything is intertwined in baseball. There are people everywhere. We are all intertwined. People who are free agents or other players looking to get traded, you're always talking. That's just part of the game."
Pedroia's passion for the Red Sox and for playing at Fenway Park — "It's the best place on the planet to play baseball," he added in the interview — led the organization to make him an integral part of their recruitment efforts as he became one of Major League Baseball's most recognizable players.
But he still remembers the one man he couldn't deliver for the Sox.
"I only lost one recruiting job and it was Jon Lester," Pedroia says, "and I'm probably the closest to him as any of the guys I recruited. Everybody else but him."
Lester needs little introduction to Red Sox fans. He spent his first eight full seasons in Boston after the organization selected him in the second round of the 2002 MLB Draft, making three All-Star appearances and winning two World Series titles with the team. But with a one-year contract set to expire at the end of the 2014 season and no extension in sight, the Red Sox traded him to the Oakland Athletics.
Once Lester hit free agency in the offseason, Pedroia set to work to bring his old friend back to Boston. The problem: Lester already knew the pitch by heart and wanted something different.
"To him, it was more like selling that we wanted to get back to doing what we were trying to do," Pedroia said. "It's different when you're recruiting someone you're so close with. We came up through every level together. I didn't need to sell him on anything. He had been offered a contract. He had been traded. There was a lot going on and it was personal. All I can do is support him. He called me up and he was in tears saying he was signing with the [Chicago] Cubs."
Lester went on to pitch six seasons with the Cubs, famously helping the team break its 108-year World Series drought in 2016, and putting together two more All-Star seasons before leaving to sign with the Washington Nationals in free agency.
His old teammate Pedroia says the two "will be close forever" and that he doesn't begrudge Lester's choice to sign elsewhere: "Trust me, I think he did enough for the Red Sox."
Nowadays, the former All-Star and American League MVP is just enjoying baseball being back again, saying the experience at Fenway Park "will be a lot better this year" as opposed to 2020 with fans now slowly being allowed back into ballparks.
"There is really nothing like it," he said again of playing in Boston. "Obviously I have never played anywhere else but I have played at other parks enough to know that Boston is one of a kind. I went to every city multiple times over a long career and there is nothing like Fenway Park. It doesn't matter if it is a Tuesday, Sunday or Friday. It doesn't matter what day it is. It's the best place on the planet to play baseball. As a player you get up for every single game. There's nothing like it. I'm sure the few guys that haven't been a part of being there, they are going to experience it a little bit this year because it's not full capacity. But it's going to be soon and when that time comes it's a bolt of energy through you as a player."
Get Boston.com's browser alerts:
Enable breaking news notifications straight to your internet browser.