Red Sox
What experts predict for the 2021 Red Sox
"Color me cynical, but I have a hard time buying into 'contention' for this crew."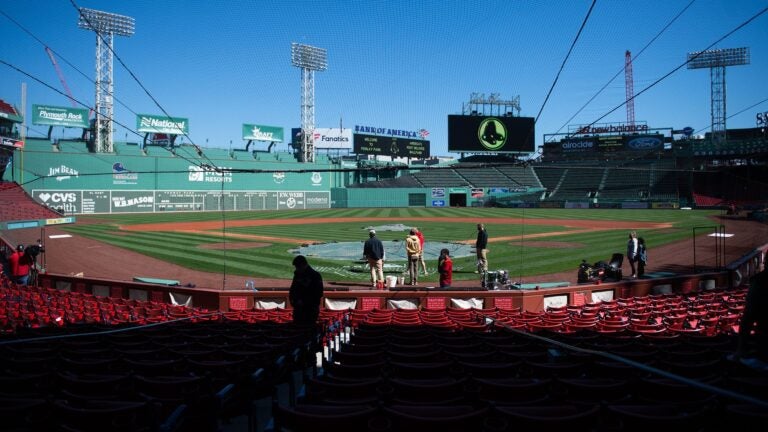 For the 2021 Red Sox, the weight of expectations will not be a problem. Heading into the new season, Boston is listed at 50:1 odds to win the World Series.
Clearly, experts are not eyeing the current Red Sox team as a projected postseason contender, though opinions differ.
As the season gets underway, here's a quick look at what's being said about the team's chances.
Boston Globe
Chad Finn: "None of the six writers who predicted the postseason participants in the Globe baseball preview section picked the Red Sox to earn a playoff berth," wrote Finn. "I suspect I might have been the closest to doing so, giving it serious consideration before deciding the Sox will finish in the 83-win range and fall a few games short."
Dan Shaughnessy:  "Color me cynical, but I have a hard time buying into 'contention' for this crew," wrote Shaughnessy in his column previewing the 2021 season.
In his view, Boston will improve in 2021, but concluded that, "If these Red Sox don't jump out quickly, irrelevance awaits."
Boston Herald
Steve Hewitt: In the Herald's MLB predictions column, Hewitt noted that he thinks the Red Sox will go 84-78.
"The starting rotation has major question marks, but should be vastly improved from last season," Hewitt reasoned. "The offense will be among the best in baseball and Alex Cora will squeeze every ounce out of a deep and versatile roster. They'll make the possibility of a wild-card playoff spot interesting before they fade in September."
Jason Mastrodonato: His listed prediction for Boston is 74-88.
"Chris Sale's delayed return from Tommy John and too many health concerns in the starting rotation will make it a difficult year in a difficult division. Expect a lot of the organization's top prospects to get big league opportunities late in the year."
Rob Bradford, WEEI
"I'm going with third," noted Bradford in his season preview mailbag. "I think they will be better than people think, and I have a feeling either Toronto or Tampa Bay may hit an unexpected bump in the road.
The Athletic
Steve Buckley: "My forecast for the Red Sox: 82-80."
Jen McCaffrey: At the end of her season preview, McCaffrey noted that her 2021 prediction is the Red Sox will go 85-77 and end with "no playoff spot."
"The Red Sox have a fairly strong lineup, but there are questions with the rotation," McCaffrey explained at the end of her prediction. "Health will likely be a determining factor in how the Red Sox fare this season, but if they stay mostly healthy, they could finish in the mid-80s win range. Is that enough to squeak into a wild card spot? Probably not. The Twins, White Sox, Rays and Jays all appear to be in contention for wild card spots, too. But who knows? That's why they play the games."
FanGraphs
According to the FanGraphs probability calculator, the Red Sox have a 36.3 percent chance of a postseason berth.
In the site's projected standings for the 2021 season, Boston is third with an 86-76 record.
New York Post
Here's where the Post's baseball writers think the Red Sox will finish in the American League East:
Ken Davidoff: 4th
Greg Joyce: 4th
Dan Martin: 4th
Mike Puma: 4th
Joel Sherman: 4th
Mike Vaccaro: 4th
Sherman wrote a specific column breaking down the AL East. On the topic of the Red Sox, he places the over/under for 2021 wins at 80.5.
"The Red Sox have a puncher's chance to be in at least a wild-card race because their top line of talent is still championship-special," wrote Sherman, "but the pitching depth — in particular — is still a problem."
New York Times
Tyler Kepner, the Times' national baseball writer, picked the Red Sox to finish in fourth place, ahead of only the Orioles.
"Young hitters like Alex Verdugo and Bobby Dalbec offer hope for the future, and some old friends return," wrote Kepner (noting that Chris Sale and Eduardo Rodriguez should be back in Boston's rotation at some point in 2021).
Still, he sees an eerie historical parallel.
"Boston fans know their history, so they're praying for a different type of century than the 1900s, which started with a flurry of World Series titles but was doomed by the trade of a transcendent star who quickly led his new team to glory," Kepner noted. "Mookie Betts isn't Babe Ruth, and the Red Sox actually got a solid return for him in their trade with the Dodgers … but the parallel is chilling."
Get Boston.com's browser alerts:
Enable breaking news notifications straight to your internet browser.