Red Sox
A salute to Red Sox heroes of Opening Days gone by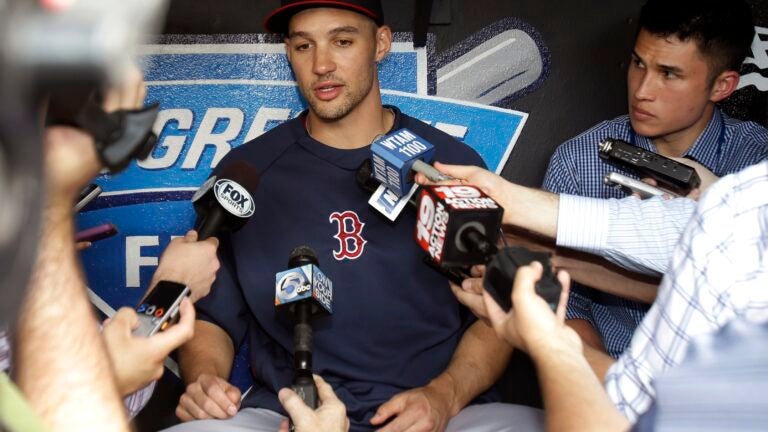 COMMENTARY
The gold standard is Tuffy Rhodes.
Your age may spark different memories, but speaking as a baseball fan going on 41, it's impossible to think of Opening Day and not think of Karl Rhodes in Cubs pinstripes. He played 225 games in the major leagues, but he may as well have only played one — April 4, 1994, when he led off for Chicago at Wrigley Field and cracked three home runs in his first three at-bats of the season. The first three-homer opener in National League history, the first three-homer-in-first-three-ups opener in all of baseball history, and off Dwight Gooden no less.
On pace for 486 homers, the jokes rang. Incomprehensible stuff, even still three decades later. At a time when SportsCenter was appointment viewing all morning before school, it's a seared memory. (Fun fact: The Cubs lost the game with authority, to the point Rhodes's third homer meant they were only down, 9-6.)
Opening Day is, of course, just the first step of a six-month marathon. Even last year, it was still 1/60th of a season, the 13-2 pounding Nate Eovaldi and the Red Sox put on Baltimore in no way indicative of what we were in store for. (Jose Peraza had four hits, for goodness sakes.)
We've parsed and reparsed today's kickoff with the Orioles, the start of hopefully something big. Let's instead take a moment to remember some kickoffs gone by, specifically some of the players whose Opening Days gave us hope, be it reasonable or laughable in hindsight.
Ted Lepcio
If there's a Tuffy Rhodes in Red Sox history, it's, well, Tuffy Rhodes. Those 225 MLB games he played ended with 10 on the 1995 Red Sox, who we'll get to again in a moment. (If I may complete by Tuffy Rhodes Wikipedia submission: Out of the majors 14 months after his moment in the Sun, Rhodes played the next 14 years in Japan, hitting more home runs there by a foreign-born player than anyone, ever.) If there's a guy who had a Tuffy Rhodes moment, however, it's Lepcio, who spent seven years and change of a decade in the majors with Boston from 1952-59.
Contemporary reports credited his defense akin to the just-departed Bobby Doerr in the 1952 opener, a 3-0 win at Washington, but he truly sparked wonder three years later, when as the third baseman he cracked the first two-homer game in the history of Baltimore's Municipal Stadium. Highlighting a 7-1 victory, Lepcio's two homers were as many as Boston hit as a team in 11 games in Baltimore during the 1954 season.
"I never felt so strong," Lepcio said with a laugh.
"I wasn't kidding you about Lepcio this spring," general manager Joe Cronin told the Globe for the following day's paper.
What did it lead to? Not much. Lepcio was out of the starting lineup a month later, played in only 50 more games that year (with four more homers), and played for five different teams his remaining six years in the majors.
Jose Canseco
Not long ago, colleague Chris Price stumbled across his copy of the 1995 Red Sox yearbook, which is worth sharing because it's as close to peak 1990s as any of us need get in 2021.
@GlobeChadFinn Doing some spring cleaning. Based on their yearbook alone, ready to say the '95 Red Sox were maybe one of the most unintentionally hilarious teams in recent local memory. pic.twitter.com/cWjkqxuQjG

— Christopher Price (@cpriceglobe) March 13, 2021
If you asked me how to describe the decade, distressed typewriter font, all in lowercase, feels like a decent encapsulation, but I digress.
Canseco's prominence in that book is no accident … it was a happening that the one-time Bash Brother was on the Red Sox, and the 1995 opener certainly reflected that. Boston shut out the Twins, 9-0, on April 26, the first game at Fenway in 259 days thanks to the labor war that obliterated a World Series and nearly destroyed the sport. Canseco, acquired from Texas in a trade for Otis Nixon the prior December, knocked in two runs with a pair of singles batting ahead of Mo Vaughn.
More than that, however, he helped win back a crowd that seemed sore about that whole "almost destroyed baseball" thing. Canseco met with fans on Yawkey Way in the morning. He put on a batting practice show that drew applause. And his solid performance in a runaway win stole the headlines. From Dan Shaughnessy's piece the following day:
"The Sox' postgame locker room was littered with heroes … but everybody knew that Jose was The Man. This is the way it's going to be in 1995. He is the Fenway Elvis, and Messrs. [Roger] Clemens, Vaughn, and [Mike] Greenwell are mere Jordanaires. Canseco wears No. 33, same as Larry Bird. And he's got a chance to be the Red Sox' most charismatic everyday player since … (gulp) Ted Williams."
Those '95 Sox won the AL East, and Canseco was a decent enough part of it — 24 homers and a .306 average in 102 games, mostly at designated hitter. He put up similar numbers in '96 before the Sox traded him back to Oakland in January 1997. Better than you remember, but never really the promised happening.
Jack Clark
Clark, however, is not better than you remember. A free-agent bust like you read about: Signed to a then-booming three-year, $8.7-million deal in December 1990, Clark hit just .236 in a season and a half and was released before spring training in 1993, never to play another game in the majors. The most notable thing to happen during his Red Sox tenure was a well-publicized bankruptcy.
One game in, however, he was all that was promised. On April 8, 1991, at Toronto's still-new SkyDome, Clark — wearing Tony Conigliaro's old No. 25 — blasted a grand slam into the second deck off Jays ace Dave Stieb. With Roger Clemens dominating on the mound, it was enough for a 6-2 victory.
"The guy is great," Greenwell told reporters. "The fans are going to love Jack Clark."
"I think they expect me to fill a void that they've had since Jim Rice left," said Clark.
An 0-for-2, to be sure.
Tony Conigliaro
Conigliaro's successes on Opening Day were a mirage for a far more tragic reason, his what-ifs lingering going on six decades later. That doesn't change just how good the late Lynn product was when he was on the field, and few were consistently better out of the blocks.
In his 1964 major-league debut, the day before homering in his first Fenway Park at-bat, Conigliaro singled, made a nice play in left, and scored from first base in an extra-inning win at Yankee Stadium. In 1965, the second-year Conigliaro had three hits, including one of Boston's five home runs, in a 7-2 victory at Washington. In 1975, three and a half years removed from his last at-bat, Conigliaro stole the show in Hank Aaron's Fenway Park debut with the Brewers, getting four ovations while spinning a single and a double steal.
But they all paled to 1969's opener, a 5-4, 12-inning win at Baltimore. Playing for the first time since his career-altering beaning on Aug. 18, 1967, Conigliaro cracked a two-run homer in the 10th inning, then scored the winning run off a leadoff walk in the 12th.
"All I wanted was to play a big-league game again. That would have been great enough," he told reporters afterward. "But today … today was unbelievable."
Grady Sizemore
As Rhodes is my gold standard for Opening Day shows, Sizemore is the pinnacle of the spring training story that loses all its steam once the games count.
It was headline news when Sizemore, two and a half years removed from his last major-league game thanks to injuries, wrested the center-field job from Jackie Bradley Jr. in 2014. (Bradley Jr. having staged his own coming-out party the previous Opening Day at Yankee Stadium.) An ascendant star a half-decade earlier with Cleveland, Sizemore was the classic buy-low veteran who might end up the bargain of a lifetime, as Adrian Beltre had been with the Sox in 2009.
Those dreams certainly weren't dimmed on Opening Day, when Sizemore produced the only run of a 2-1 loss at Baltimore with hits in his first two at-bats, including a fourth-inning home run. The homer was wind-aided, to be fair, but it was also a broken-bat shot.
"Just seeing his at-bats in spring training, he looked comfortable the whole time, like he didn't miss any time. He looks great out there," said Dustin Pedroia, himself an Opening Day force who had hits in his first nine openers with the Red Sox. "We're pretty proud of him, what he's been through to get back to this point and he's going to be a huge force for us."
Alas, Sizemore wasn't. He played just 52 games for the team, released in mid-June as Brock Holt ascended and Sizemore went in a 4-for-30 slump. He retired after the 2015 season at just 33 years old.
Brandon Moss
The 2008 season opener in Japan brought forth all sorts of special circumstances, among them the allowance of a taxi squad, which traveled with the team in case of emergency. Such an emergency sprung up for the Sox when J.D. Drew, already off kilter due to the long flight days before, had back tightness during pregame warmups on March 26.
Enter Moss, who was introduced with the reserves, called back to the dugout, told he was starting in right field, then introduced to the Tokyo Dome crowd again.
"I didn't have any time to even be nervous," he told reporters. "I found out like two minutes before."
Not that it impacted his play. Moss went 2-for-5 and put himself in the history books, his home run off closer Huston Street in the ninth inning sending the game to extras. The Sox won in 10, thanks in large part to the first Opening Day home run by a Red Sox rookie since 1945.
Moss, in the Sox system since 2002, would play just 33 more games for them before being sent to Pittsburgh as part of the Manny Ramirez megadeal that summer. He carved out an 11-year career across seven organizations, making four trips to the playoffs and an All-Star team, the latter with the A's in 2014.
Lefty Grove
Grove, to be clear, is a baseball legend. A Hall of Famer, MVP, two-time winner of the pitcher's triple crown (wins, strikeouts, ERA — there's only been 38 ever, including Cleveland's Shane Bieber last year), and six-time All-Star. A 300-game winner, his last 105 came in eight seasons with the Red Sox, who acquired him in 1934 at age 34 in a trade from the Philadelphia A's.
Though it was thought he'd save what was then the worst franchise in baseball, Grove's best days were behind him, and it wasn't until his sixth and seventh years with the Red Sox that he was their starter on Opening Day.
Oh, did he make them count, though. On April 20, 1939, at Yankee Stadium, the 40-year-old Grove was a hard-luck loser of a 2-0 decision, some stiff rookie named Ted Williams producing a lone double against future Hall of Famer Red Ruffing. Going 15-4 for a Sox team that was a distant second to New York, he got another opener on April 16, 1940, at Washington and won what the Globe's Gerry Moore called "one of the most dramatic opening games in all diamond history."
In his defense, he probably didn't know it was happening at the same time Bob Feller was no-hitting the White Sox in Chicago, but Grove certainly made a statement — a two-hit shutout in which the total offense against him was "two infield singles, both made in the eighth inning," and the only run of the game came via a second-inning single by Grove himself, with an assist by a catcher error.
Washington went 21 up, 21 down, entering the eighth, only for Gee Walker to crack a fly ball to deep left. Williams, according to contemporary reports, broke in on it, then raced back, stuck up his glove, and momentarily had it before dropping it. He immediately threw to second and got Walker trying for a double, but, Moore wrote, "we will always feel that if the Kid had held this ball, Grove would have gone on to a perfect performance." (The two hits immediately followed.)
Pfft, some young star, that Williams. I wonder what ever happened to him?