Red Sox
Hard-hitting J.D. Martinez a bright spot in Red Sox' dismal opening series
Martinez was about the only Red Sox hitter putting the barrel on the ball in the team's opening series.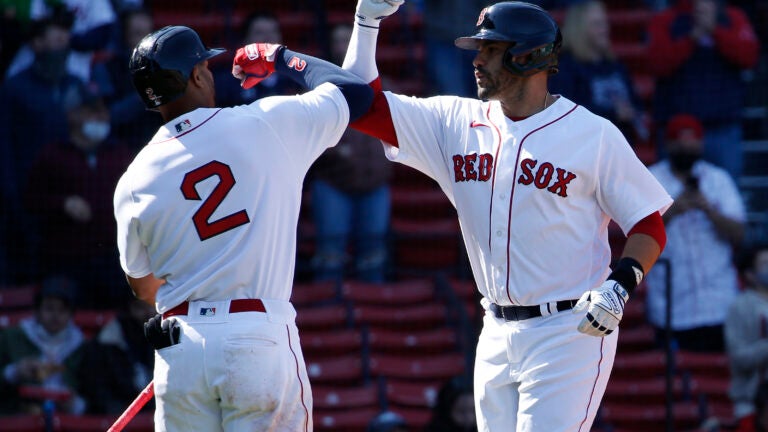 There wasn't a whole lot to smile about this weekend if you were a Boston Red Sox fan watching the Baltimore Orioles sweep your favorite team in its fan-attended return to Fenway Park for the 2021 season.
Aside from Sunday's blowout loss, the pitching certainly wasn't the problem; the Red Sox offense only mustered five runs over its opening three-game series, even putting up a goose egg in the season-opener on Friday.
But Boston did win one battle with Baltimore this weekend: the Sox had the only home run of the series, courtesy of J.D. Martinez. And what a blast it was.
Martinez's home run was the hardest-hit ball of the Red Sox' young season, coming off the bat at 107.9 miles per hour and traveling 429 feet.
Of course, it didn't do much to impact the outcome of the game as it came with the Red Sox already down 10-1 in the bottom of the 4th inning, but it's still an encouraging sign for a player Boston badly needs a good performance from this season after an uncharacteristically bad 2020. For good measure, the 33-year-old slugger also hit a ringing double his next time up with an exit velocity of just over 103 mph.
While you have to beware reading too much into early-season numbers, Martinez has certainly looked more like himself in the first few games of 2021 than he did at any point last year. Statcast shows he's getting very good wood on the ball so far, with his average exit velocity (95.2 mph; 83rd percentile), hard-hit percentage (55.6 percent), and expected slugging percentage (.586, 79th percentile) all ranking well above league average.
Unfortunately, he's one of the only Red Sox who hit the ball hard during a lethargic opening series offensively.
Only Marwin Gonzalez managed more than one batted ball with an exit velocity greater than 100 mph in Boston's first three games. That's notable because 15 of the 25 balls hit by both the Red Sox and Orioles went for hits, which equates to an average of .600. Martinez had five such batted balls on his own, with four going for hits.
In fact, the Sox had just 23 of the 59 batted balls coming off the bat at 95 mph or faster, which had a batting average of .508 in the series. The team's cringe-worthy .160 batting average and .448 OPS over the weekend hardly feels surprising with that in mind.
Fortunately for Boston, it's still early, and the Red Sox get a chance to start afresh Monday night against the defending American League Champion Tampa Bay Rays.
Get Boston.com's browser alerts:
Enable breaking news notifications straight to your internet browser.