Red Sox
From pregame coffee to in-game video, J.D. Martinez's routine is helping him feel 'my old way again' for Red Sox
Martinez currently leads the Red Sox in batting average at .533.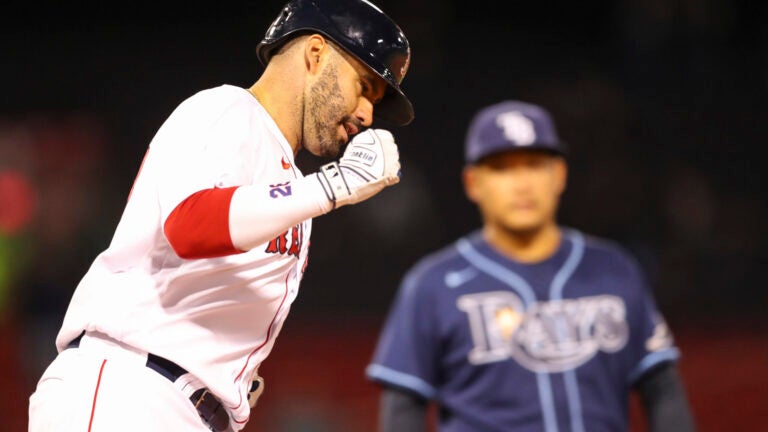 You don't get to where Boston Red Sox slugger J.D. Martinez is in his career without discipline and repetition.
A creature of habit like most professional athletes, the 33-year-old Martinez follows a tried and true script to prepare for games:
Hitting in the cage for an hour in the early afternoon.
Working out after lunch to get his muscles loose and ready to smash unsuspecting baseballs.
Batting practice at the ballpark.
Studying opposing pitchers' film for another hour.
Working out again before game time.
J.D. Martinez goes yard for the first Red Sox home run of the 2021 season. pic.twitter.com/XQIW4NOTso

— NESN (@NESN) April 4, 2021
But before all that grueling preparation to face 95 mile-per-hour fastballs and knee-buckling sliders, the man needs his caffeine.
"I've always drunk coffee on the way to the ballpark," he says of the most crucial part of his morning schedule. "Just a little pick-me-up."
Forever "a Dunkin' guy," you can find Martinez pulling up to Fenway Park for his pregame routine each day with his current favorite caffeinated beverage, Dunkin's Oatmilk Latte, in tow.
"The valet guys at the ballpark, they always make fun of me because every time I come out of the car, I come out with a Dunkin' cup and a Dunkin' bag," Martinez says with a laugh.
Poke fun at him if you want, but you can't argue with the results that the regimen is yielding on the field so far in 2021.
Martinez enters Tuesday night leading the way for Boston's offense, hitting .533 with two home runs and six RBI — becoming the first Red Sox player with at least one extra-base hit in each of the Sox's first four games of a season since David Ortiz did it in 2005. In doing so, he's reasserting himself as arguably this lineup's most dangerous hitter after posting the lowest batting average of his career (.214) in a down 2020.
Xander Bogaerts on JD Martinez's start: 'I told you guys last year!' Says he was '100 percent' certain that Martinez would rebound with access to video restored.

— Alex Speier (@alexspeier) April 6, 2021
He says getting a key piece of his old routine — studying in-game video footage of his at-bats — back has helped him get back on track. MLB reinstated the use of video in dugouts after banning access during the shortened 2020 season in the fallout from the Houston Astros' cheating scandal.
"To come back and just have a major tool of mine taken away, it hurt me a lot," he said. "To have it back, it feels like things are back to normal."
The best part of that return to a sense of normalcy, according to Martinez? The return of fans to Fenway Park. Even in a limited capacity — the park currently limits fan numbers to approximately 4,500 for home games — the 33-year-old slugger says their presence brings an entirely different energy than the piped-in crowd noise major league stadiums employed last year without fans.
He says it hit him while he was at the plate awaiting a pitch from Baltimore Orioles starter John Means on Opening Day.
"He threw me a changeup or breaking ball and I took it. It was a good take, and the crowd started clapping like 'Yeah, yeah, good take,'" he recalls. "And I was like, oh wow…and it kind of got me motivated like, let's go. It pumped me up a little bit.
"You can't replicate it. You can't. That's what makes it fun. That's what makes Fenway Park."
Martinez added that many Red Sox players spent much of last summer and fall in "survival mode, just trying not to get COVID." Now that he and his teammates are back on the field, he's preaching a positive outlook even after the Sox offense struggled during their opening series: "That's just baseball. We still have 150-something games left. You never know what could happen."
And if anyone's having prolonged struggles, he has some sage advice: start drinking Oatmilk Lattes.
"I keep telling the guys…a cup of Dunkin is a guaranteed couple of knocks," he jokes.
As for himself, Martinez says he's encouraged by where he is early in the season before adding he still has "some ways to go" to regain his form from 2017 and 2018. But the gap between then and now doesn't feel nearly as far as it did last season.
"I'm so close. I feel like I'm right there," he said. "All of a sudden, I'm a couple of adjustments away, and I'm feeling my old way again."
Get Boston.com's browser alerts:
Enable breaking news notifications straight to your internet browser.