Red Sox
'We know we can play': Eovaldi, Vázquez lead Red Sox rout of Rays to earn sweep
Eovaldi pitched seven innings, allowing just one run, while Vázquez continued his hot start at the plate in the Rex Sox's 9-2 win.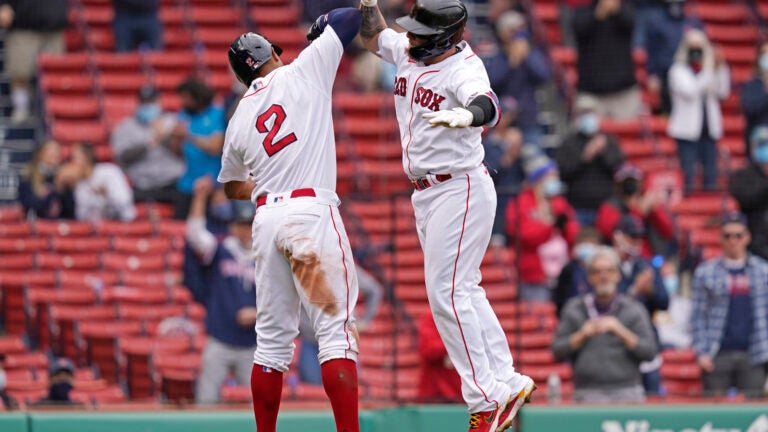 Just like that, the Boston Red Sox are back to .500.
The Sox completed a sweep of the defending American League Tampa Bay Rays with a 9-2 blowout on the arm of Nathan Eovaldi and an opportunistic offensive attack led by the scorching-hot bat of Christian Vázquez.
The win brings the Red Sox's record to 3-3 with a chance to avenge the team's opening series sweep at the hands of the Baltimore Orioles starting tomorrow.
Here are the three biggest takeaways from Boston's big win.
Red Sox offense pounces after a slow start
Few pitchers in the league give up a lower percentage of hard contact than soft-tossing Rays lefty Ryan Yarbrough, who didn't allow a run in his first start of the season against Miami. The Red Sox didn't do much to change that through the first three innings, mustering just two hits — a dribbling infield single by Xander Bogaerts and a line-drive single from Bobby Dalbec.
Two swings in the bottom of the 4th turned the tide.
Following a leadoff walk from Rafael Devers and a weak check-swing grounder from J.D. Martinez that got Devers to second base, Bogaerts laced a Yarbrough cutter into left-center for an RBI single.
A few pitches later, Vázquez crushed another cutter over the Green Monster for a two-run homer — his second blast in as many games — to make the score 3-1.
Then came a two-out ambush in the 5th inning that ended Yarbrough's day.
Martinez's towering two-run double off the Green Monster put the Sox up by four. Vázquez's RBI single tacked on another run. Then, Francisco Mejia's throwing error on Hunter Renfroe's grounder allowed two more to score. Christian Arroyo's bloop double down the right-field line played Renfroe.
When the dust settled, the Red Sox were up 9-1, forcing Yarbrough out of the game with nine hits and nine runs (six earned) surrounded.
So much for those offensive struggles in the first three games: Boston scored at least six runs in each game against the Rays after mustering just five during the entire Orioles series.
"On a day-to-day basis, no matter who plays, we can play defense and we can score runs," Cora said.
Eovaldi keeps dealing
The hard-throwing right-hander showed his effective first start of the year was no fluke.
Eovaldi followed up his solid five-inning Opening Day appearance with seven strong innings on Wednesday, giving up just one run on three hits while striking out seven batters and walking three. He finished with 91 pitches.
"We needed that," said Cora of his starter's "amazing" outing after the game. "Where we were pitch-wise today, we needed a big performance. And he did it."
The 31-year-old righty pounded the strike zone relentlessly with his full arsenal of pitches from the first pitch, something he attributed to his studies of Tampa Bay's preseason approach against him.
"In spring training, I learned a lot [about the Rays] when they got to me early in the game," he said. "I had to really mix my pitches today, and I was able to do that. I didn't have just one pitch that was working today…I was able to make some mechanical adjustments the other day, and they really helped me out."
Straight DEALING. 🔥🔥🔥 pic.twitter.com/CqAdVXvIfo

— Red Sox (@RedSox) April 7, 2021
Eovaldi had a few spots in the game where the plate jumped around on him — he expressed some frustration with his three walks — but battled through sections by pitching to, and earning, weak contact from the Rays. One example: inducing a double-play against pinch-hitter Mike Brosseau to neutralize a potential rally in the 7th after surrendering a leadoff-walk.
Eovaldi's electric fastball understandably gets most of the glory. He maxed out the radar gun at 99 mph, and the Rays only managed to put two of his four-seam fastballs in play all game. But his off-speed stuff was also dangerous. Of the 39 breaking balls (curveballs and sliders) he threw Wednesday, 18 of them (46 percent) earned either a called strike or a swing-and-miss. He earned 17 total whiffs for the game; Yarbrough, by comparison, had just nine.
His performance also continues a positive first go-round overall for Boston's rotation, whose outlook could improve even more with the return of Eduardo Rodriguez on Thursday.
Vázquez continues his tear
Martinez has some serious competition for the hottest Red Sox hitter in Vázquez, who said he's feeling "pretty sexy" at the plate at the moment.
Cora kept the catcher in the lineup as the designated hitter after catching Tuesday's extra-inning game to give him a shot against the lefty Yarbrough. He rewarded Cora's faith with a two-hit, three-RBI game, upping his average to .421 through the Red Sox's first six games.
"I really believe he's one of the top catchers in the league," Cora said of Vázquez, saying he's "the closest thing to a complete package" at his position.
"It feels good to hear that from your manager. It brings confidence to you," Vázquez replied before adding that he isn't striving for recognition.
"I like to win, man. I like championships. I like my ring. I need another ring on my finger — [I had] another baby — so both those babies have rings."
Other notable performers
Xander Bogaerts went 3-for-3 (all singles) with a run batted in and finished the Rays series 8-for-12.
J.D. Martinez tied a franchise mark with his two-run double, becoming just the third Red Sox player ever (along with David Ortiz and Faye Throneberry) to have an extra-base hit in the first six games of a season.
Cora: 'We've only had one day of bad starting pitching out of six. We know we can pitch. We know we can play.'

— Alex Speier (@alexspeier) April 7, 2021
Get Boston.com's browser alerts:
Enable breaking news notifications straight to your internet browser.