Red Sox
The Red Sox managed to make a mediocre first week anything but boring, and other thoughts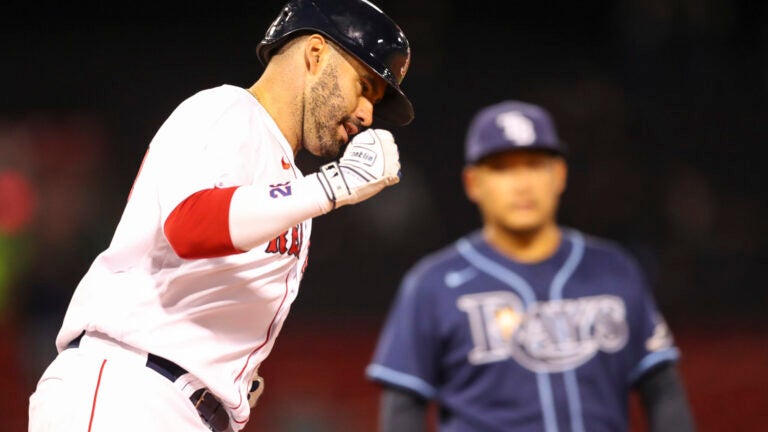 COMMENTARY
In pure hindsight, of course it started this way. The Red Sox brand today is scoffing at your lessons about moderation. In the tiger-blood laced words of 2011 Charlie Sheen, they have one gear: "Go." Here's a 119-win season! Here's four last-place finishes in nine years! Here's Bobby Valentine! Here's four World Series championships in 15 years! Here's an all-time defensive outfield! Here's an all-time defensive outfield leaving!
The 2021 edition is supposed to be a .500 crew. As dawn breaks Thursday, they're a .500 crew. They got there by following a three-game sweep with a three-game sweep, and have a reasonably even run differential (plus-4) despite half their games being decided by seven runs. Because, obviously.
J.D. Martinez has eight extra-base hits and 11 RBI in six games. Rafael Devers is 2-for-19 and looks defensively at third base like me trying to install a water heater. What does all of it mean? Probably nothing! It's been not even four percent of the scheduled season. It only feels declarative.
With that in mind, three quick thoughts as the Red Sox hit the road and continue their season-opening run of 23 games in 24 days because YOLO, or something.
The resiliency
Your mileage may vary, but my everlasting memory of the 2018 champions prominently includes their repeated ability to pull games out of the fire. The Brandon Phillips game in Atlanta jumps out, when they erased a six-run deficit in the eighth with a skeleton crew, but really, that was how they operated all year. No deficit was too large, even late, even when they didn't win, and it came from everywhere. One of my favorite stats from that season remains, of the 20 non-pitchers who got a plate appearance in 2018, 14 of them had at least one go-ahead RBI in the seventh inning or later of a game.
A game like Tuesday's, the rare four-and-a-half-hour April affair that didn't feel too long, thus checked a lot of boxes. Down, 3-1, after Tyler Glasnow chewed them up, the Sox forced extras. Down one in the 11th, they came back again, then came from behind in the 12th to win from their final strike. It was the 2-6 hitters almost exclusively carrying the show — Marwin Gonzalez, Hunter Renfroe, Franchy Cordero, and Kiké Hernández were 2-for-15, and are at .200 collectively after six games — but it was a place to start.
"Emotionally, it [was] a rollercoaster. We didn't stop playing," manager Alex Cora told reporters. "That's the mark of a good team."
A good team whose laundry cart home run celebration started getting noticed again that night. That is the mark of a team loving the chance to play together, and while a quick gander at this Celtics season reminds that doesn't promise anything in the standings, it's also a place to start.
Tanner Houck
The downer of the three games against the Rays was Houck, who threw a good-enough-to-win five innings at Baltimore on Saturday and held the Rays in check after allowing a leadoff double (and thus a run) in the 11th inning on Tuesday, being sent back to Worcester. It certainly wasn't a surprise: He'd been demoted out of camp before Eduardo Rodriguez's delayed start prompted a change, and Rodriguez needed a roster spot to make his season debut on Thursday.
That didn't stop the grumbles about Houck's phenomenal stat line — 23 innings, 13 hits, 3 earned runs, 31 strikeouts — being sent away again.
Sounds like Bloom has two main points: 1, he isn't buying into Houck's dominance/said it's a small sample size, and 2, thinks demoting him is the easiest way to protect long-term depth.

Red Sox asking for a lot of patience from a fan base that is exhausted and/or disinterested. https://t.co/tWm0RT9QDy

— Jason Mastrodonato (@JMastrodonato) April 7, 2021
Jason Mastrodonato's story in the Herald allowed chief baseball officer Chaim Bloom to elaborate: "I think Tanner Houck is a capable major league starting pitcher right now, but that doesn't mean he's a finished product. … If he can get more comfortable with [his] splitter, he'll be even better. While he's in Worcester, it'll be easier to work on that than it would be while he's pitching in a close game at the big-league level."
However you feel about having to watch Garrett Richards or Martín Pérez in the rotation while Houck toils in Polar Park, the House That Political Ineptitude Built, you can't debate that. Bloom's right. He's right Houck's five MLB appearances are a small sample size, he's right that Houck's demotion maintains the most depth in the organization — he's the only one among the potentials with minor-league options — and he's right to tune out the grumbling.
Not two weeks ago in this space, I noted the steadfastness the Red Sox have shown to this rebuilding plan. It isn't exactly a secret they are playing far more for 2022-23 than they are for '21; Alex Speier compared it smartly in the Globe to how the Rays handled the end of the 2010s, from which Tampa's emerged a pennant contender on a shoestring budget.
That doesn't mean Boston is tossing this season in the trash, nor does it mean you should. Context is required, even here, where — to crib from coffee enthusiast Craig Calcaterra — the Red Sox play "162 1-game seasons." I suspect there were plenty of very loud Sox gripers who stumbled across Tuesday's game in the late innings and felt that pull back in.
That's OK. Even if it doesn't lead to a title. Even if they lose the next seven to Baltimore and Minnesota. It's April. Take what you like, and leave the rest.
The new uniforms
They're good. I might even upgrade that to great once I see them running around the field on Patriots Day weekend, though the caps just being UCLA hats is a bit of a tripping point.
You may not agree that they're good, and I understand that. Tradition and whatnot. People are still mad about the designated hitter 50 years later, for goodness sakes. I would just urge you think about two things:
• This is the same sport that once put the Red Sox in crimson potato sacks for a 'Turn Ahead the Clock' promotion that was meant to estimate what baseball uniforms would look like in … 2021. (It was more corporate tie-in with Century 21 than predictive science, but still.) Compare those linked red uglies to these and get back to me.
• Better still, get back to me on May 21. That's when the second team of the seven involved in this Nike City Connect uniform rollout this season will wear their duds for a game.
The Marlins. The Miami Marlins. The gang with the teal jerseys and the orange jerseys and the black on black jerseys and the … that's in not even 30 years. Nothing will make the Red Sox' efforts look better than seeing what those guys manage to put together. Even money says they glow.
Get Boston.com's browser alerts:
Enable breaking news notifications straight to your internet browser.