Red Sox
5 reasons the Red Sox currently lead the AL East
J.D. Martinez leads the Red Sox's early-season surge, owning an MLB-leading 16 RBI and tying for the league lead in home runs.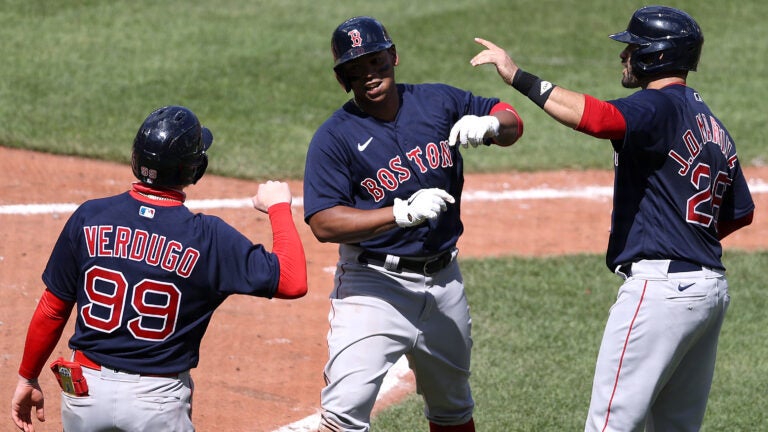 COMMENTARY
Bookmark this date, Red Sox fans: on April 12, your team started the day leading the American League East.
Boston is riding a six-game win streak into a three-game set with the Minnesota Twins, avenging an opening series sweep at the hands of the Baltimore Orioles by sweeping their division rivals in turn over the weekend.
Coming into Monday, the Red Sox are tied with the Twins for the league's fourth-best offensive WAR (2.1) and own MLB's fourth-ranked pitching WAR (1.7), according to FanGraphs, putting them squarely among the best teams in the majors through the first week or so of the season.
While it's far too early to gloat much, that's certainly not bad for a team few outside of Boston had a whole lot of hope for going into 2021.
Here are the five biggest reasons for the Sox's early success, starting with the man who has a legitimate claim for "hottest hitter in baseball" right now.
1. J.D. Martinez
Every hitter in the Red Sox lineup needs to get on this man's routine, all the way down to the oat milk lattes.
Martinez sits atop the league in home runs (five, tied with three others) and RBI (16) and has a slash line so silly (.472/.500/1.583) you might not even expect to see it on a video game.
Half the balls he's hit this season — 50 percent on the nose — have been "hard contact" (95+ mph exit velocity), and his Statcast profile reads like a Create-A-Player on MLB The Show — his expected batting averages, slugging percentages, weighted on-base percentage, and the rate at which he hits the ball on the barrel all rank among the league's very best.
They don't call him 𝗝ust 𝗗ingers for nothing. pic.twitter.com/Xa214WopWe

— Red Sox (@RedSox) April 11, 2021
He also has a chance to become the first player in Major League history to start a season with an extra-base hit in nine straight games and to set a franchise record with 10 straight such games (dating back to last year) if he bags at least a double today.
2. Christian Vázquez
Raise your hand if you had "Christian Vázquez has been the second-best hitter on the Red Sox" on your Bingo card.
Put your hand down. No, you didn't.
Vázquez's batting average (.382), slugging percentage (.647), OPS (1.064), and WAR (0.6) might all rank second on the Red Sox after Martinez, but they're good enough to put him at the top of all those categories among Major League catchers. His bat has been so good, Alex Cora has even tried him at designated hitter to keep him in the lineup when he needs a rest from catching. And he hasn't disappointed.
Liftoff! We have liftoff! pic.twitter.com/tGaUsKF9OP

— Red Sox (@RedSox) April 7, 2021
Vázquez has also been among the team's most clutch hitters thus far, with both of his home runs this season coming with the Red Sox trailing by a run or tied.
The man Cora called "one of the top catchers in the league" sure is playing like it so far.
3. Nathan Eovaldi
Yeah. He's been that good.
Eovaldi's first two starts have been just about ace-worthy for Boston, with his latest outing — a one-run, three-hit gem against the Tampa Bay Rays — being among his best in a Red Sox uniform.
His 0.5 WAR total so far is already halfway to his 2020 WAR (0.9) through just two games and actually puts him third among all Red Sox players, behind just Martinez and Vázquez. A big reason for that? Opponents just can't square Eovaldi up.
He has induced more "weak" contact this year (10 percent of all batted balls) than at any point of his career (albeit in a small sample size), and he has not allowed one of the 45 hitters he's faced this year to hit a ball on the barrel against him. That's right: exactly zero.
Straight DEALING. 🔥🔥🔥 pic.twitter.com/CqAdVXvIfo

— Red Sox (@RedSox) April 7, 2021
While Eovaldi is already well-known for his blazing fastball — which he's throwing at an average of 97 mph this year — it's his mix of pitches, especially his curveball and slider, that have given opponents fits in 2021. Opposing hitters have not registered a single hit off of his curveball — his second-most used pitch — this year, and he's gotten a swing-and-miss on his slider almost 54 percent of the time hitters make a pass at it. The heavy use of the slider is particularly interesting given that he didn't throw one at all last season; now, it's become his most effective put-away pitch.
Even with Eovaldi allowing slightly more walks than he'd like, his 0.89 WHIP (walks + hits per innings pitched) and his .171 batting average against have allowed him to pitch over it. If he can keep pounding the strike zone, this could be his best season yet.
4. Rafael Devers and Xander Bogaerts
After going his first 11 at-bats without a hit, Devers has been scorching at the plate since the second game of the Rays series.
The third baseman has reached base in five straight games coming into Monday and has hit .380, to go with all of his four home runs and 10 RBI, in that span.
Meanwhile, Bogaerts's steady contributions have been lost in the shuffle somewhat because he's not making a ton of loud contact just yet. But that doesn't mean the contact has been quality.
Bogaerts sits third on the team in batting average overall (.375) and batting average on balls in play (.480). He also has the team's second-best on-base percentage (.429) behind only Martinez. His career track record says the power will come in due time for the Sox's shortstop, but he's providing plenty of offensive value without it in the meantime.
Their production on either side of Martinez (and occasionally Vázquez) makes this Boston lineup a difficult one to get through unscathed.
5. The entire pitching staff
It hasn't always been pretty, but you can't ask for much more of Boston's rag-tag assemblage of pitchers in the early going.
Through nine games, the staff's cumulative WAR (1.7) stands only behind the significantly more-heralded New York Yankees (who lead the league with a 2.0 WAR), Los Angeles Dodgers, and San Diego Padres.
Interestingly, the Sox are doing that while being far from dominant on the mound. They've walked almost 11 percent of the hitters they face — an unfortunately high rate, especially since they're not striking hitters out at an elite rate — and are giving one of MLB's highest batting averages on balls in play.
The bright side: that contact hasn't been hurting Red Sox pitchers much thus far. They're giving up the lowest rate of hard contact (exit velocities of 95+ mph) in the league and have surrendered home runs on just 7.5 percent of all the fly balls hit against them, good for second in MLB. The result: Boston's collective fielder-independent pitching (FIP) of 3.29 is the fifth-best in the majors.
Some Ks to help kickoff your week. pic.twitter.com/asTVnRL7ut

— Red Sox (@RedSox) April 12, 2021
Pitching to contact can be a double-edged sword, of course. But for now, it's working for the Red Sox. Their pitchers are keeping their team in games and allowing the offense time to break through against opponents, which has scored six or more runs in each of its last six games.
If they can hold down the fort until Chris Sale and Eduardo Rodriguez are both back and at full strength, this rotation has the potential to be much better than expected in 2021.